As an entrepreneur I spend a lot of my time optimising. Better copy at Articulate, new features for Turbine, better processes, staff training etc.
This is necessary and important.
But real breakthroughs come when you stop trying to optimise what you're already doing and start doing something altogether. Sometimes you have to work on the question rather than the answer.
I was at Microsoft's ResearchNow event at Modern Jago in Hoxton last week. It was a great day with speakers including the Head of Design at Aston Martin. Mat Hunter, Chief Design Officer at the Design Council and ex-IDEO designer, gave a great presentation and it included this diagram.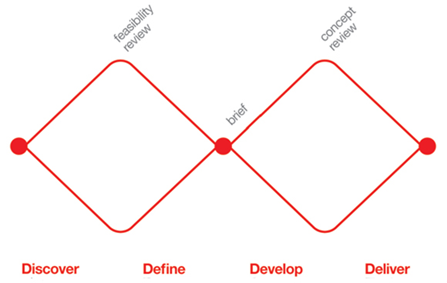 He said that most designers (and I reckon most business people) spend most of their time focusing on the right diamond between the brief and the delivery.
But the breakthrough thinking is in the left diamond between the real world problem and the brief.
If you ask the right questions you get the right solution. If you ask the wrong questions, at best, you get a perfectly executed implementation of the wrong solution.
(Full disclosure: Microsoft is an Articulate client as was the Design Council.)