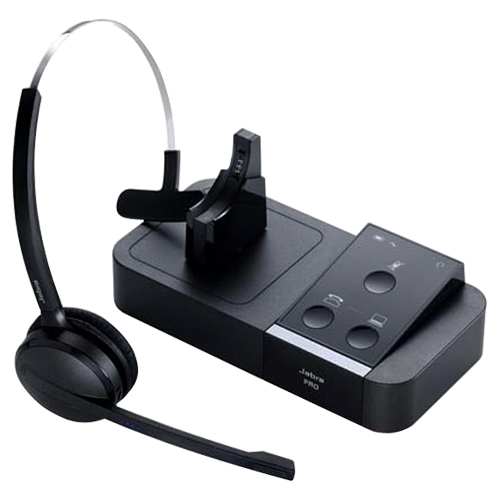 I've always said that interviews are essential to good writing. (Yes, that's four different pages of stuff about why you should do more interviews and how to do them better!)
For years, I've been using a Plantronics headset so that I could do telephone interviews and have both hands free to take a real-time verbatim transcript of the interview: a major productivity booster.
Last year, Articulate did some work for Jabra, a headset company. They took pity on me and my ancient headset and sent me a shiny new Jabra Pro 9450 to test.
Softphone and desk phone
I have set it up so that it is connected to my PC via a USB cable and to my Snom 821 desk phone via a headset cable. This lets me use the same headset to make Skype, Google Hangout and Bria VOIP calls on my PC as well as regular phone calls on my phone, switching between the two with big friendly buttons on the Jabra base station.
As an aside, I use RingCentral for my phone system and it works brilliantly. Articulate is a virtual organisation and we all work in different places but RingCentral gives us a big company phone system with conference calls, transfers and so on, just as if we were in the same office.
Configuration
Initially, the connection to the PC worked fine but the phone connection was very noisy. It turned out that this was RF leakage from the home-made, badly shielded Cat5 cable that was plugged into the phone. Changing the cable completely removed the noise.
It took a bit of playing around to get everything set up right but the system works seamlessly now and the challenge was mostly to do with making it work on my applications in the way that I wanted. Installing the free Jabra PC Suite software made it easier to configure the headset and I recommend installing it.
It comes with different ways of attaching it to your ear. I used to have an over-the-ear loop on the old Plantronics but it pinched a bit so I'm using an over-the-head band on the Jabra and that's very comfortable but the earloop is also an option.
Headset benefits for writers
Now, callers tell me that they get very good sound quality and the audio quality on the headset is very good. Here are some of the benefits of using a high-quality headset for writers:
Efficient. Hands free to take notes. I used to have to write everything down long hand and then retype it into the computer later. Now I just talk and type.
Flexible. Easy to switch between phone and PC depending.
Comfortable. Very comfortable to wear - eight interviews in one day was fine
Easy listening. I could hear what people were saying and *how* they said it. So much better than using a webcam microphone and desktop speakers.
Good ergonomics. Cradling a handset is not good for the neck and shoulders. Being hands-free, it also lets me stand up and walk about during phone calls, which is good exercise.
Overall, if you don't have a headset and you're a writer, get one. If you want the best, I recommend the Jabra Pro 9450.
See also: Articulate's tools
Related service: Marketing Strategy