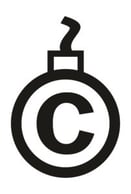 In many big companies, intellectual property protection - trademark guidelines - drive product naming. At Articulate, we've worked on some projects with very onerous trademark requirements.
Some examples from long-ago history serve to illustrate an ongoing problem:
Intel® Centrino® Pro™ processor technology
The 2007 Microsoft Office system
Adobe® Acrobat® 8 Professional software
The problem with trademark guidelines
The problem is that there is little flexibility in the way writers can use these phrases. In some cases, writers have to use a five-word name with three trademark bugs EVERY time the product is referenced. No abbreviation or variation allowed at all. I suppose part of the challenge of our work as copywriters is to deal with this and still turn out reasonable copy.
I'd love to hear from a IP lawyer about why this happens. Some companies seem to have wieldy product names and still protect their rights. MacBook, iPod, OS X or iPhone anyone?
(In fact Apple's pith may explain an odd phenomenon. I have never understood why people call them 'AppleMac'. Perhaps they need more words than Apple give them.)
The writer formerly known as...
I'm going to change my name. From now on, you can call me:'the 2016 Matthew Stibbe Writing™ system Ultimate Edition® with Marketing Plus Technology®.'
For better advice on naming things, check out How to choose a great name and our guide to project names.

We originally published this post on 6 December 2007. It's been updated with new content.