When you run a startup or small business, your day starts early. Before you know it, the day has passed and you haven't squeezed in a moment for marketing like you promised yourself you would.
Because of this, your social profiles sit undeveloped and unengaging, your website is static and you haven't produced new content on that blog you signed up for in weeks, maybe months.
If you are going to make time for marketing, you have to create a realistic plan and commit to consistent execution. The key is to plan ahead so you don't feel as if you're overextending your resources or ignoring other important tasks when you check marketing off your to-do list.
1. Update and polish your online presence first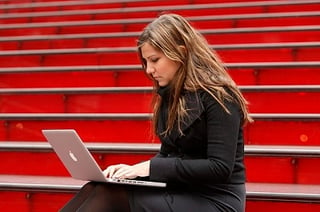 If you spread your marketing resources thinly over all the networks and platforms on the Internet, you probably won't end up presenting the brand value you want people to find. To create a solid online presence, you need to focus on:
Website. Your website needs to be current, well-designed and suited for mobile. It's the first impression customers and leads have online and it will be the platform all other channels point to so it needs to make a good showing.
Blog. Consistent content on a blog takes a static website and makes it dynamic. You should talk to the same people you work with for your website about optimising the branding of your blog including header, sidebars and formatting like text, design and colour.
Social media. Facebook, LinkedIn, Twitter, Google+, Pinterest and Instagram are all networks businesses use for marketing, but not every single one is right for your small business. Sign up for and polish profile images and About and Contact sections on the networks your customers frequent. Figure out what type of posts and tone of voice work where.
Email. Find a platform like Mail Chimp, Constant Contact or an integrated marketing tool. Sign up for the free trial and figure out which service is easiest for you to use so that it fits into your small business schedule.
Online reviews. 72 percent of consumers trust online reviews as much as personal recommendations. Online review sites like Google, Yelp or industry-specific ones may already have a profile on you. Hunt these down and take ownership of them.
Take time to get your online presence in order by signing up for and polishing the profiles you intend to use to market your business online. This way, you can focus your time and resources on consistent marketing activity using those profiles as a launch pad.
2. Create specific business goals and corresponding marketing actions
If you've started your own business, you're most likely motivated by goals. Spelling out what you want to achieve will help you set limits to your marketing efforts. These goals might be that you want to:
Generate 40 percent of your annual revenue from existing customers
Generate 15 quality leads every month
Convert 20 percent of your leads into customers for the year
For each business goal you create, attach a marketing action. Online, many of these goals will use content as the driving force behind them. For example:
To generate revenue from existing customers, we will maintain contact through content on social media and in email marketing
To generate 15 quality leads every month, we will offer three different assets including a whitepaper, ebook and a free trial
To convert those leads to customers, we will nurture them through emails and relevant content such as case studies and consultations
Once you've set goals and considered how you will achieve those goals, you still have to be willing to put time and resources into achieving those goals and actions.
3. Commit to a financial budget
Making marketing happen online doesn't need to be a financial burden, but you will need to allocate funds to marketing which might be used for things like optimising your website, running a Facebook ad campaign or working with a freelancer or agency.
66 percent of small businesses are either maintaining or increasing their digital marketing budget because it's how customers are finding products and services, even locally. To decide where to start on devoting part of your small business marketing budget, answer the question:
What would I be willing to pay for a new client or to earn a customer's loyalty?
Look at the profit you earn from one of your typical clients and consider what, of that, you would be willing to put toward bringing in the next client like that. That number multiplied by the number of clients or transactions you need will help you realize what you are actually willing to spend on marketing to bring in business.
From there, you need to sit down with a marketing calculator and determine what numbers work for your company.
4. Budget time into the work week for marketing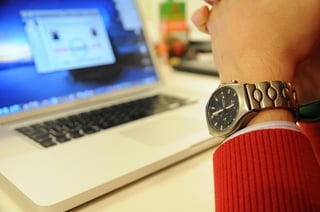 You and every employee you hire is busy. A time budget ensures that you do devote time to your marketing, but also sets limits on that time for your own peace of mind (seriously, set a timer). You might decide to put:
2 hours into an email newsletter every two weeks or once a month
1 hour a week monitoring and responding to online reviews
4-8 hours a week into content creation
It may take some trial and error to learn what time budget enables you and your employees to create content, post and engage online, but working with a time budget will help you know:
How many employees to delegate to your marketing tasks
What tasks should make use of the financial budget to be outsourced
Making time for online marketing might mean you partner with a freelancer or agency. Your time budget would then include things like collaborating on strategy and plans, providing expertise on content topics and approving content and schedules. You can shave hours off in house marketing activities by handing over tasks to someone whose priority and expertise is marketing.
Whatever time you do spend on marketing, whether in house activity or outsourced work, needs to be purposeful, or your entire time budget will be spent on planning rather than action.
5. Abide by an editorial calendar to ensure consistency
You have to be prepared to use the time you've set aside for specific marketing tasks. If you aren't prepared, it's easy to feel like you aren't making progress and give up the marketing crusade.
An editorial calendar allows you to plan the topics, frequency and publishing schedule of content for your blog, social media posts and emails well ahead of time so you won't use your time budget each week for planning, just action. A healthy calendar:
Plans topics based on buyer personas, 'detailed profiles of your customers and their aspirations, values, problems and needs' and keywords to ensure topics are relevant to your audience and have the appropriate voice for your brand.
Designates tasks to specific employees. In a small business, it's all hands on deck so assign content creation, scheduling of posts and social media conversations to yourself or your staff and make it clear who takes care of what and what their time budget is.
Schedules the frequency of activity on each channel based on the business goals and marketing actions you originally set.
Reuses content on different platforms, but changes the way it's posted based on audience and marketing channel.
Either take it upon yourself or appoint an employee to maintain the calendar and keep the business accountable to your plans.
Focusing on specific goals and the right online channels, setting allowances and limits on your time and resources, and going into marketing with a strong plan will help you make time for online marketing.
Maintaining online marketing for a small business is a big push at the beginning and then consistency in everything that follows. It's knowing what you can handle and when to ask for help. It's knowing why you need to make time for online marketing in your business and then doing just that.
(Hat tip for photos: Yahoo, Thomas Bonte)
See also: marketing agency
Related service: Marketing Strategy