How Articulate built a winning HubSpot website for HTG
One good decision after another. That's what makes a winning website.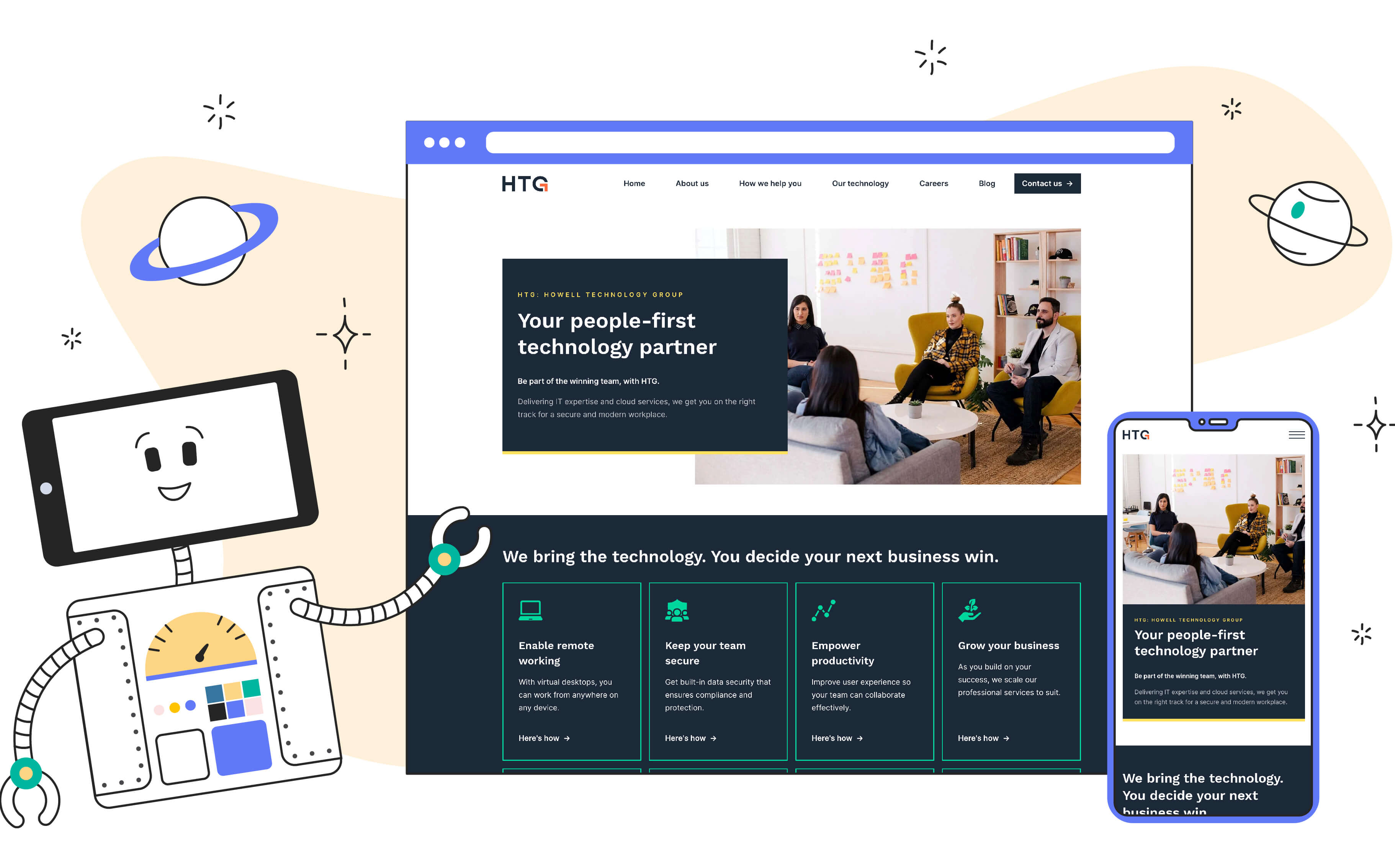 The team at Howell Technology Group (HTG) were looking for a website with seamless functionality and differentiated branding. To be competitive, they needed to showcase their people-first approach and their expertise as multi-award-winning cloud technology partners.
HTG wanted an innovative marketing agency with technical savvy, transparent communication and strong project management. They chose Articulate Marketing.
The starting point
When we started, HTG didn't see much regular traffic - and their conversion rate was just 0.01 percent.
Their website needed an overhaul. Our consultative sales process revealed several opportunities for improvement:
Updating the design story
Increasing site loading speed
Restructuring the content around business outcomes
Improving the site's technical SEO performance with our Fizz+Ginger app
Migrating the site to HubSpot CMS
Ongoing new thought leadership content
HTG has the ambitious goal of doubling their clients in a year. We knew we had to reimagine the customer journey to provide a better user experience and entice leads. To do so, HTG signed up to HubSpot CMS, Marketing, Sales and Service Pro.
Our roadmap to success
Once we had defined the challenges standing between HTG and their desired outcomes, we turned to mapping out our plans for success.
Structure
In a series of workshops, we guided the HTG team through a strategic onboarding process to identify brand positioning, tone of voice, SEO keyword gaps and audience personas. This formed the foundation of our design and copy roadmap.
Then, we collaborated on a radically new navigation and page structure centred around 'business wins'. These outcome-based pages were designed to speak to their target clients directly, and ranged from 'Enable remote working' to 'Meet sustainability goals'.
Once we had the wireframes, we used Notion to produce web copy that HTG could review in real time. This served as a navigable, easily edited mock-up of the website.

Design
While copy was being produced, we worked together on research-backed design ideas to fit HTG's personality and preferences, and that were targeted at their personas.
Our final design prioritised readability, clarity of information and a layout that balanced diversity with a consistent design story.
By implementing pops of colour, a mixture of icons and loads of friendly person-centred images, we achieved a fresh, clean look.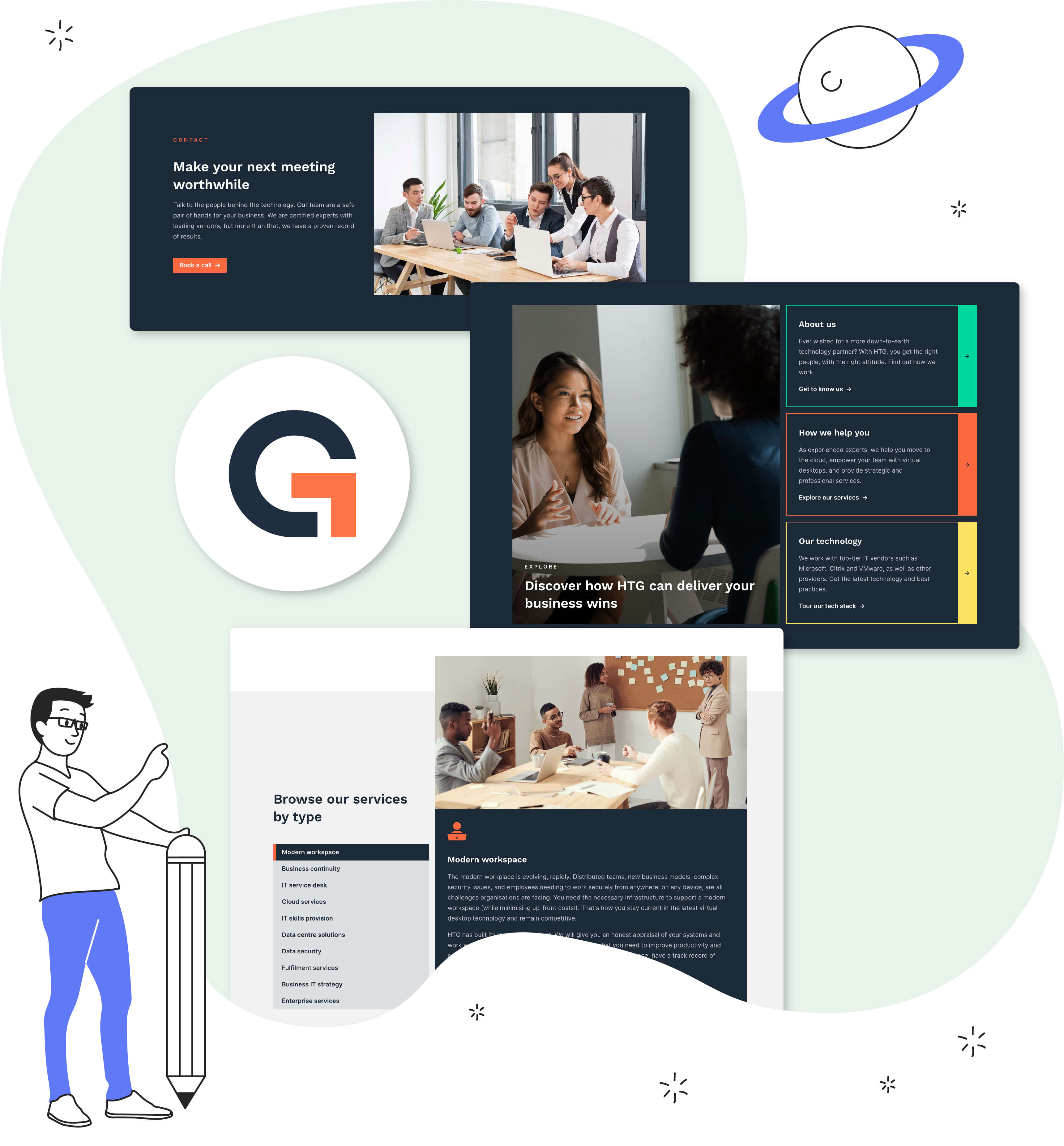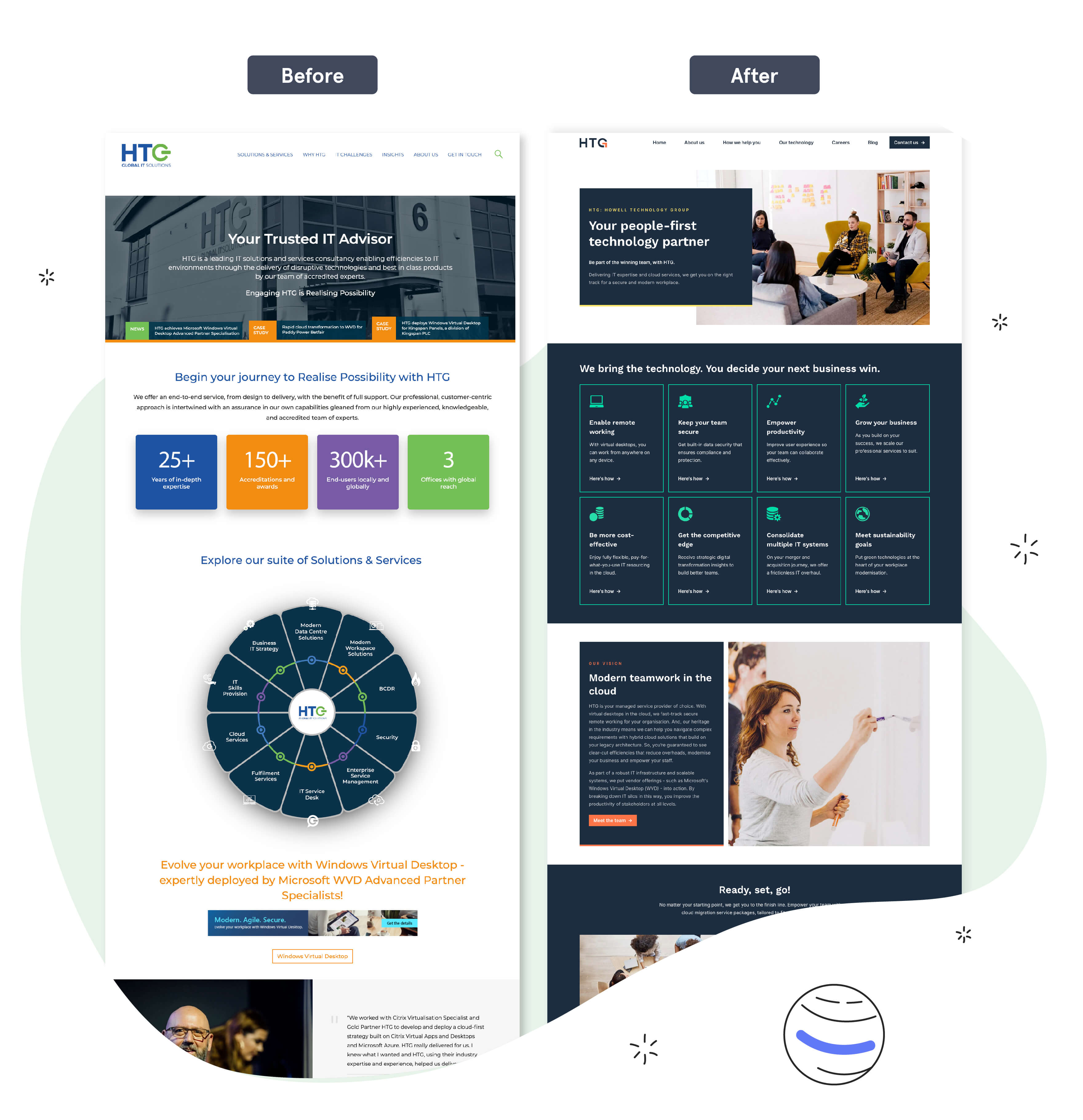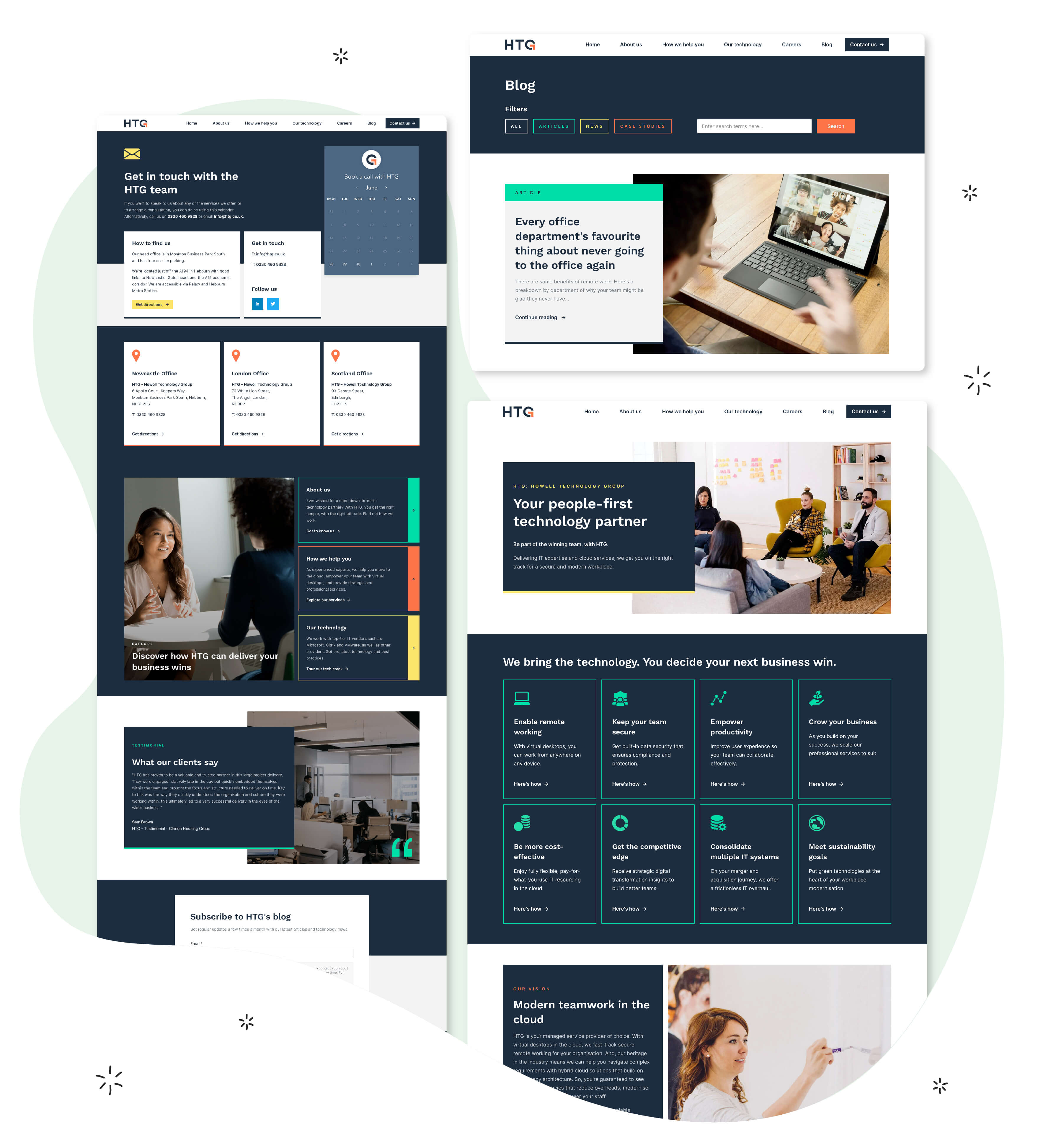 The logo
On top of the website, HTG embraced our recommendation to create a new logo to fit with the website and updated messaging. We integrated an arrow symbolising momentum and the visionary nature of HTG's work.

Development
To build the theme efficiently and with best practices in mind, we created a new local development environment and leveraged the HubSpot CLI and Webpack. This provided us with a modern development workflow. By automating much of our workflow, we were able to code a new website in a matter of weeks.
And, to make the website sustainable, we took advantage of HubSpot's drag-and-drop modular system, making versatile custom modules so that HTG could easily create their own pages in future.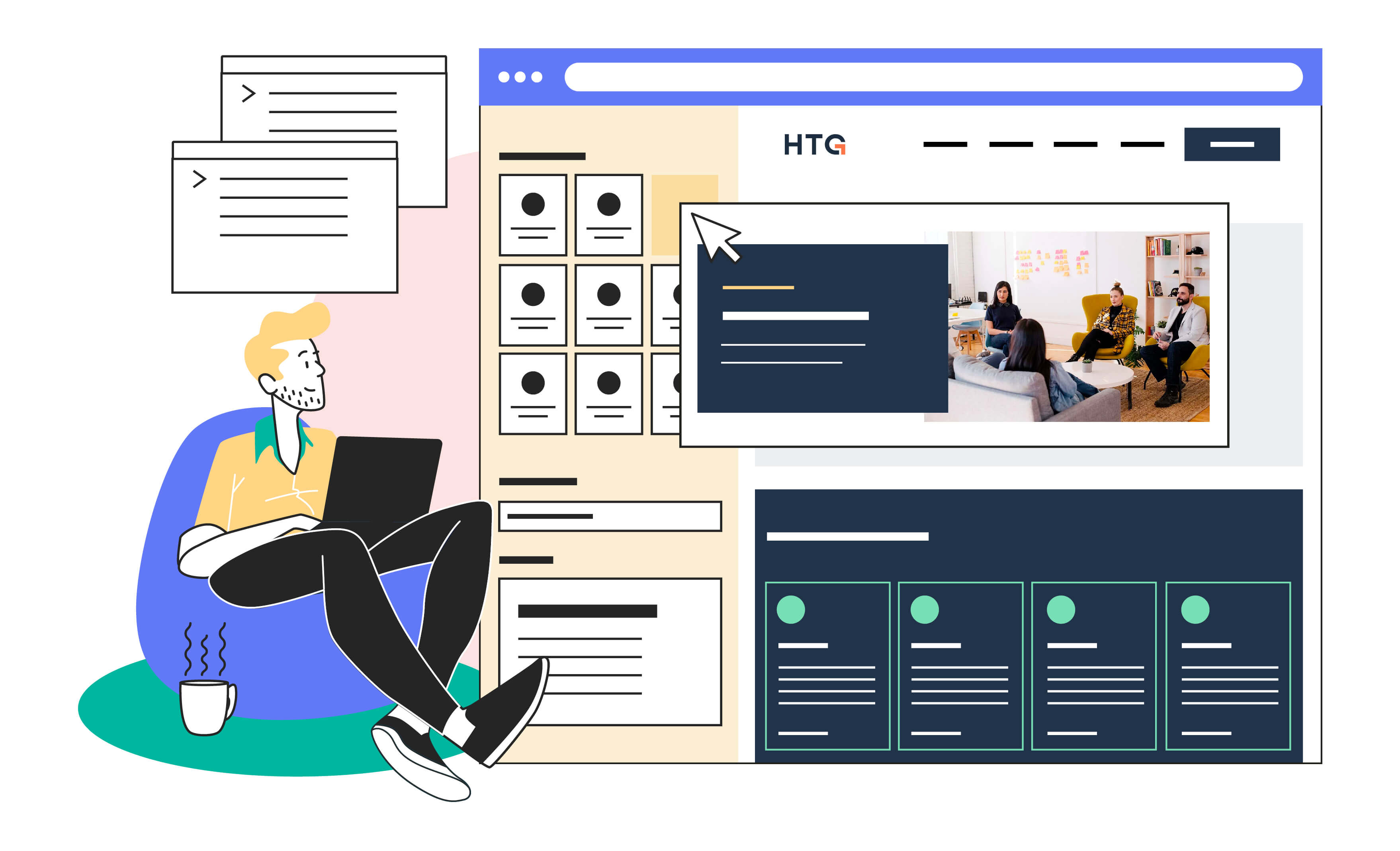 Achieving stand-out results
Launch day came off without a hitch thanks to our rigorous QA checklists and processes. HTG were thrilled to see their website in action.
With the homepage, we were able to highlight relevant calls-to-action, such as their Azure Virtual Desktop and Hybrid Cloud provisioning. That made it clear exactly why potential clients should get in touch.
With our 'business wins' pages, we simplified their complex sitemap, reduced excess pages, improved usability and put digital workplace modernisation in the context of core business goals. Now, everyone can understand and appreciate the value of their work.
Site health
Given each page was built with technical SEO in mind (using lazy loading, conditionally-deployed scripts and keyword-optimised copy), we saw immediate results in post-launch tests:
Load time less than one second

Google PageSpeed score of 99/100
94 percent for SEO site health in SiteBulb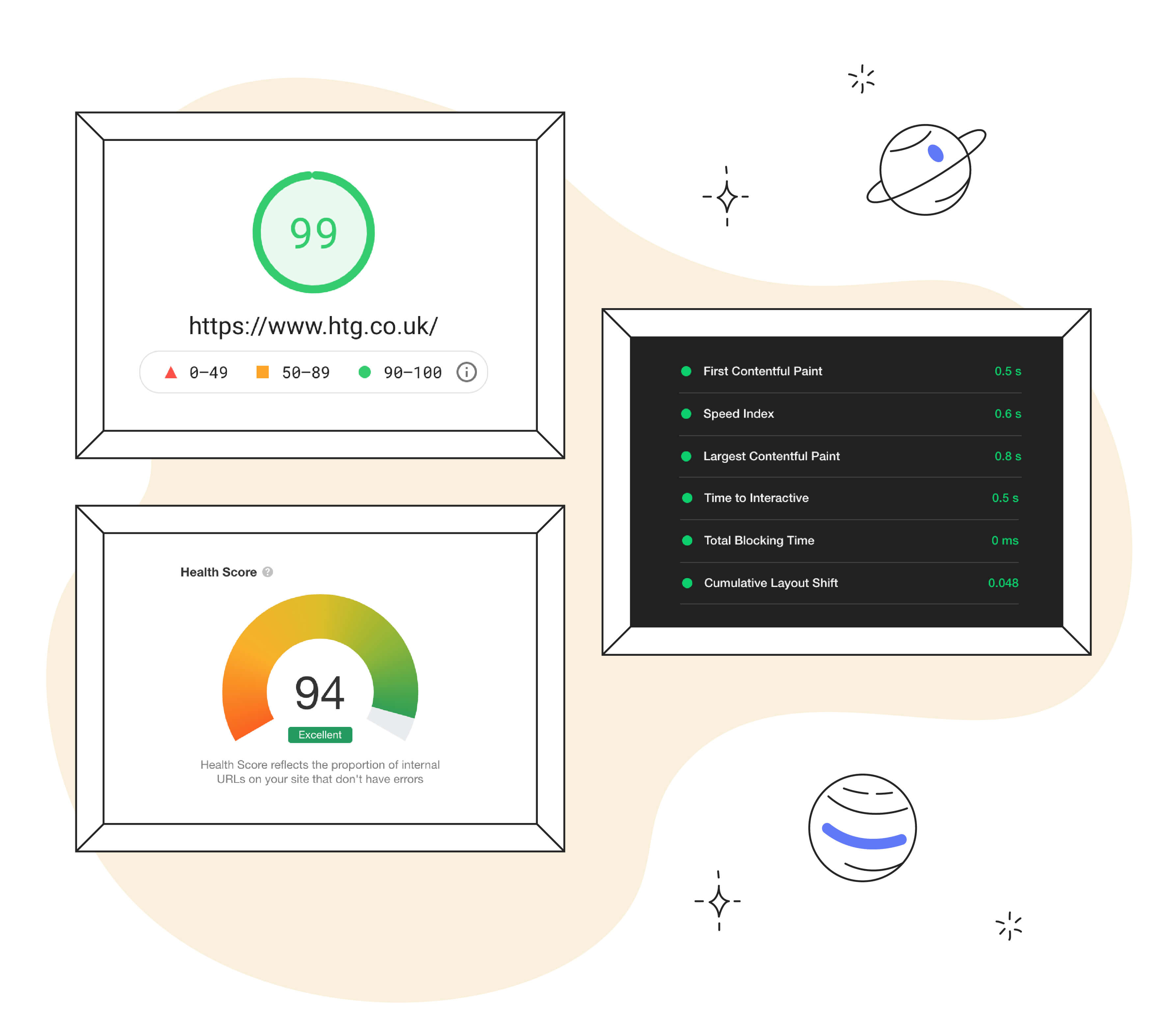 Traffic and conversions
With clear actions for the user and a conversion-optimised contact page, leads are pouring through the door. There's been a significant jump in the number of people coming to and - most impressively - converting, on the site. In just a few weeks since the launch, HTG have gained:
a 34 percent increase in traffic
a 520 percent increase in leads
With all that, they are already well on their way towards the goal of signing more (bigger, better!) deals with new contacts.
Celebrating a winning website
Yes, there's cause to celebrate. HTG have already started conversations with several inbound leads and there are plenty more coming down the pipeline.
Articulate's marketing studio has published HTG's first campaign packed with thought-leadership articles, lead nurturing emails and social media promotion, which has influenced 124 (new and existing) contacts.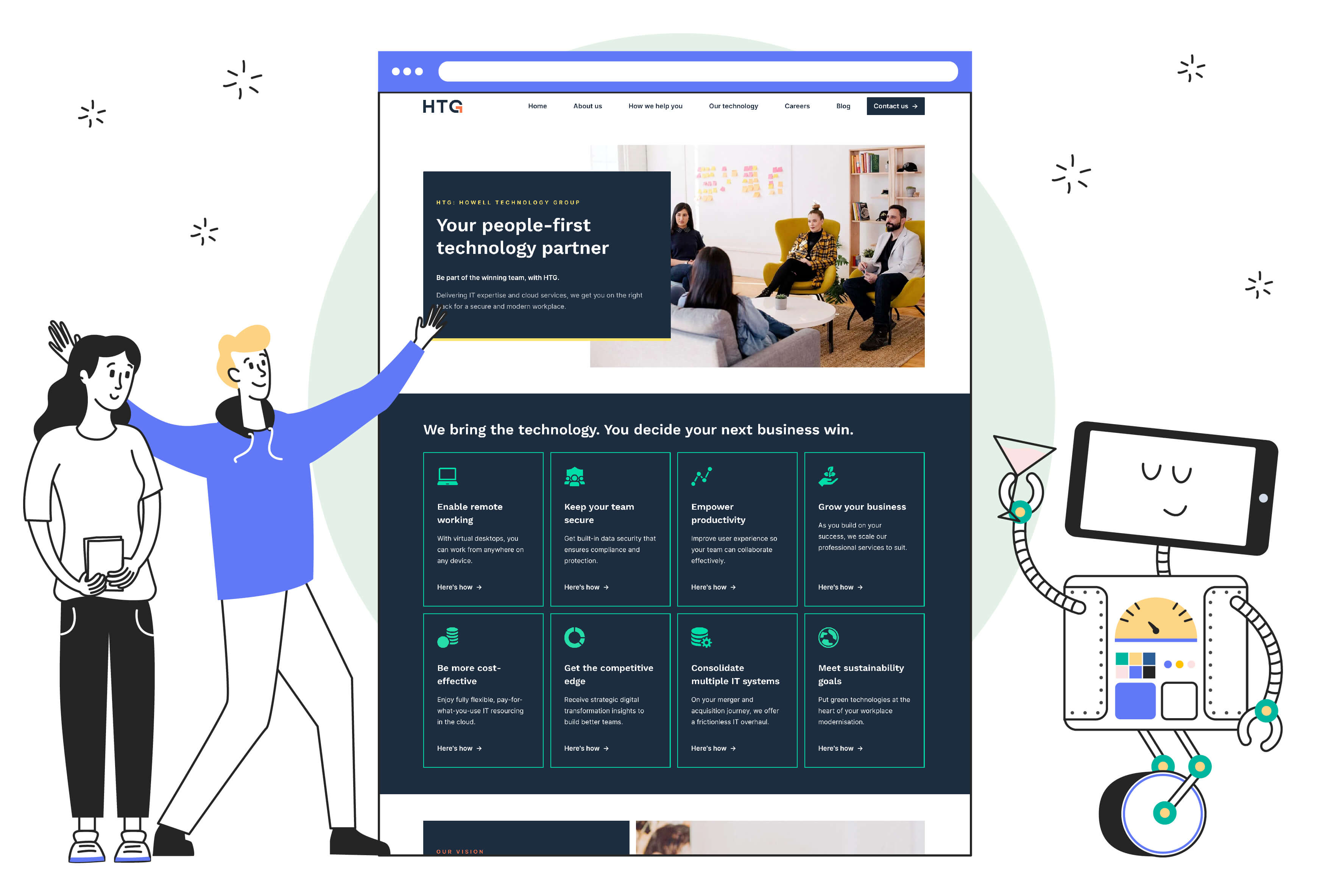 'At the start of our journey with Articulate, I must admit that, we had no appetite for yet another website redesign. If only we had had a crystal ball, because the engagement with Articulate is like nothing we have experienced before. They took the time to really get to know us as a business and the website we have now is beyond our expectations. We could not be more pleased.'
— Sarah Howell, Director of Finance at HTG
A lasting impact
We've recently launched a lead generation offer around remote working technology for enterprises that has seen 34 form submissions in two weeks, 29 of which were from organic traffic.
Now, we're working on further campaigns as we foster an effective, collaborative partnership with HTG. The aim? Helping them continue to make better decisions and win more business.