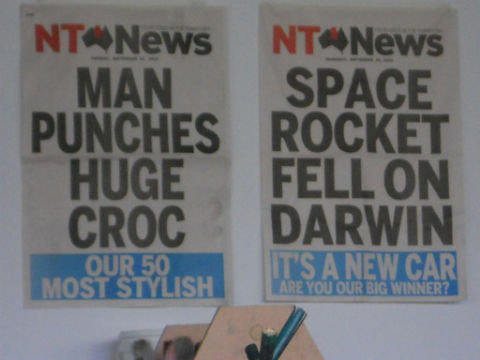 A good headline invites the reader to the party. A better headline makes their attendance certain. Unfortunately, they're probably the hardest invitations you'll ever write.
There is a wealth of information online about how to write viral, snappy, attention-grabbing headlines – Copyblogger has some great advice and guides – but success still eludes most people, as CopyPressed's list of bizarre and just plain wrong headlines shows only too well.
It's not a skill you can master in five minutes, but these ten tips will get you well on your way:
Promise and deliver
Avoid 'click-bait' (see almost any Daily Mail Online headline); it might create more traffic but people don't like being tricked. Promise your audience something exciting or useful – learning a new skill in five minutes, for example – and then deliver on that promise in the post.
Numbers and lists
Everyone loves a numbered list-type post; you know what to expect and you know it'll be pithy. Multiples of five are the standard but don't be afraid to go unusual: 8, 13, 37. Also, use digits rather than words – '15 ways to…' is better than 'Fifteen ways to…' – and keep the number at the front of the headline.
Trigger words
Jeff Goins suggests using trigger words like, 'what', 'why', 'how' and 'when'. 'Why' and 'how' are particularly useful – 'Why you shouldn't…' and 'How to…' etc.
Teach
Everyone's eager to get smart so promise to teach them something. Buffer suggests being more specific than just 'How to…'. Use phrases like 'Introduction to…', 'Beginner's guide to…', 'DIY' and '…in 5 minutes'.
Write like a human
You'll be read by them, after all. Don't use jargon, excessive punctuation, acronyms (unless obvious, like NATO or the BBC) or overly long headlines.
Don't be too clever
Your headlines should be snappy but also specific and informative. Don't be too elusive, vague or 'witty' – you'll give people a reason not to click.
A little more action
Use strong, active words and avoid the passive voice. Verbs and adverbs entice more clicks than adjectives and nouns.
Search engine optimisation (SEO)
Think about which words readers will use to search your content. Use these keywords in the headline and in your piece, but don't haphazardly throw in keywords; it's obvious and off-putting.
Stay negative
Weirdly, Startup Moon found that blog posts with headlines including the words 'not', 'without' and 'stop' had a lot more shares than their positive counterparts.
Practice, practice, practice
Dull, but true. The more you write the better you'll get. When writing your next article/blog post/case study, write a host of ideas for the headline, create a shortlist and then use the best one.
(Hat tip to Michael Coghlan for the photo.)