'Inbound content marketing is the worst form of marketing,' to misquote Churchill, 'apart from all the others.' Of course, we would say that because it's what we do at Articulate. In this article, we explore how to build a strong business case for content marketing.
The evidence confirms that inbound content marketing is cost effective. HubSpot reckons that it costs 61 percent less per lead than traditional techniques.
Filling the funnel: a top CEO priority
This is more important than ever. CEOs are focusing on their reaching customers and converting them, according to new research. Of course, they always have. What's new is their use of words like 'audience', 'content' and 'proving ROI'.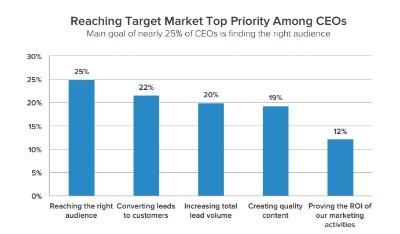 Yet, the most attractive audiences are the hardest to reach. They are blind to conventional advertising and self-promotion. But content marketing cuts through the noise. This means you have to:
Go to where people are – social media, search engines etc.
Talk about things that matter to them.
Use their language, not yours.
Become a trusted advisor.
Introduce your products and solutions in this favourable context.
Traditional marketing strategies don't deliver
Think about your own experience. Would you prefer a noisy intrusion into your day or useful, relevant information when you wanted it? What would you think of the companies that used these different strategies?
Again, the evidence supports the argument. Intrusion fails spectacularly. The majority of TV viewers (86 percent) skip adverts if they can. Nearly half of all direct mail (44 percent) is never opened.
Social media is on the up but it's hard to measure. If you don't have something to bring to the conversation, you're just breaking eggs without making an omelette.
If you use online advertising, you already know the pain of keyword competition, rising costs and falling conversion rates. Worse, you need a PhD in Google Adwords to run a campaign. And you pay-per-click not per advert. It's the gift that doesn't keep giving.
There's light at the end of the funnel
The traditional view of the sales funnel is too narrow. Half of leads are qualified but not yet ready to buy. Inbound marketing helps you engage them much earlier in the sales cycle. Thought leadership content can help raise your profile and shape the marketplace. Think of it as winning the air war.
Similarly, content marketing helps you extend the sales cycle beyond the actual purchase decision. If you can delight customers as well as close leads, you can turn them into advocates. Word of mouth endorsement is a very powerful sales tool. The right content can empower your customers to get more from your products. It also encourages repeat business.
With content marketing, the traditional AIDA model of the sales funnel gives way to the Attract-Convert-Close-Delight model.

Content marketing does the business
Research shows that inbound content marketing helps at every stage of the sales cycle:
Attract. Inbound marketing delivers 54 percent more leads into the funnel. Content such as ebooks are very effective. Call to actions promoting ebooks get almost twice the click-through rate as emails promoting webinars. Blogs are also an essential element. B2B companies that blog generate 67 percent more leads and B2C companies generate 88 percent more leads
Convert. Landing pages with persona-targeted copy are a smart way to convert leads into customers. The more, the better. Businesses with 31 to 40 landing pages got seven times more leads than those with only one to five landing pages.
Close. Lead-nurturing emails and a drip feed of relevant content helps to convince leads to buy. In fact, nurtured leads make 47 percent larger purchases than non-nurtured leads. Relevant emails drive 18 times more revenue than broadcast emails.
Delight. Social media monitoring and how-to guides can turn customers from 'users' into 'champions'.
Measuring the return on investment
To build a business case for content-driven inbound marketing, you need to show that it will generate a better return on investment than traditional methods. 'Half my advertising is effective, but I don't know which half', goes the old Madison Avenue joke. But a staggering 34 percent of businesses do not calculate ROI at all.
This is another area where content marketing shines. It focuses on things that you can control and measure, such as landing pages, calls to action, your social media pages, your website and your content. This means that you can measure the effort required to do it and the results it creates.
With tools like HubSpot, you can link your lead nurturing activity directly to your CRM system. Qualified leads just drop into the CRM system ready for a sales call. This allows you to calculate the cost of each qualified lead precisely.
No wonder that 41 percent of marketers confirm that inbound produces measurable ROI and 82 percent of marketers who blog see positive ROI for inbound, content-driven marketing.
Sometimes these results can be remarkable: Marketers who have implemented inbound marketing strategies see even greater website conversion rates than the industry average, and they reach almost double the conversion rate of non-inbound marketers, from 6 percent to 12 percent. Imagine what doubling your conversion rate would do for your business.