Get the best out of HubSpot, spend your budget wisely, deliver on your marketing automation dreams. Live long. Prosper.
In other words. If you're thinking about getting HubSpot, how do you pick the right product mix? How do you make sure you're not paying too much money? How do you get the most return on investment? How can you get the marketing tools you need to grow your business?
These are the questions we will answer in this article.
This blog is inspired by our webinar. Watch the video and download the slide deck.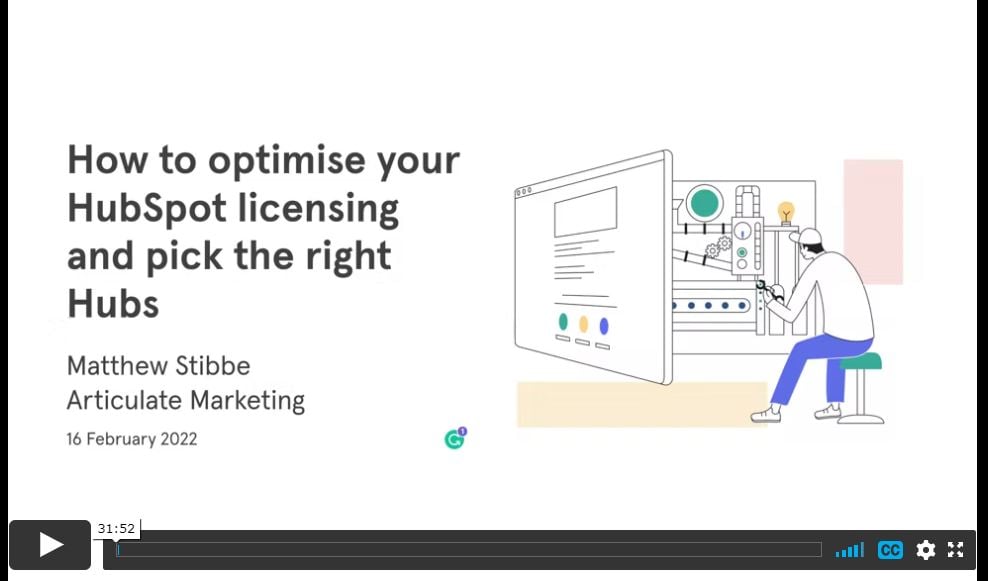 (Note - All pricing subject to change but correct at the time of writing.)
The five Hubs of HubSpot
HubSpot used to offer one product: a marketing platform. Simple.
But they've since expanded their offering as an all-in-one customer relationship management (CRM) platform for businesses. Now, HubSpot is made up of five 'Hubs'. This added functionality means you need to make some well-informed choices about what you buy.
All Hubs are connected to the CRM, which provides the foundation or central point for the product mix. The Hubs are:
You can try the Hubs out for free, with limited functionality. Otherwise, every Hub comes at Starter, Professional (Or 'Pro' - this is the most popular choice for our clients) and Enterprise tiers.
Make the easy decisions first
There are different levels of functionality at each tier. So, for the same set of Hubs you can spend just under £40 or more than £4000. Which begs the question: what should you get, and how much should you spend?
Cheapest isn't always best. Expensive isn't always right. There are nuances you need to be aware of.
Let's get the easy stuff out the way, first.
1. Don't bother with the 'Free' tier
The free tiers of HubSpot are not suitable for commercial use. They're embellished with HubSpot branding and they have some very, very, very tight constraints on usage. Free is a good way to try out the software and can be useful for single person businesses or early-stage start-ups.
Starter is £38 a month, which should be affordable for any business.
2. Cost compare your marketing contacts
At each tier of the Marketing Hub, you get a certain number of free marketing contacts that you can have in your database. It's 1000 on Starter, and more for each tier. Then, you purchase additional contacts by increments of 1000, 5000 or 10,000 at a time. These incremental contact bundles are cheaper on Enterprise than on Pro. So, for example, if you've got more than 65,000 marketing contacts, for no other reason that it will be cheaper, it makes sense to be on the Enterprise tier. Plus, you'll get all the Enterprise functionalities. It's a win-win.
3. Optimise your Sales and Service Hub paid seats
On the marketing side, you can have unlimited users in your team. For Service and Sales Hub, HubSpot charges you per seat - about £70-£80 per person. But you can add more seats whenever you need to. There's no need to get them in advance. You also don't need seats for managers because they get access to reporting tools regardless, so only buy for sales and customer support people that need to use the tools to do their job.
On a related note, Enterprise Sales and Service Hubs both come with 10 users as part of the price, (you then pay more if you want more then 10). This means there's a point where you might be paying £729 a month for 10 users with Pro versus paying £990 a month with Enterprise, with those users included for free. This makes the jump from Pro to Enterprise fairly narrow, meaning you get loads of extra functionality for just £250 more per month. A perfect time to consider a switch.
4. More than three Hubs? Get the CRM Suite
HubSpot will sell you each Hub individually (but with every Hub you get access to the free version of the other Hubs). Or you can buy bundles, or even the full 'CRM Suite', which is all the Hubs, at each tier level. Those deals are pretty heavily discounted.
For example, you could get Marketing, Sales and Service Hubs at Professional level, and for that you'd pay £1321 a month. But if you signed up for the CRM Suite Pro, you'd get all five Hubs at Professional level for £1314 a month. It costs a bit less and you get the functionality of the other two Hubs, which is an ideal price even if you rarely use those tools.
Then, get granular with features
You've got a trade-off of between capability and cost. You pay more, you get more features. HubSpot will try to tempt you to buy higher tiers by keeping that functionality locked away.
We won't go into all the HubSpot features here. That would take ages. You can get that information on their website. However, when you're factoring features into your choice, you're probably trying to decide if you need to shell out for the Professional tier, or maybe even Enterprise. This advice will help you land that decision.
When to go Pro - Marketing Hub
This is a major consideration for many prospects, so we'll zero in on this one first: Marketing Starter versus Marketing Pro Hub. It's a big step up in price from about £40 to around £700. But Pro features really deliver on value, reduce the need to spend on other tools, and they save a lot of time. If they help you get a couple more customers a month, then it's worth it, right?
Here are the main features you get with Marketing Hub at Professional level:
Account Based Marketing tools for personalised buying experiences
Social media integrations for all platforms
Lead scoring and advanced lead generation tools
A/B and multivariant testing for pages, calls to action, emails and so on
Campaign reporting across multiple assets and channels
Workflows (i.e. advanced marketing automation)
API integration (meaning you can connect Fizz+Ginger, or Zoom or other tools)
The campaign reporting and marketing automation tools tend to sway prospects towards purchasing Pro Marketing Hub. It's our default recommendation for clients because a number of our services rely on having these tools. We can't build your lead nurturing workflows if you haven't paid for the workflows feature. That sort of thing.
When to go Pro - CMS Hub
Starter is great value for a microsite. Way better than what you could get with template builder platforms like Wix. Otherwise, it's quite constraining. You need Pro if your website has more than 15 pages, excluding blog posts, but including things like a terms and conditions page or landing pages.
And, with Pro, your website becomes more than a visual piece. You gain a lot of marketing functionality, such as search engine optimisation tools and the means to integrate Google Search Console. There's A/B testing of pages and links, personalisation and smart content. Grown-up stuff. Plus, you only get content staging with Pro, which is a safe environment to stage pages before you publish them live.
Again, this is our default recommendation for clients with a reasonably sized site and an ambition to optimise it for digital marketing.
When to level up to Enterprise
Some functions you get to unlock with any Enterprise Hub. So, if you upgrade to Enterprise for one Hub, you will get:
Single sign-on
Partitioning
Field-level permissions
Role-based permissions
Custom objects (a.k.a. the flexibility to store any kind of data in HubSpot)
Then there are features that are specific to each Hub. There are several, of course, but these are the ones that seem to trigger the upgrade requirement most often, in our experience.
Playbooks - With Enterprise Service or Sales Hub, you get these clever 'living' documents where you can embed fields from your database. This is great for building out proposals or contracts.
Predictive lead scoring - AI-driven scoring available with Enterprise Marketing or Sales Hub. This helps you predict which contacts are more likely to become customers, and which deals are more likely to close.
Adaptive testing - This is a more sophisticated form of A/B testing for emails and other assets, available with Enterprise Marketing or CMS Hub.
Conversation intelligence - With Sales or Service Hub you can make calls out of HubSpot to prospects and customers, and report on that activity. Then, you can record calls for training and monitoring purposes.
A note about Enterprise CMS
Things get interesting with Enterprise CMS. If you want to have more than one domain in your one HubSpot portal, you have to have CMS Enterprise. Then, you can have up to 10. By domain, we mean articulatemarketing.com is one domain, and fizzandginger.com and nucleustheme.com are other domains. We host all three domains in Articulate's HubSpot portal because we have an Enterprise licence. You can do it with separate portals, for example, to host a microsite on Starter CMS Hub. But it's generally cheaper to go with Enterprise if you have three or more domains.
It's not just hosting, by the way. Enterprise CMS Hub has the tools for segmenting access and control, as well as tracking and advanced analytics. These features make it perfect for multi-national brands with regional websites. If you don't need quite that much segmentation, then HubSpot will let you have as many subdomains as you want with any tier.
Cost optimisation tips
1. Don't pay for the same things twice
Consolidate your applications and make the most of what HubSpot can do. So With HubSpot, you don't need social media tools like Buffer or an email service provider like MailChimp, HubSpot has loads of reporting tools, so don't worry about them. You can even do chatbots and pop-ups with HubSpot, so no need for Livechat.
You then benefit from reduced complexity, better reporting, integration, improved security and management, user access controls AND you're not paying for an extra thing.
2. Pay for HubSpot annually, in advance
You get nice discounts. Usually 10 percent off.
Next!
3. Use a HubSpot partner for onboarding
Like Articulate Marketing. We're a Diamond Solutions Partner, making us one of the top three percent of partners in the world.
HubSpot will always want somebody to do onboarding. They will do your onboarding for you, and they will charge you for it. You get a more personalised service for basically the same money if you go with a partner, plus access to partner-provided marketing services.
4. Do contact management
Clients will have a database of 15,000 contacts that they've accumulated over the years, of which 5000 are unreachable. Their emails bounce, or they've unsubscribed. Around 20 percent of a contact list turns over each year. You should filter your database and remove contacts that fall into this category. It keeps things tidy and reduces your spend.
Alternatively, consider turning unengaged marketing contacts into sales contacts so they don't get bulk emails, but you can contact them one-to-one if you really want to keep them in your database.
5. Conduct a pre-renewal review
You don't want to get a nasty surprise when it comes to renewing your contract in a year's time. You might have added more contacts or users over that period, or prices may have changed. If you leave it to a week beforehand, that puts you in a poor negotiating position and it doesn't leave you with many options. HubSpot can just say, 'Renew, or you have a week to move your website. Good luck!'
Put a date in the diary two or three months beforehand, and engage with a good third-party expert, like Articulate. We can help you review your usage and suggest ways to optimise costs before HubSpot comes asking for money.
Optimise you HubSpot licensing by partnering with Articulate
This advice is coming to you from the folks who've been there and done that and got the HubSpot merch to prove it.
Every case is unique, so it takes an experienced eye to match the right product mix with your business needs and goals. Book a 15-minute chat with our experts to get the information you need about HubSpot, without the pushy sales pitch you never asked for.
Happy HubSpottery!