Acronyms. As marketers, we have a love-hate relationship with acronyms. HubSpot CMS, CRM, see you next Tuesday, BRB, LOL. What do these terms actually mean; how are they relevant to your business, and why - actually - do they represent a powerful combination for your website and digital marketing?
Here's how HubSpot unpacks it:
'Customer relationship management software (CRM) keeps track of all your leads and customers by recording and reporting their interactions with your website. A content management system (CMS) is used for building and managing a website.'
That's a good start, but it doesn't really tell you why you should care. Let's dig into the details.
What is HubSpot CMS?
From do-it-yourself with a billion plugins (WordPress) to bloated page-builders like Wix, the website CMS comes in many forms, fidelities and fickleness...ess. No two are the same, but some are better than others.
In our opinion - shared by our clients and about a million others - HubSpot CMS combines the ease of intuitive page-editing and responsive themes with the customisation opportunities your developers have always dreamed of. (Side note. Do developers dream of electric sheep?)
With HubSpot CMS, you get content management and publication tools so you can store and organise your digital assets. All while enjoying feature-rich, drag-and-drop editors. Use these to build out modular pages and engaging, search engine optimised content for your target audience.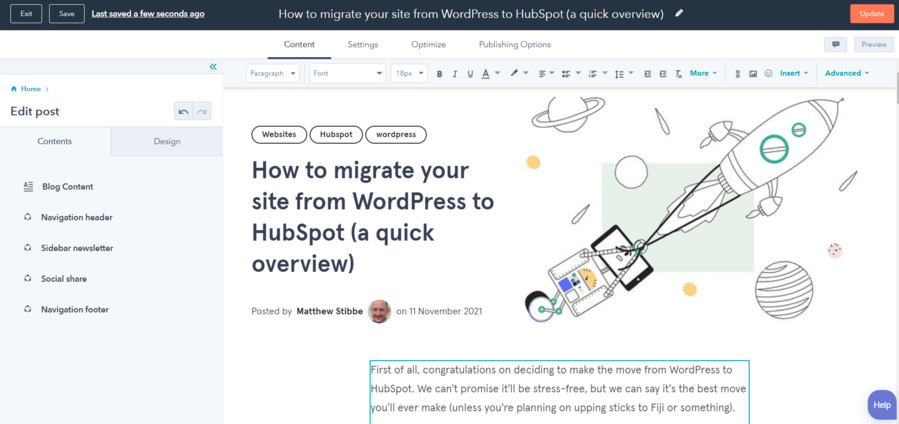 You also get analytics dashboards, so that takes care of your reporting. What this all comes to is an evolving, data-driven marketing machine. One that non-technical team members can update, too, rather than a stale digital brochure where only devs dare tread.
Confession time. We're HubSpot Diamond partners who've created our own theme, Nucleus. So, full disclosure, we're a bit biased.
We think building your website on HubSpot is about the smartest website marketing decision you could make. You can easily migrate your existing site, too. Just read our guide on how to choose a HubSpot agency for your new website for more details.
What is HubSpot CRM?
Now for something completely different. A CRM platform is software that stores customer and company contact records, tracks deals and reports on aggregated marketing and sales data.
Across the contact database, you can segment your contacts for better targeting. Then, within one customer's record, automated data capture ensures vital information - such as their email and phone number - is all kept in one place, accessible by your Marketing, Sales and Relationship management departments. You can see every interaction your team has with customers. And, even build a bank of templates so any number of those interactions can be automated.
As contacts are attributed to company profiles, you get the whole journey from first touch to closed-won deals. Customisable reports surface those previously hidden opportunities to optimise the whole marketing and sales pipeline.
You can get Starter, Pro or Enterprise, depending on your requirements, as well as Marketing, Sales or Service Hubs. Talk to you friendly neighbourhood agency to figure out which option is best for you.
Can you have one without the other?
Yep.
For example, a WordPress website and HubSpot CRM. We've had some clients who've gone with this option because they're simply not in a position to migrate their website. That's fine.
And HubSpot CMS websites will integrate with most CRMs. The costs, functionality and options will depend on the particular combination of systems.
But, why would you choose just one? They're better together. In fact, the HubSpot CRM platform is made up of five 'Hubs' (Marketing Hub, Sales Hub, etc.) and the CMS is positioned as one such 'Hub'.
What are the benefits of having both?
The two, HubSpot CMS and HubSpot CRM, are yin and yang, Bonnie and Clyde, chips and cheese. With both, you unlock the full capacities of your website and marketing. HubSpot summarises this nicely:
'A good CMS-CRM integration will funnel all activity on your website straight into your CRM for instant analysis, reporting, and actionable insights. You'll also be able to see how your site is performing alongside your other online channels, which better informs your marketing and content strategy.'
Here's an example. Consider the humble landing page.
With HubSpot CRM and a HubSpot website, you can build on-brand landing pages with forms that link directly with your contact database. Or, the perhaps less popular, but nevertheless effective, pop-up.
These integrated forms provide a lead capture opportunity, funnelling site visitors into your contacts with the promise of a free downloadable eBook, webinar sign-up or some other offer. You can use calls-to-action, with tracked clicks, to link to these pages and put them all over your website and blog.
Powerful marketing tools for extraordinary marketers
HubSpot is the most popular marketing automation platform on the internet. It's that way for a reason. Whatever they gave Captain America is what HubSpot is to marketers. Your very own superhuman cocktail.
At Articulate Marketing, we specialise in HubSpottery - as we like to call it. To get started on HubSpot, all you need to do is book your first meeting with our consultants.