We've talked before about how HubSpot is better than WordPress. But what about those page-builder sites that seem to pop up on every YouTube influencer's 'Today's video is sponsored by' segment? Wix, Squarespace. Those guys.
For example, how does a Wix template website compare to a custom HubSpot CMS website? Is Wix a serious platform for businesses, or is it free... for a reason?
Free... except you still have to pay for everything
Let's talk numbers. CMS Hub Starter is $25 per month, so less than £20. It's part of HubSpot's CRM platform, so you get free analytics included. For bigger businesses with additional requirements, CMS Hub Professional is $400 per month and Enterprise is $1,200. You choose your plan and pay for the features you want.
It's also worth considering if you'll need an existing website and blog migrated over, or even a full site redesign - while you're in the business of modernising your website. Read our guide on how to choose a HubSpot agency for your new website, if that's the case.
By comparison, Wix is free.
Except if you want the website to, you know. Do anything.
Wix will make you a very shiny brochure, which is what you might want and that's fine, but it won't actually be a tool for marketing.
To make it function, you need to add stuff. Their marketplace of plugins and apps operates in much the same way as WordPress plugins, only somehow the code feels even less secure and more buggy.
When we tried to build a Wix website (anything for science!), we found paywalls a-plenty whenever we tried to add things like forms to the site, or to white-label the site to remove Wix branding. You can only capture so much data before Wix or these app developers ask you to upgrade. It's a bit sneaky. It's a bit annoying. The bread, it turns out, isn't complimentary.
Free... if you don't care about web traffic
W3Tech's website has some interesting data on HubSpot's market position compared to other website builders. Here's the state of play at the time of writing: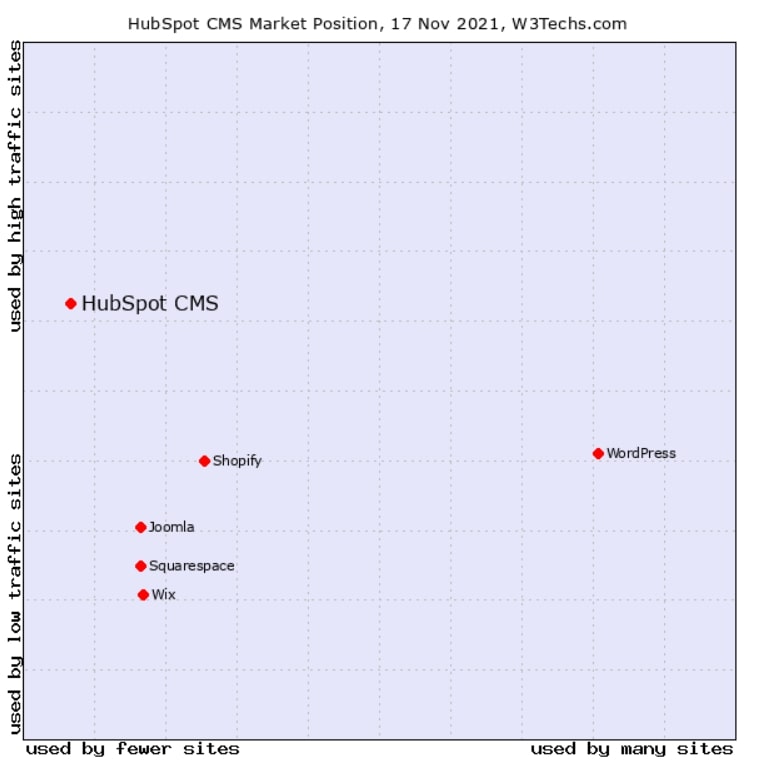 As you can see, Wix really corners the market on the bottom left of the graph. Top tip: bottom left of any graph is probably not the corner you want to be in. Well, except this graph: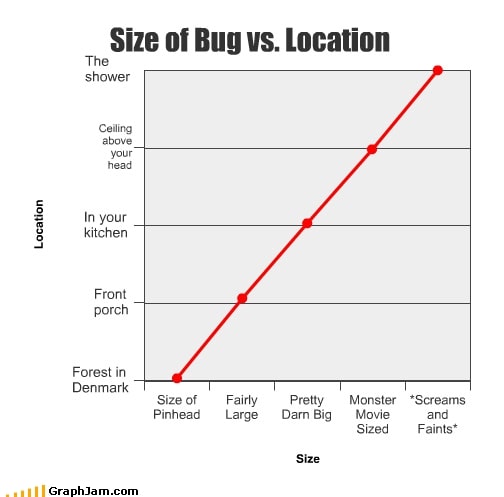 HubSpot CMS (content management system) is an outlier for high-traffic sites. Those who want a website that grows with their business, with search engine optimisation built in, using clean, solid code, choose HubSpot. HubSpot websites are specifically designed to drive traffic and leads. They're marketing machines. That's why high-traffic sites are HubSpot sites.
With Wix, the page-builder editor seems, on the front of it, a great deal. 'Look: anyone can build a website, even you.' But it's the backend you've got to worry about. Bulky code might make a site look good, however, if it loads so slowly that no-one sees it, then you're not going to get any inbound leads through your website. And, search engines will penalise you for failing core web vitals like load time, so say goodbye to page one of Google.
Free... but you pay for what you get
Wix operates on a template basis, meaning you can choose a template, change out some copy and imagery and bam. New website. So, it's the frozen ready-meal option.
They let you start from scratch, too, but they really direct you towards using the template model because it gives you the basic structure to work with.
The only issue here is that templates are freeing in some ways and limiting in others. If you have a specific vision, then it'll be hard to realise that using a template.
On the other hand, without a template, and without web-building expertise, making a site from scratch isn't easy, even using a drag-and-drop editor. Sitemaps, webpage layout, even little things like using whitespace - these elements work together to make a useable website.
With HubSpot, you can also start from scratch with a fully bespoke website built to your exact specifications. But there's another option: themes.
Themes are not templates. They're far more powerful and flexible. Themes operate on a modular basis using HubSpot coding best practices, which means you can customise a theme, then build out pages to meet your needs. For example, the theme that we've designed, Nucleus HubSpot theme, can be used for multiple styles, from a dark and gritty vibe to quirky and artful.
With template websites you find yourself making a lot of compromises, but with a customisable HubSpot theme, you don't have to limit your ambitions.
It's not about the money
In the end, you might simply choose Wix not because of your budget, but because it's easy to use. The main selling point for Wix is a fantastic drag-and-drop, anyone-can-use-it-even-your-nan page-builder. That's worth something. Usability, no web developers gatekeeping your site updates, the opportunity to launch a new site quickly, with no fuss.
Right?
Oh, HubSpot has an equally intuitive page-builder for web pages, landing pages and blogs? And there are agencies like Articulate Marketing who can build beautiful, traffic-generating custom HubSpot websites in under two months?
Looks like Wix needs to get itself a new differentiator.