Marketing is rapidly changing and becoming more dynamic than ever before. That's why, as a marketing leader, you should learn continuously and level up your skills every day.
We've prepared a list of the best books on marketing to help you do that.
These are highly-recommended picks from marketing managers and business leaders who rely on them in their daily marketing routine. They will give you some prompts on how to set the right marketing goals and maximise your business growth efforts.
Top books every Marketing Manager should read
Below are the six essential reads for marketing directors.
1. Marketing Strategy by Jenna Tiffany @jennatiffany
Released in: 2021
What this book is about
Who else could better explain to you how to develop a solid marketing strategy if not a professional strategist?
Jenna Tiffany, Founder of Let'sTalk Strategy and Chartered Marketer & Fellow of the IDM, walks you through all the aspects that concern marketing.
From setting objectives and planning your promotional campaigns with the 7Ps –
Product
Price
Place
Promotion
Process
People
Physical evidence
– to measuring the basic marketing metrics.
Book review
'This book is a primer for marketing directors,' says Anthony Martin, Founder and CEO of Choice Mutual.
'It helps take a strategic and customer-centric approach to marketing and provides real-life aid with practical pieces of advice for marketers. The chapters about researching, understanding, and segmenting customers were particularly useful in our case. We started segmenting our leads and personalising final expense insurance quotes for different customer segments based on their age, income, lifestyle, etc.,' he shares.
2. Made to Lead: A Pocket Guide to Managing Marketing & Creative Teams by Karl Sakas
Released in: 2016
What this book is about
'Leaders are made, not born.'
Whether you lead a marketing agency or manage a marketing team in a firm, you must be well aware that leadership isn't a piece of cake and may be really tough.
Karl Sakas makes it simple for you to handle it day-to-day. He prepared this pocket guide with snack-sized tips and personal anecdotes to teach you how to ensure effective communication in your team and support employee wellbeing in the workplace.
Book review
Here's why it's a must-read book for marketing leaders, according to Logan Mallory, VP at Motivosity:
'As Jay Baer mentions in the foreword to this book: your power is in your people. And I completely agree.
I also go all the way with what the author says about motivation. Indeed, it's one of the key elements that empower people to work more productively and feel satisfaction from their job.
Finally, satisfied employees in your marketing team = satisfied customers.'
3. Branding: In Five and a Half Steps by Michael Johnson
Released in: 2016
What this book is about
Do you know how to use branding in the correct way to give your marketing a powerful boost?
Michael Johnson, a brand consultant and designer, sorted things out for you.
Below is his five-and-a-half-step scheme:
Investigate

Tell your brand's story
2.5) Close the gap between the narrative and design
Put branding into action

Reinvent
According to the author, it's necessary to use your website as a brand differentiator. Additionally, you should also take care of social media and newsletter designs, among others.
Book review
'Packed with actionable branding tactics and over one thousand illustrative examples and templates, it should be a table-book for marketing directors and managers,' claims Jerry Han, CMO at PrizeRebel.
'We draw inspiration from it for PrizeRebel's blog and social media accounts. It's an intellectual and visual treat for marketers who want to supercharge their brand marketing strategies.'
4. F#ck Content Marketing by Randy Frisch @randyfrisch
Released in: 2019
What this book is about
Did you know that 60–70 percent of all content produced by B2B companies goes unused, despite the fact that they never stop creating more and more of it?
Randy Frisch believes that today's content marketing is tarnished by purely promotional purposes. It doesn't deliver value to recipients.
So, his solution is to use the following content experience framework to ensure personalisation and instill meaning into every campaign:
Centralise
Organise
Personalise
Distribute
Generate results
It's a mandatory read for anyone interested in producing high-quality content adapted to individual needs and tastes of customers.
Book review
Jesse Hanson, Content Manager at Online Solitaire & World of Card Games, shares his thoughts about the book:
'With his provocative title, Randy Frisch grabbed me by the shoulders, while his text shook all the content marketing stereotypes out of me.
Without a shred of exaggeration, it's one of the top marketing books I've ever read. That's why I recommend it to every marketing leader who uses content in any way.'
5. Marketing Made Simple by Donald Miller
Released in: 2020
What this book is about
The author offers a five-step marketing model that will help you build trusted relationships with customers. He also describes the actual stages of any relationship:
Curiosity
Enlightenment
Commitment
His StoryBrand Framework incorporates several guideposts: from highly-converting website design to email campaigns that grow sales instantly.
Book review
Nate Tsang, Founder & CEO of WallStreetZen, emphasises book's potential to change the email marketing game for businesses:
'Donald Miller's marketing plan can make it easier for your team to build a successful sales funnel with lead generators. For instance, we use free stock market reports as lead magnets on our website.
Not to mention that it literally opens eyes on newsletter marketing.'
6. Great Legal Marketing by Benjamin W. Glass
Released in: 2012
What this book is about
Right from Chapter 1, the author gives a warning message:
'Some people won't like this book.'
Why?
Because it's about 'outside the box' marketing.
In his book, Ben Glass revolutionises business promotion practices for lawyers and tells how to market a law practice in the modern extra-competitive environment.
How should you approach inbound marketing, for example? What about pay per click advertising?
You'll find comprehensive answers in this how-to book on legal marketing.
Book review
'Although this book appeals to attorneys and marketing managers in law firms, its ideas are easily implementable in any industry,' assures Mark Pierce, CEO of Cloud Peak Law Group.
'Ethical standards and legal requirements that govern marketing and advertising differ from state to state. However, there are some fundamental things that every marketer should know. They all are mentioned and illustrated in this guidebook. I also enjoyed the sections written by guest authors who added their pinches of marketing advice.'
Best marketing books for your shelf
The simple act of reading one of these books won't automatically turn you into a skilled marketing manager.
What you need to do now is to try those tips out.
Draw a clear marketing roadmap for your company and kickstart your next promotional campaign with Articulate.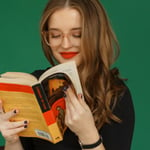 Author bio
Erika Rykun is a book nerd and editor at Booklyst. When she's not busy reading books, she writes about them.