Your website helps define your brand. Unlike social media or advertisements, you have unlimited control over the content you place on it, and can fine-tune how it looks and feels to your customers.
Most importantly, your website serves as a brand differentiator, setting you apart from the competition and establishing your business as uniquely valuable in solving your customers' problems
It's not enough to have a fast-loading website that looks nice on mobile anymore, though. You need to include content that helps your customers understand your brand and acts as a brand differentiator.
In this post, we'll go over five ways your website can help your company achieve success.
Why is a website important to a brand?
Your website is – often – the first place people look when researching your company.
It's also where you can go all-out with your marketing efforts, showing the quality products you offer and providing a user experience that doesn't frustrate visitors.
Home of the brand
Visual Objects surveyed 500 US consumers about their local search habits and found that 76 percent of respondents search for a company's website before visiting its physical store.
On your website, you control your website's content and digital marketing. You're free to define your brand's identity. You have the deciding vote on how to decorate your digital home.
And it's essential that you do just that. According to Marigold's Consumer Trend Index 2023, 86 percent of consumers prefer a brand with a consistent message or experience, so keep your style similar across all platforms and pages.
If you don't have a strong brand aesthetic yet, you can develop one quickly with HubSpot's free brand kit generator.
Inbound marketing
Your website is also a pillar of your inbound marketing strategy. That's where you can create helpful, high-quality content that meets your customers' needs. Whether you're a retailer or a startup, you need to convince them to trust you and your product.
Unlike advertising, you don't have to pay to place this content in front of your target audience, and you can focus on a more specific market share. Nielsen's 2022 ROI Report found that roughly 37 percent of digital ads didn't reach their intended audiences, something all marketers should keep in mind when considering their ad spending budgets. In many cases, you would be better off focusing on your own website instead.
But what if you're a new company without a dedicated website? Or maybe your homepage hasn't been updated in a few years? You might consider choosing a HubSpot Agency to help with your website.
How your website serves as a brand differentiator
Yes, websites can be vital for brand differentiation, but how do you actually achieve it?
Here are five ways we recommend building your distinctive brand — and no, it's not all about having a different look.
1. Provides information about your company or service
Your website is where your key company messaging is showcased to the public. It not only tells visitors key facts about your company, like your brand name, location, and product but also describes the people who work for you. It highlights your brand positioning, that distinctiveness that sets you apart.
While many people only think of colours and style when developing their brand, the messaging and customer experience can be just as important.
These elements are how you strengthen your brand. You can spell out exactly what type of services you offer and who would benefit from working with you.
At the very least, your website should have:
Information about your product or service
Contact information (email, phone, and address)
Data on your company
A mission statement or purpose
A clear call-to-action
Just make sure you aren't trying to appeal to everyone. In fact, it's preferable that you focus on your target market and give them the information they need to reach out to you. All marketing is targeting.
Are your products hitting the market's low price, or are you closer to the premium price point? Make sure this is clear on your website.
You can use web copy to help express the tone of your brand, whether you want to appeal to a professional audience or reach a younger crowd. Your word choice, syntax, and energy will all come across on your website and help visitors determine if you're a good match.
But remember: while your main focus should be on the content on your website, you also want to be mindful of what isn't there. Namely, you want to be careful about any glitches, 404 errors, and outdated information. You should always regularly test for quality assurance.
2. Displays your brand's style and aesthetic
Developing your style is one of the easiest ways to create brand differentiation. There are a few different style elements you can work on:
Your logo
Your colour palette
Your fonts
Your general aesthetic (bold, formal, playful, etc.)
Your logo, in particular, conveys a great deal of information to your customers.
A poll conducted by Promotique and VistaPrint found that three in 10 respondents noticed a logo first when looking at a product. An additional 42 percent agreed that your logo showcased your brand's personality, and 39 percent believed your logo expressed something about your brand's quality.
Perhaps most telling, however, is that three out of five respondents said they wouldn't buy from a brand with a "terrible" logo, even if they'd heard good things about the company before. If you have doubts about your own logo's effectiveness, consider giving it a fresh look with this free logo maker.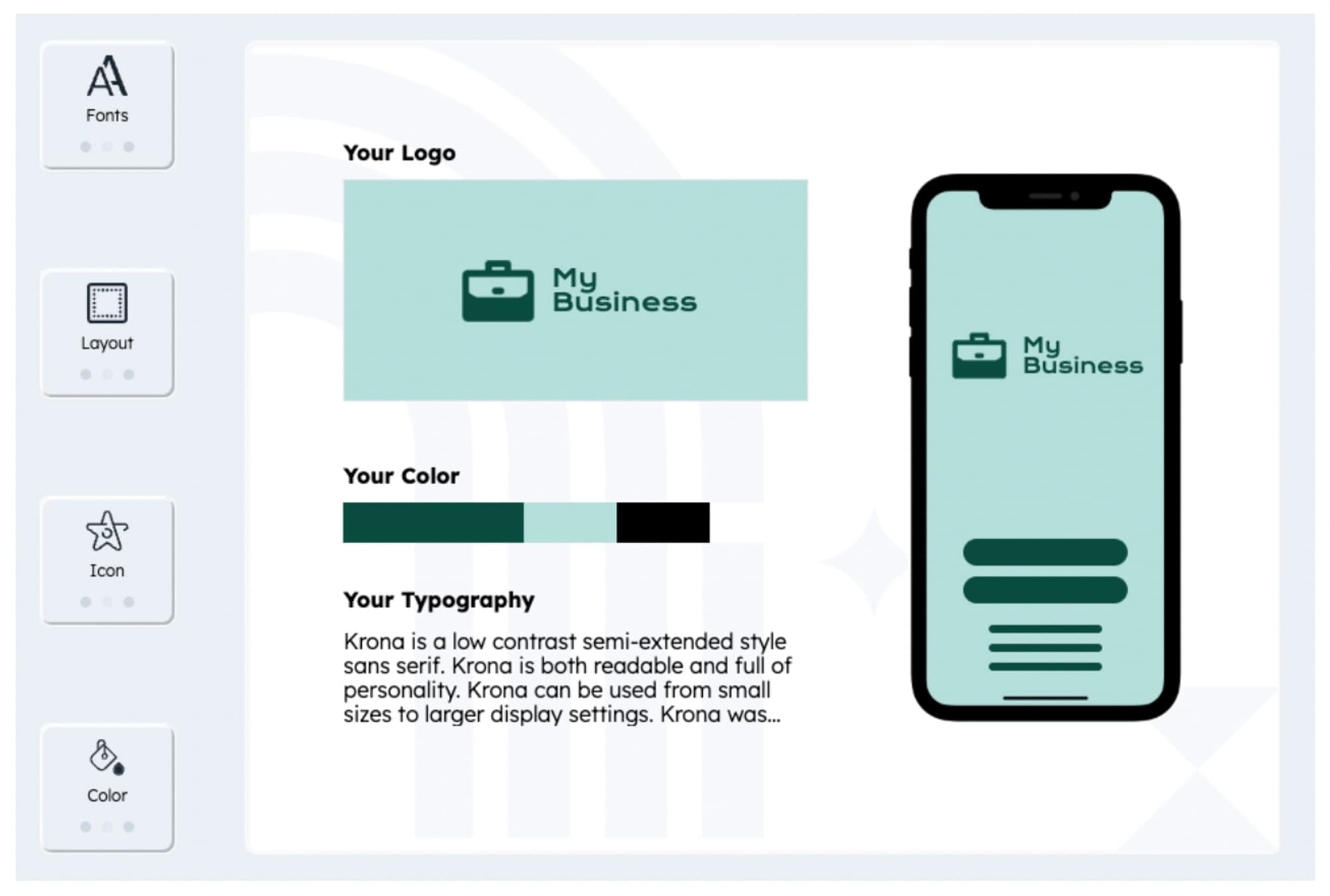 After you've decided on your logo, it's time to focus on your colour palette.
Are you going with popular blues or maybe playful purple hues? A colour palette generator can help you choose shades that complement each other without going for too many colors at once.
You don't want to mix up too many contrasting visual cues. While having a few surprises is fine, your overall look should send a clear message that aids in your brand differentiation without overwhelming customers.
Bottom line, the fonts, imagery, and shapes you use all create the general aesthetic of your brand. If you choose bright neon colours and a modern, simplistic design, you give off a very different feeling from a hand-drawn logo with a classic font.
3. Showcases customer testimonials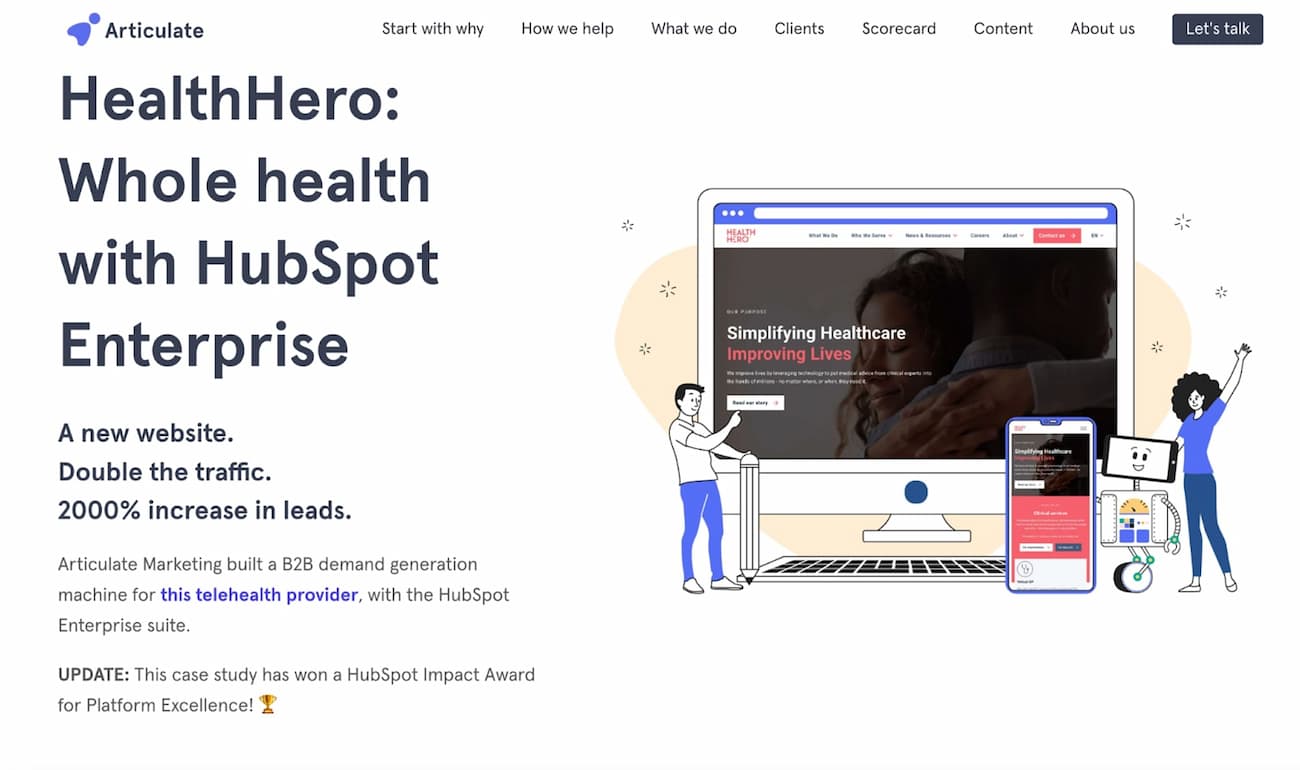 Adding testimonials or user-generated content is increasingly important to customers. Stackla found 80 percent of users are more likely to buy from you if your website displays user-generated content.
That includes videos, photos, case studies, and even customer reviews. Putting these experiences and opinions front and center on your website adds third-party credibility and the air of authenticity consumers crave.
Including various testimonials also lets potential customers visualise how they would succeed while using your services. We recommend including legitimate growth statistics — putting real numbers out there builds more trust than vague promises.
4. Emphasises your company culture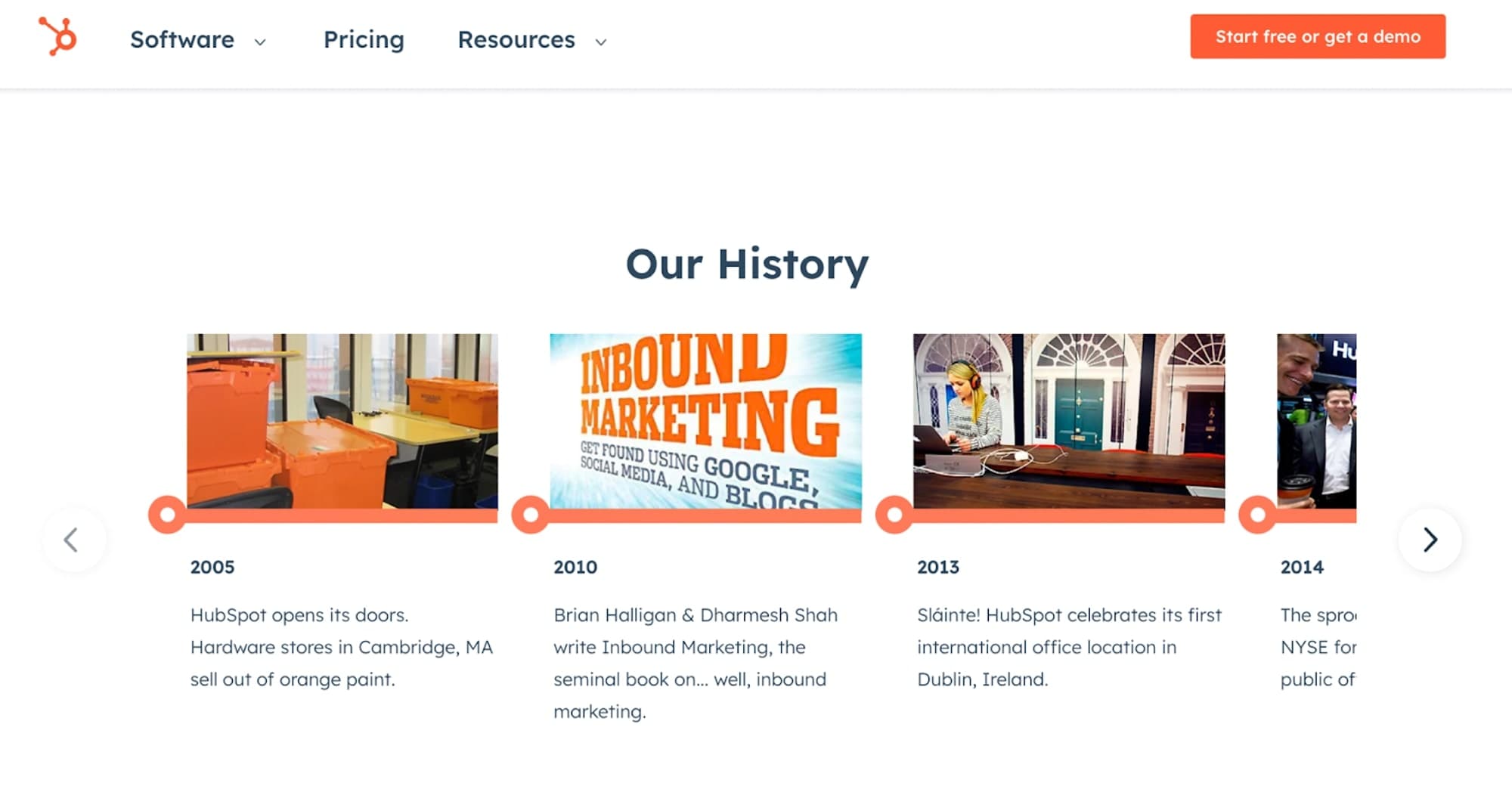 You might think your company culture is more important for hiring than brand differentiation, but showcasing company culture speaks to your consumers too.
Your website can share your business's origin story and leadership team, letting visitors know who's working at your company and what their values are.
Don't settle for sharing info about your "C-suite," which can come across as elitist, but highlight workers from every section of your organisation.
Calling attention to your team and company history helps visitors to your website understand what makes your company — and by extension, your company's offerings — unique and noteworthy.
5. Highlights valuable information to the customer
While your brand differentiation strategy might seem all style at times, customers will be looking for substance too. That means your website should not only be attractive but provide valuable information that helps customers understand your product.
And while you don't want to pad your website with unnecessary filler, organising the information on your website thoughtfully, with a clearly marked home page, service page, and contact page, is crucial.
At the very least, your website should be easily navigable and point customers in the direction of your prices, new products, and business hours.
There should be easily accessible information about how to get started using your service or purchasing a product.
The same goes for custom icons to direct users to your social media pages. After all, 67 percent of consumers like it when a company's website has links to its social media accounts.
It should also be clear how your visitors can get in touch with you, whether by phone, email, or contact form.
Phone numbers are especially important on mobile-oriented websites. Google reports that 60 percent of smartphone users have called a business directly from the search result contact info with features like a "click-to-call" button.
Once the content on your website is up to date and optimised, you can work on fine-tuning style elements to help with your brand differentiation.
Wrap up
Your website wears many hats. It provides potential customers with vital information about your company, showcases your brand's style, highlights customer testimonials, and offers a window into your company culture.
Above all, it differentiates and focuses on what makes your brand special.
But figuring out how to put all of these elements together on your website can be tricky. And at times it may feel like you don't know where to even begin.
At HubSpot and with our Solution Partners like Articulate Marketing, we're all about helping businesses get unstuck during this process and building a differentiation strategy that makes your brand shine.

Author Bio
Alice Sol is a PR Strategist focused on content partnerships and collaborations. Alice has been with HubSpot for 4+ years and she is based in Boston, Massachusetts.