The power of inbound marketing
Inbound content marketing is the smart choice for ambitious SMBs. Yes, even technology companies. Techies – words have power, you know. Inbound plays to their strengths: expertise, insight and a sense of mission. Above all, it's about building relationships with customers
As 37signals' Jason Fried says, 'marketing is sharing'.
'If you don't have an audience, you have to constantly spend money to tell more and more people about your service. But when you build an audience, […] when you generate useful content, people keep coming back to you, instead of you having to go back to them.'
Rather than using the tired, interruptive outbound methods, such as buying ads and spamming people's inboxes using ineffectual email lists, inbound marketing is about creating engaging and informative content that potential customers want to read, connect with and return to. The hard sell is out. Helpful, relevant content is in.
The honour roll
HubSpot's 'State of Inbound 2018' survey found that 74 percent of companies globally now consider inbound their primary marketing strategy. These are just a few of those that have already reaped the benefits from switching their focus to inbound methods:
1. Cisco, in a turnaround off the back of a couple of rough years, switched to brand journalism rather than traditional outbound marketing. The company also developed a series of videos that were published on the company's website and social media sites. The videos showcased how entrepreneurs, students and others were using their technology to achieve their goals. Instead of a hard sell, Cisco showed it had a human face and helped potential customers envisage the benefits that their products and services could bring.

Cisco's blog is still going strong, with multiple posts a week
2. 37signals, the software development company, has a number of wildly successful and popular web-based programs. For the 37signals founders, marketing is all about sharing, teaching and giving. Their Signal vs. Noise blog has an audience of over 100,000 people who come back every day to keep up with the content. This sort of regular, captive audience would cost a fortune using traditional outbound methods.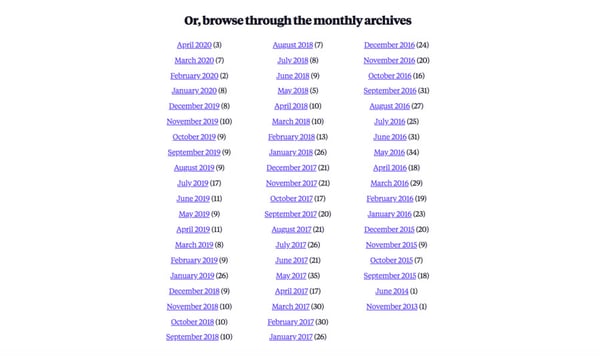 The 37signals team have been blogging for a while. Something's clearly working.
3. Ektron, a web content management software provider that merged with Episerver in 2015, found that list rentals and other interruptive outbound marketing methods were fast becoming ineffective. The company integrated their own CMS with Hubspot's marketing automation, analytics and lead management tools to deliver more effective, targeted marketing. Their inbound efforts have lowered the cost per opportunity by 60 percent and are the source of 73 percent of their qualified leads.

Moving beyond the blog - the Ektron/Episerver group are providing inbound content of all stripes
4. Mimio, a developer of educational technology hardware and software, used to run four separate software platforms to manage its various marketing efforts, which made for a fragmented strategy. It solved these issues with HubSpot's native integration with Salesforce and its integrated tools and software. The company also runs a HubSpot blog to attract its target audience. Mimio is now exceeding monthly leads goals by 40 percent and has seen a 70 percent in year-over-year web traffic from this more unified inbound content marketing strategy.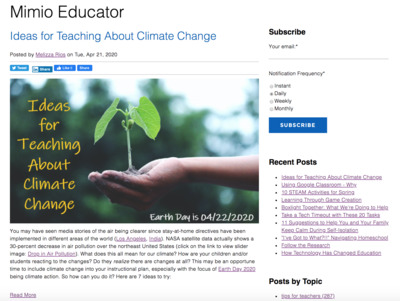 The Mimio Educator blog, still going strong and providing topical content
5. Herschel Supply Co provides an example of inbound social media done very well. The backpack-maker knows how to build an audience. Their Instagram page boasts over a million followers, and was recently praised by HubSpot for its development of a community and its communication of the brand's values, with many posts provided by customers themselves.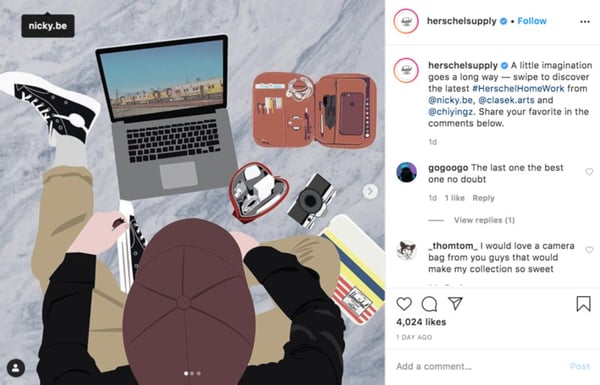 An example of Herschel's community-building engagement on Instagram
6. KLM has a reputation for being at the top of the social media game in their industry, and for good reason. Econsultancy.com have noted that they're 'The most recognised social CRM experts in all of B2C marketing' for their ability to meet customers where they gather - social apps. Their dedication to social media engagement and the tailoring of their services to their customers generated €25 million for them as early as 2014. If there was ever a social example to follow for B2C, this is it.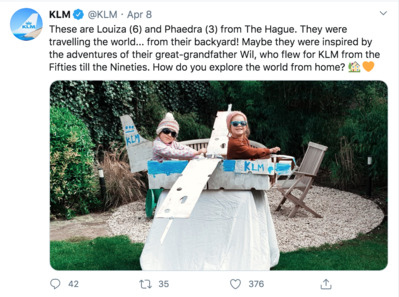 KLM's industry-leading social engagement in action
7. Turbine, a developer of web and app-based HR automation software, has enjoyed serious success – to the tune of a 67 percent increase in website conversions – thanks to a website and services overhaul. Optimisation is an essential part of the holistic inbound equation; without an optimised site all that blog content is buried. By migrating the site from Wordpress to HubSpot and deploying HubSpot's Service Hub (amongst other things), we were able to help Turbine broadcast its inbound efforts and convert.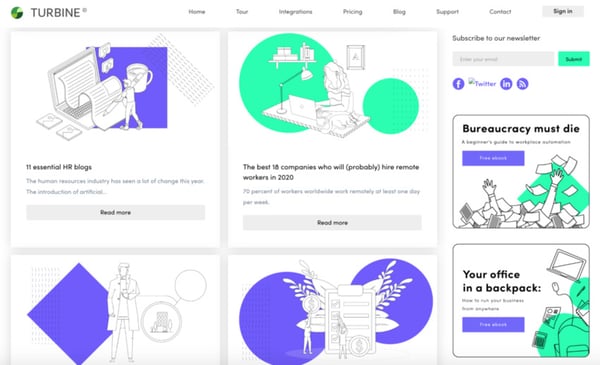 Turbine's shiny, slick HR blog
8. Articulate. That's right, we're tooting our own horn. You've already found our blog if you're reading this, which is one of the cornerstones of our inbound efforts. We've managed to increase our web traffic and contacts by over thirty percent in the last year thanks to our combination of blogging, email, social media, SEO and gated content.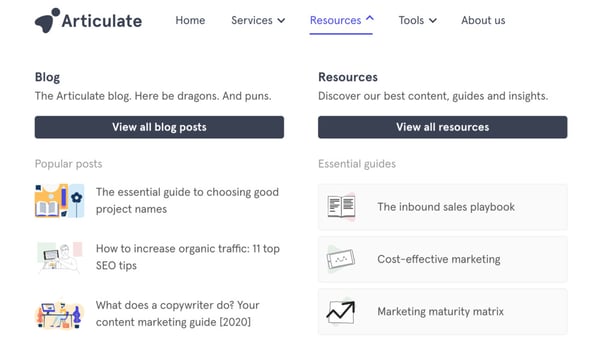 Just look at all that thought leadership gold!
Inspired yet?
HubSpot's survey also found that over half of its respondents said that inbound marketing gave them a higher ROI. When compared to the 16 percent of respondents who said that outbound gave them a higher ROI, it's pretty clear why so many organisations are shifting – or have shifted – their efforts to inbound.
These are just a few examples of inbound marketing done right. There are countless ways to approach the inbound methodology and succeed with it. And, just as many examples of people taking creative, unique approaches to their marketing strategy.
Benchmark your inbound marketing strategy
How does your B2B business compare? Take our quiz and find out.
[Originally published as part of a Geek Guide to marketing, updated and refreshed in 2019]