Content marketing has revolutionised the way we communicate with our customers. Ninety-one percent of B2C businesses create online content, and it's easy to see why. Not only does content marketing cost 62 percent less than traditional marketing, it also generates three times as many leads.
While putting out regular content should be at the top of any marketing copywriter's to do list, content for content's sake won't do your business any favours. But, create content that's eloquently written, visually attractive and insightful, and you'll soon find the leads you've been looking for.
We've put together this expansive list of content resources, compiling some of our favourite content tools, to help take your content from good to awesome.
9 sites for beautiful images
Adding relevant images to your content is an efficient way to further your story and add impact to your words. In fact, experts have found that when information is paired with imagery people retain 65 percent of what they are told, compared to just ten percent without.
Wikimedia contains hundreds of thousands of images under the Creative Commons licence and in the public domain. You can find historical and current photos with licences spelled out on each page.
This website has a simple design and is recommended by more than a few bloggers. While there are some low quality images to sift through, it allows use of the 'free photos' without attribution.
The site offers many high-quality photos with different licences, such as Creative Commons and Public Domain, for each photo.
Limited to Photoshop files, this site provides simple, appealing and free icons in a number of categories. The terms of use are simple and easy to understand.
Unsplash is brimming with gorgeous high-quality images. There's a wide selection, and each image includes the photographer's name and Twitter handle so you can personally thank them for their work if you so wish.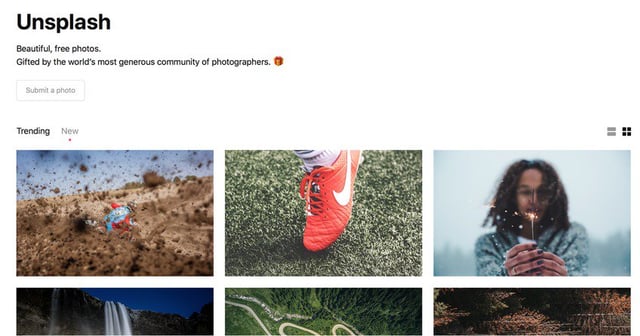 Pexels is well-known in the content marketing industry as fantastic place to source images. There's a varied selection and you can download in a range of sizes.
The sign-up is free and grants access to free stock-quality photos. The majority of the photos are high quality with a few random shots in the mix.
Pixabay promises that all pictures uploaded to the site are in the Public Domain and free for personal and commercial use without attribution.
11 must-read blogs to inspire new content
When stuck staring at a white page, a quick flick through someone else's content is a great way to inspire your own. This selection of blogs are highly regarded and use best practices, and they cover a range of subjects to help take your content to the next level.
This blog offers loads of advice on content creation, social media and data-driven marketing strategies, written by thought leaders in the industry.
Have a look at:
Here you'll find lots of excellent stuff from the CMI, whose mission is to advance the practice of content marketing. The blog covers all aspects of content marketing, from specific and practical advice to more general industry trends.
Check out:
Named the number one content marketing blog in the CMI's final Junta42 Top 42 Marketing List, you'd expect it to be good. And it doesn't disappoint: much of the content is written by respected marketing consultant, Jay Baer, and there's a strong focus on results.
We liked:
A frequenter of the Junta42 Top 42 Marketing List (while it was still running), Copyblogger continues to pump out effective content about copywriting and blogging, and marketing more generally.
Our favourites:
Another highly regarded blog, Lee Odden's blog focusses on online marketing, from content strategy to general industry news and trends.
Read:
Written by serial entrepreneur and online marketer, Neil Patel, this blog covers many aspects of online marketing, but focuses on SEO and driving up visitor numbers.
Take a look at:
Deals with marketing down the entire funnel, from attracting strangers to delighting customers. And - gives sage advice to both marketing and sales teams, encouraging them to work together.
Must-read articles:
Filled with the sort of fantastic content you'd expect from the folks that brought you the go-to social media management tool.
You might like:
How to Perform an A/B Test on Headlines, Tweets, Traffic, and More

The Ultimate Guide to Repurposing Content: 12 Ways to Extend the Life of Every Article You Write
This has a strong focus on conversions, analytics and testing to help you tighten up your marketing efforts.
Take a look at:
Our blog isn't too bad either. We focus on content marketing – that is our bag, after all – but we cover everything from How to work with copywriters to Boosting website conversions to Building a compelling business case for content marketing.
7 tools to enrich your vocabulary
The type of language you use influences the tone of your content, and in turn the type of audience you attract. Experiment with your vocabulary to find the perfect words for your customers.
Two sites for the price of one. Not only will One Look collate definitions from dictionaries across the web - both general and specialist - but it also has a reverse dictionary feature for when you know what you want to say, but you just can't remember the right word.
Just brilliant. A reference guide that gives working examples of all sorts of linguistic turns.
You know when you are really frustrated that you can't remember that perfect word? Well this is like the opposite of that, you know - encouraged, fulfilled, inspirited, stimulated, uplifted. Type in a word and find its antonyms.
Word Spy
Full of new words and uses of language, like a grown up's Urban Dictionary.
A visual display, or stream, of 86,800 English words, ordered by popularity.
For all those unusual and oddly specific words. Fascinating to peruse and perfect for anyone with

simphobia

.
We're always on the hunt for awesome new resources for content. Have we missed one of your favourite content marketing tools? Let us know in the comments.