For the last couple of months I have been commuting into central London three or more nights a week. Normally I work from home so this is a new experience and I wanted to make best use of the three or more hours a week I would spend on Underground trains.
My hypothesis was that I could actually do my job – writing – while travelling on the Tube.
Materials
Apple MacBook Air
Microsoft Word for Mac 2011
Dropbox
iPhone
Canvas satchel as a lap-desk
Sennheiser headphones
Method
To do my job, I need several things:
Internet connectivity to access files on Basecamp and Dropbox, and to do my research.
Microsoft Word (I know there are alternatives but I'm hard-wired now).
A full size keyboard. See my earlier IDIFS piece about Editing Word docs on my iPhone and iPad.
Focus, concentration, lack of distraction and motivation to write.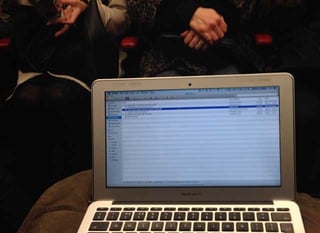 Taking the internet first, I found that I could use my iPhone's Personal Hotspot feature to get online. From Chiswick, the Underground actually travels overground for a few stops before disappearing beneath the surface. This gave me enough time (just) to sync Dropbox and perhaps pull a file or two down from Basecamp before I was cut off from my internet lifeline.
However, the lack of continuous internet connectivity meant that it was hard to do original research on the Tube. Because of this, I quickly found myself choosing to work on one or two pieces that I had already researched (such as turning an outline into finished copy) or things that didn't need much research (such as blog posts).
I tried to sit at the end of the carriage or next to a glass partition to minimise the chance of a fat-elbowed neighbour and, being English, to reduce my elbowy impact on other passengers. Typing is not a narrow activity.
I'd perch my MacBook Air on my satchel and, by filling the satchel with hats or a scarf, I could prop it up to a usable height and angle. I typed at my normal speed.
Headphones blocked out some of the background noise and helped me concentrate but the jolting of the train and the visual distraction makes it less than ideal.
Typically, I'd write a few hundred hasty words on each trip. Generally, I finished pieces off back in the office, adding polish, proofreading and adding details and links.
Observations
The Underground needs continuous internet connectivity. Not just in stations but everywhere. Forget air conditioning, come on Boris, we need Wi-Fi! I wasn't able to access in-station Wi-Fi from a moving train – it takes too long to connect up. However, I do use that on my iPhone to pick up emails while I am waiting for a train and that works well.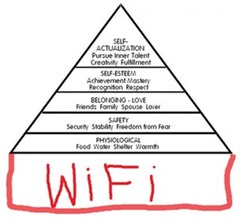 Basecamp needs an offline mode. It would be awesome to be able to make comments, close tasks and upload files offline and have it sync up later.
People need to watch where they're going. People need to understand that their backpack is under their control and attached to their body. My MacBook nearly came a cropper several times. I soon developed an instinctive 'grab the screen' reflex.
Sometimes I skipped a busy train and waited a few minutes for the next one in order to get a seat. This is an effective technique at busy stations. But often trains were just impossibly crowded, even at odd times of the day or night, and it was impossible to sit or work.
Occasionally, I missed my stop because I had head in my work so I must have been able to get focused. Mind you, I once missed three stops because I got caught up in the thought 'what does "it" in the sentence "what time is it?" actually mean'. So I'm easily distracted.
An 11" MacBook Air is the perfect laptop for this. It sits nicely in the lap, doesn't weigh a lot in the bag, comes to life almost instantly and has an epic battery life. I have taken to carrying it almost everywhere.
Conclusion
It is possible to write on the Underground. In fact, on the overground sections, with a mobile internet connection, it's almost possible to be fully operational. But mostly it is a good way of writing something – just getting the words down on the page in a shitty first draft. The right technology makes a Tube journey more productive than playing Angry Birds but it's not easy to write customer-ready copy.