Zero to hero. Or, how to rapidly build and execute a marketing plan as a Minimum Viable Product. Fast, functional and scalable - that's what it's all about (hey!).
Here are the steps you need to take to get to a marketing MVP in just 90 days.
This article is based on one of our popular webinars. View the video and download the slides.
Disjointed marketing vs. joined-up marketing
Even for an MVP, you can't just do a bit of this or a bit of that. A handful of Google ads and a blog or two won't cut it. Disjointed activities will lead to poor results.
First of all, let's talk about what we want to avoid. These things will kill the viability of the whole enterprise:
The 'Man in the Mirror' problem. 'My audience cares about the same stuff I do.'
Self-diagnosis. 'I think the problem is this, therefore I think the solution is that.'
Magic bullets. 'If we do this one thing, it's going to solve all of our problems.'
Random acts of marketing. 'We'll do stuff and therefore we'll see results.' (But there's no evidence linking activities to positive outcomes.)
Rounded pebbles. 'We don't want to alienate anyone. We want to sell our stuff to everyone.'
Impatience. 'I want results, now.'
You need to craft a joined-up strategy. Remember, you're setting yourself up for the long term. If you want instant results, buy your ads. But if you want good, lasting results, do this: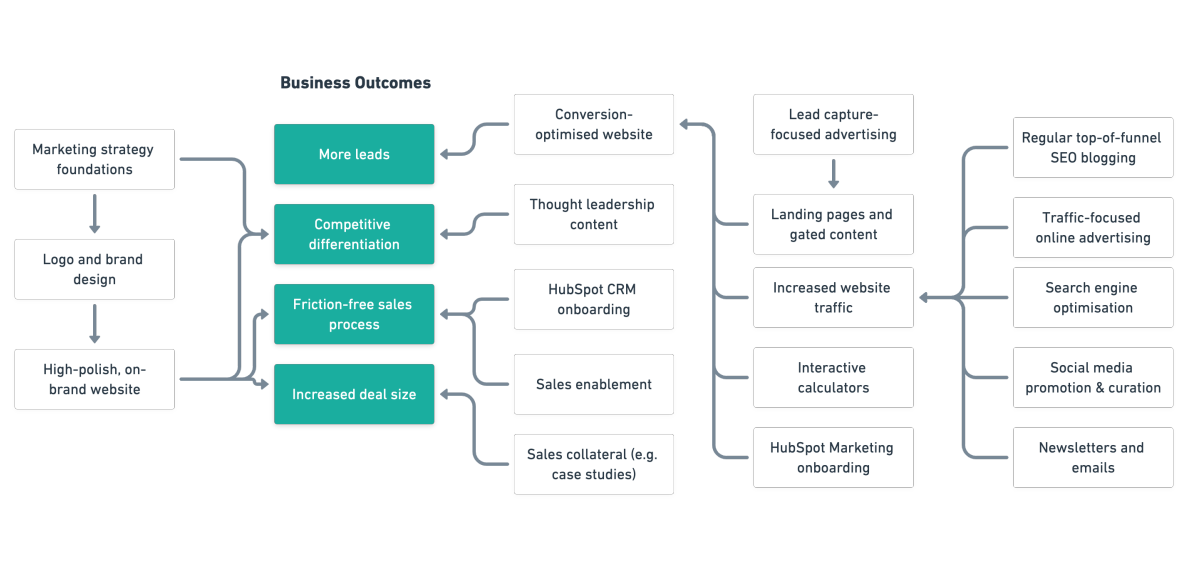 We implemented an MVP model for one client, Azured, helping them to relaunch, position and promote their business. They got great results. And the project won an award 🏆 so you know our process works.
10 must-haves for minimum viable marketing
1. Strategy
Always start with strategy. Know who you want to talk to, what you want to say to them, why you can help, how you make a difference and so on. You might know these answers instinctively, but that knowledge is no good siloed in your head. You need to document your Ideal Client Profiles (ICPs) and personas, as well as key messages and your business's tone of voice. That way, you can build consensus, and everyone will be singing from the same song sheet.
As an agency, we gather a lot of this information through interviews and workshops. We also do competitor benchmarking, customer journey mapping and SEO keyword search intent research.
Put together, this information forms the blueprint for all your marketing efforts. Sign up to our free five-week email course, where we cover this topic in more depth.
2. Brand identity
Your brand identity is your logo, fonts, colours, iconography and imagery. Often, organisations who haven't done much marketing need to update these components.
Sometimes, it's worth going beyond a simple modernisation exercise. You may need to do a whole rebrand to support a strategic repositioning, reflect a new strategy or align with a new website build. Steel yourself; these kinds of big changes can be emotionally challenging.
Ideally, you will end up with a brand book with guidelines and an image library. Think MVP. This doesn't need to be super detailed. Just get the basics down.
3. Website
Your website is more than a brochure. If you just have a contact form and a phone number, you're only going to get people at the end of the buyer's journey getting in touch. That means - typically - about one in a thousand visitors.
If you have a highly converting website with six to eight touchpoints (such as optimised downloadable offers and content that talks to people earlier in their buyer's journey), then that one in a thousand can become 40 in a thousand. So that's a 0.1 percent conversion rate to a four percent conversion rate.
In 90 days, your job is to make it easier for people to come to and convert on your site.
For that, you need a fast site with short loading times and mobile responsiveness. The navigation must be easy to understand, in a format that's technically optimised for the user and for search engine crawlers. To achieve this, you either need to modernise your existing site or, if your site is more than three years old, build a new one.
4. SEO
Search Engine Optimisation is a constant, long-term slog. It isn't one thing. It's multiple activities that includes keyword research and search intent research, technical site-wide SEO, on-page optimisation, link building and content creation.
Here's an example of why SEO matters. The essential guide to choosing good project names, is the number one article when you search 'how to choose a project name' on Google. This one blog post has so far accounted for 610,000 page views. One afternoon's work that was!
So, see what you can do now, to optimise for search. Here are some ideas.
5. Copywriting
That brings us onto copywriting. Great content on your website, great thought leadership articles, great SEO-focused articles, and great top, middle and bottom-of-funnel pieces will help potential customers articulate their needs and make better choices. Copywriting is, therefore, a powerful marketing tool.
To get started, you want to aim for four SEO-focused blog posts a month with at least 500 words each. In addition, you want to invest a bit more into a longer piece on a core topic that your audience cares about. Then, use internal links to hyperlink relevant supporting blogs to that central article. That's called a topic cluster. It's a proven strategy for SEO if you give it time to work. Four blogs isn't an SEO strategy; 40 blogs is. But you've got to start somewhere.
While you're at it, apportion around 20 percent of your writing time to creating case studies, product literature and sales collateral. That stuff matters for later down the road.
6. Inbound lead capture
Landing pages, pop-up forms, live chat, chat bots, calculators - lead capture is anything that gets people to give you their contact details. Usually, this looks like a form that sits in front of an offer, like a whitepaper or webinar. Once the contact is in your database, your marketing and sales teams can nurture that lead. That's the mechanism that makes inbound work.
In your first three months, you should aim to produce at least one of these. The goal is to get to eight offers as soon as possible, ideally in your first year to eighteen months.
7. Sales enablement
This is the bridge between marketing and sales. You need some kind of manual, or ideally automated, way to pass qualified leads to the sales team in a timely manner. And a clear sales process with around a dozen touch points. Yes, that's how much effort it takes to reach someone.
To make this more efficient, you can use tools such as automated email sequences, call and video scripts and templates for things like LinkedIn messages.
If you don't have a lot of traffic yet, then in your first few months you need to proactively contact prospects. You want to do that in a non-threatening, non-pushy, non-sales way. The best way to do that is to offer free information that is genuinely helpful. So, it's doing outbound with an inbound kind of attitude.
8. Promotion
This is what you do while you're waiting for your SEO activities to yield results. Online advertising can help to boost your content, though it's a bit hit or miss in our experience.
On the other hand, social media and email are always good places to share your content and brand. As standard, make use of these platforms for promotion.
But, if you're still building your social audience and contact database, you could do something a bit different. Try being a guest on podcasts or offer quotes for the press using HARO or Terkel. We've experimented with both and found them to be pretty effective, especially for getting backlinks. Better than guest blogging, anyway!
9. Analytics and reporting
You need to measure what's working and adjust accordingly. If you haven't got this set up, this is the time to do it. Traffic and where it's coming from is important. Inbound conversion rate, and therefore the number of inbound contacts, is the next thing you want to know. And leading on from that, sales activity levels, particularly if you're doing any outbound prospecting.
Those are the big three areas you want to be reporting on. Then, you might want to look at specific initiatives and campaigns or A/B testing. When you have this, you can diagnose failure points and figure out how to optimise future actions. We recommend HubSpot for all of this, but more on that in the next section.
10. Technology
We are HubSpot Diamond Partners. It's no surprise that we say HubSpot's the platform to use.
It integrates all this marketing and sales stuff, and reports on it. You get a CRM (Customer Relationship Management) platform so you can contact a database of leads. There's website hosting both for rapid-launch sites and custom builds. You get all your SEO optimisation, blog posting, forms, social media and emailing in one tool. Sales teams can integrate LinkedIn sales Navigator for prospecting, then do all your pricing, quoting, proposals and deals.
If you want to get to a marketing MVP in 90 days, this is the tech that is going to make that so much easier. Here's where you can go to learn a bit more about HubSpot.
Your 90-day roadmap
To round-up everything we've recommended today, here's a timeline for you to follow:
Month 1 - Strategy blueprints
✔️ Positioning, messaging, tone of voice, personas
✔️ Competitor benchmarking
✔️ SEO analysis, keyword research and search intent
✔️ Review and analysis of existing results and website
✔️ Market sector research and client interviews
✔️ Content planning

Month 2 - Construction
✔️ Brand book
✔️ New website/website modernisation
✔️ Write content
✔️ Write case studies and sales collateral
✔️ HubSpot onboarding

Month 3 - Lift off
✔️ Publish the first blogs
✔️ Launch a lead capture offer
✔️ Do email, social and other promotion
✔️ Begin targeted sales outreach
✔️ Start gathering data

Estimated effort
The work outlined in this plan involves multiple skills: design, copywriting, SEO, website development, marketing strategy and so on.
As a rough effort estimate, it's probably three person-months' work over a quarter. One person doing this alone will struggle. And, we're talking MVP. If you're doing this at a higher level, such as with a bespoke site-build with all new copy and branding, it's going to take longer, call for more resourcing or require deeper expertise.
So, you need a marketing team with the right skills if you're ambitious enough to take on this 90-day challenge.
If you don't have that capacity in-house, talk to our business development representatives. We have the talent, tools and experience to launch your marketing MVP. And we're just mad enough to do it.