My first time went a little like this: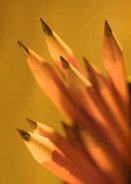 I had an interest in writing and social media. Someone liked the sound of that so they offered to pay me to start their company blog. I did and they loved it. I had never written a blog post in my life.
In reality, the doing part actually involved a lot of panic, fear and redrafting and so in an effort to make your first time a little more enjoyable, here are a few things I learned along the way:
Read other blogs
This is a bit of preparation I can't do for you. Read blogs which talk about your chosen topic and analyse their writing style. Try using Google Reader to search for blogs on a topic you find really boring. When you catch yourself reading one pay very close attention – they are getting it right.
Know your audience
It's much easier to write with a reader in mind. Consider factors like age, occupation, level of intelligence and why they would read your blog. You have to decide what your reader knows in order to decide what you need to tell them.
Being concise doesn't mean dumbing down
As suggested by Copyblogger, use the minimum number of words necessary to convey an idea clearly. Make every word count and simplify your sentence structure and you will find you can communicate more, not less.
Accept you won't get it right first time
No matter how proud you are of your first draft, it will need editing. Try not to write and edit on the same day though. It often takes a night's sleep to switch your mind from creative writer to objective editor. Jan Felt's post suggests using distraction-free software to write, then moving to Wordpress or Word to edit and format to futher help the switch.
One last thing
It gets easier with practice, I promise.