Have you used social media today? I'm willing to bet that you have.
Indeed, 3.03 billion people use social media worldwide.
Let that sink in.
All those tweets, likes, shares, videos, images, memes and gifs. And don't think social media is just for personal use. 88 percent of businesses with over 100 employees use Twitter for marketing. The writing is on the wall – social media is culturally ubiquitous and a mainstay of the marketing world.
So, it's clear that your business needs to be making the most of social media. But, how – exactly – do you do that without a social media marketing agency?
This article will give you a host of tools that'll help make social media easier and more successful for your business.
Generally, these tools help to make the following easier, faster, and more effective:
Scheduling social posts on a content calendar

Discovering what is working well with reports

Listening and engaging with your audience
Social media doesn't have to be difficult if you have the right tools in your arsenal.
Let's jump in.
1. Hubspot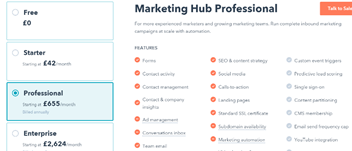 HubSpot's diabolical goal is to make the world more inbound. Its strategy is to provide an all-in-one marketing software platform that offers everything an inbound marketer might need. We use (and love) HubSpot. In fact, we're a Hubspot Certified Agency Diamond partner, which means we are experts at migrating or integrating your business website onto Hubspot.
It's a platform that is intuitive to use and constantly evolving, and is packed full of tools that stack on top of social media support. This includes CRM, SEO, email, and a blogging platform. This means it's perfect for companies looking for a complete marketing and customer relationship toolkit. But, if you only need support with social media, it might be overkill. The cheapest package that includes social media integration comes in at 655 pounds a month.
That said, the HubSpot freemium model needs to be the first port of call for anyone interested in online marketing. Here's a link.
2.
SproutSocial
I tried SproutSocial for a few weeks and found it impressive but also a little overwhelming. There are a lot of great features, such as social listening and a social post approval function, and the reporting tools are excellent. Like HubSpot, SproutSocial goes beyond social media and provides customer relationship management (CRM), but doesn't offer a complete suite like Hubspot.
SproutSocial also integrates with useful third-party applications such as:
Google Analytics

Feedy

Bitly

Zendesk
It's not as easy to use as a tool like Buffer, and it is more expensive. However, if you're willing to spend more and are looking for detailed reports, SproutSocial is an excellent tool, and their employees love to work there. Here's a link to the free trial.
3.
Buffer

With over 4 million users, Buffer is an increasingly popular tool for social media scheduling. The most compelling reason to use Buffer is its clean UX and intuitive UI. Of all the social media tools, this might well be the most user-friendly, and it does the basics very well.
Another useful feature of Buffer is that it is well-optimised for teams. You can assign tasks to team members, and an in-built approval process enables posts to be monitored.
Buffer offers less functionality than SproutSocial and a lot less than HubSpot, but it's more accessible, so a good match for smaller agencies / budgets. Here's a link to the Buffer free trial.
4.
Hootsuite

Coming from Buffer to Hootsuite can feel like a step-down in terms of interface – the layout and design isn't as intuitive, but this is still a feature-rich program that is worth exploring. Hootsuite is also a market leader with over 17 million users, so it's clear it's doing something right.
It integrates with all social media platforms and offers:
Bulk-scheduling of social media posts

Assessments of team performance

Detailed reports designed to improve ROI
Check out their free trial here.
5.
Zoho Social

Zoho Social offers strong all-round features. You can schedule posts easily, monitor mentions, and create reports on your social media KPIs. It's a good option for most agencies.
However, what sets Zoho Social apart is the wider Zoho ecosystem. There are many other useful Zoho software tools that a budding agency might already have and like, or plan to integrate in the future. There is Zoho CRM for your customer relationships, and Zoho Desk for technical support. This makes Zoho Social a strong choice for a small or growing agency, as they can integrate other Zoho tools to fulfil needs as they arise.
6.
Agora Pulse

This is another all-in-one social platform that handles everything you need from a social media tool. It stands out in terms of social listening, analytics and audience qualification. It's up there with SproutSocial in terms of these offerings. It also comes in at a more affordable price, which makes it a compelling alternative.
Here's their 14-day free trial and price page.
7.
Sendible

Sendible is a social management tool designed to save your business time. It has a feature called 'Priority Inbox' which collates your most important conversations from all social networks to one place, so you never miss an important message.
It also has strong integrations with other platforms, including Canva. This makes Sendible a solid choice for agencies that specialise in graphic design.
8.
SocialFlow

The stand-out benefit of SocialFlow is that it takes the hassle out of timing when your posts go out. It does this by tracking which times are getting the best results. It then schedules all future posts to go out at these times. SocialFlow also monitors your ad campaigns and then recommends where the best opportunities are for spending more.
This combination of features gives SocialFlow some unique strengths that make it worth trying out. To get a price, you'll have to contact them directly.
These are the tools you're looking for
Everyone and their dog are now on social media.
But, only 5 percent of adults say they have a lot of trust in the content from businesses on social media. That means your ability to create quality, trusted content can become a competitive advantage for your business. To do this, you'll need a great social media tool.
Use the advice in this article to find the social media tool that best fits your business, and then drive your business' social media strategy. Help your business grow, one post at a time.