We charge for our work on a points system. We do not charge by the hour or by the day. This means that clients are paying for results and tangible deliverables not for effort or time. This is a fundamental part of the way Articulate is delivering better marketing services to clients.
But how does 'points pricing' work, where did the concept come from and how have we implemented it?
How does points pricing work?
A client buys a certain number of points each month (if they are on a retainer) or as a one-off purchase (for one-off projects).
As a very rough rule of thumb, one point corresponds to about 100 words of copy or about an hour's routine work. 30 points a month is really the bare minimum for a rolling marketing campaign and most of our clients buy 50+.
We have a table that lists dozens of Articulate deliverables, such as writing a short blog post, creating an infographic and so on. Each one has a 'price' in points. Here's a snippet from part of the table.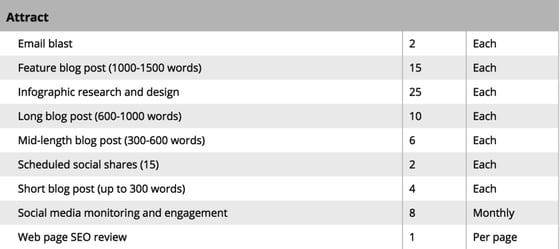 Prices vary based on the number of points a client buys and the length and scope of the engagement; but typical monthly retainers run £4,500 a month and up.
The point of 'points'
Historically, when we worked on copywriting projects, we charged by the word. This made it very easy to make budgets for projects and helped customers predict our likely costs. It was a contrast to the hourly rates charged by most marcomms and PR agencies because clients paid for output rather than effort. It aligned our interests with our clients' because we were highly motivated to do a good job, quickly and minimise rewrites. Hourly billing pulls in the other direction by creating a false incentive to do unnecessary extra work.
But Articulate has changed in the last two years. We're still writing, of course, but we do other things as well, such as videos, infographics and social media, which aren't so easily priced on per-word basis. Points pricing gives us a tool for pricing these new services in a consistent way. This keeps the company happy, because everyone gets their work acknowledged, and the clients love it, too.
Also, we've made the change from being mostly project based to being mostly (almost exclusively) retainer based. As a result, we needed a more flexible pricing model. It's simply not possible to make a plan in January about the precise content and marketing you need in July, for example. Yet, the new pricing model had to continue the principle of paying for output not effort, be easy to understand and predictable. This is where the points pricing comes: clients know that they are paying for deliverables but agreeing to decide exactly which deliverables at a later stage. Points pricing offers this flexibility.
We wanted a way to track our productivity as a business and estimate future resourcing requirements but, after much debate, we rejected the idea of time sheets. They're fiddly, time-consuming and often inaccurate. We're fans of agile development and, especially, the idea of estimating the complexity of a task rather than time taken to complete it. Tools like Pivotal Tracker uses points to do this. This is one of the inspirations for points pricing.
We named the whole thing 'PointsHub,' - snazzy we know.
Typical monthly retainer
A typical month on a 40-point plan might look like this: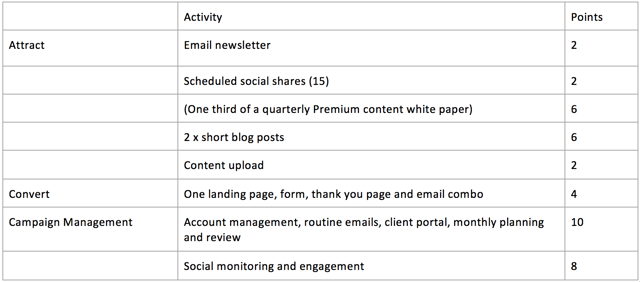 Measuring points
We have created an app that lets Articulate log completed activities and it automatically calculates the number of points and bills them to a client account. The form is on our intranet so it's very easy to access and takes about a minute to complete.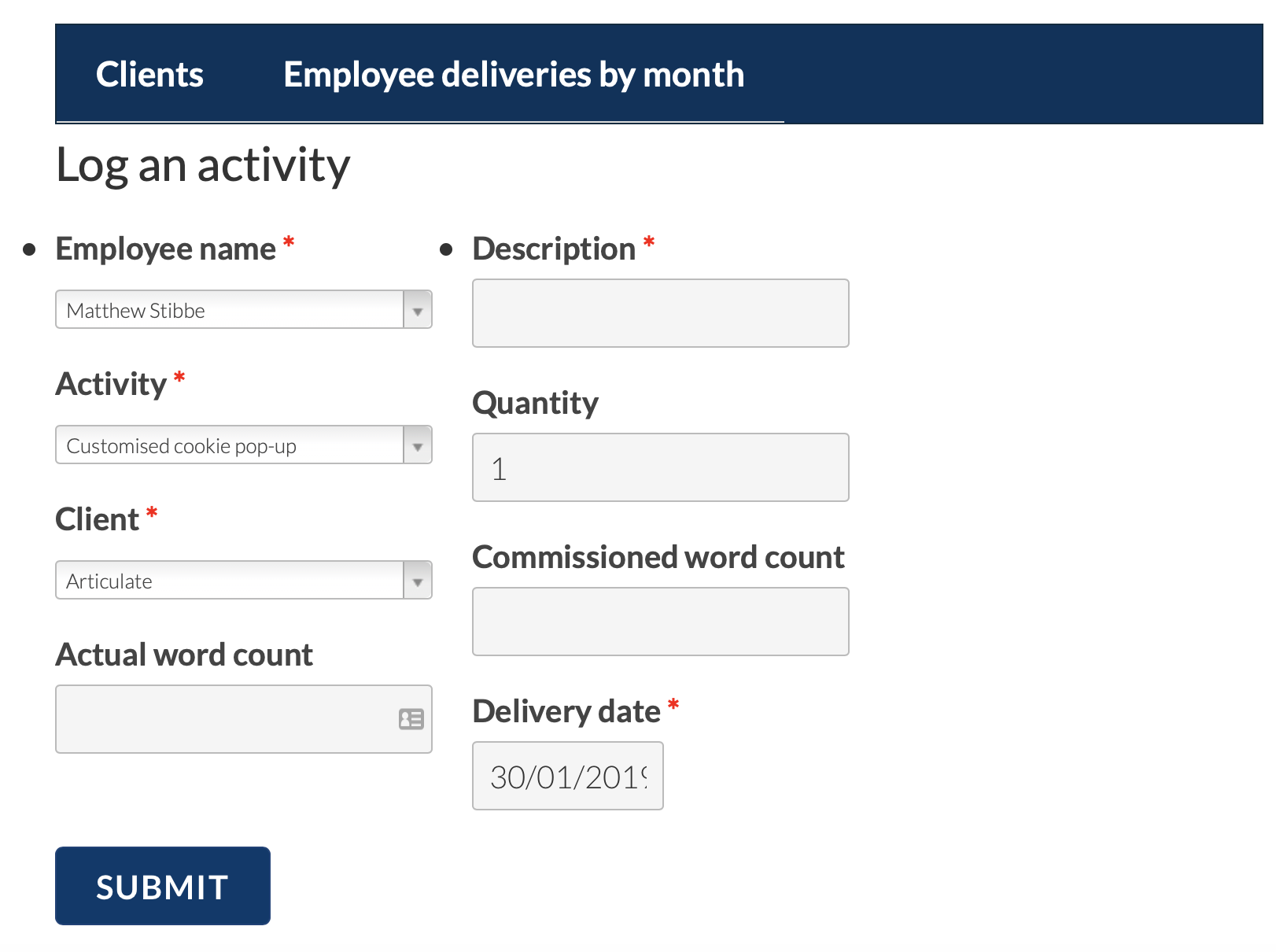 The data is stored in a database where we can analyse activity levels on an individual basis or for client billing. For example, I send a weekly email to everyone at Articulate and I can pull a report listing everything we've completed in that week. We can also pull reports of activity completed for clients in a given month. The next step is to give clients their own login so that they can see work done on their account (but not other people's!).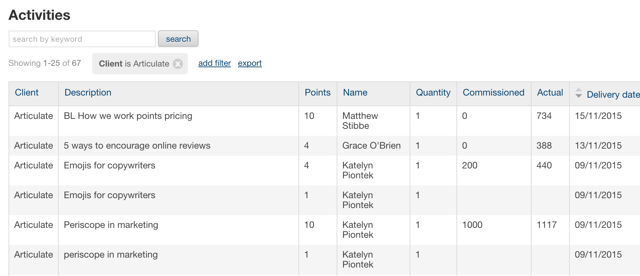 We believe that this ability to link pricing, activity, reporting and project planning is going to be a powerful tool for Articulate and we already see that customers love it. Points mean prizes!
See also: happy company
Related service: Marketing Strategy