Crack open the champers and start the weekend early. We've been awarded Investors in People's 'We invest in people' Silver accreditation! 🥳
'We'd like to congratulate Articulate Marketing. Silver accreditation on We invest in people is a remarkable effort for any organisation, and places Articulate Marketing in fine company with a host of organisations that understand the value of people.'
— Paul Devoy, CEO of Investors in People
This news accompanies the fact that we recently became a B Corp Honouree once more — this time for achieving a Best for the World in the top five percent of all B Corps in the 'Workers' category.
So uh... not just a fluke, then.
About Investors in People
Over the last 20 years, Investors in People (IIP) has been offering accreditations to those organisations that have provable high standards for people management in the UK and internationally. They've already helped more than 11 million people across 75 countries to make work better.
The primary purpose of the IIP is to help businesses improve their overall business performance and realise objectives through the management and development of their employees. The accreditation is validated by a third party, too, which means you can trust that it is an honest process. Speaking of...
The IIP process
We applied for accreditation and underwent a rigorous assessment following the IIP framework. Our assessor chatted with members of the team, then joined us for a day of work. Her comments after that day made us blush — and there was more in the report we received detailing our results:
'You have a very open and transparent culture and with the robust performance management processes you have introduced this will really drive high performance. You are investing heavily in your people and want to be a great employer.'
To share a little love — and do our fair graft as marketers — here's a link to their upcoming webinar on the certification process (21st September).
What Investors in People measures
The IIP framework measures nine indicators across three categories: Leading, Improving and Supporting. These indicators are assessed on four levels: Developed, Established, Advanced and High-Performing, and you need to achieve the right level across all indicators to be awarded an accreditation.
You can see below that actually we scored higher in certain areas, like delivering continuous improvement, so we're already half-way to Gold. In fact, our score was well above the average of other Investors in People.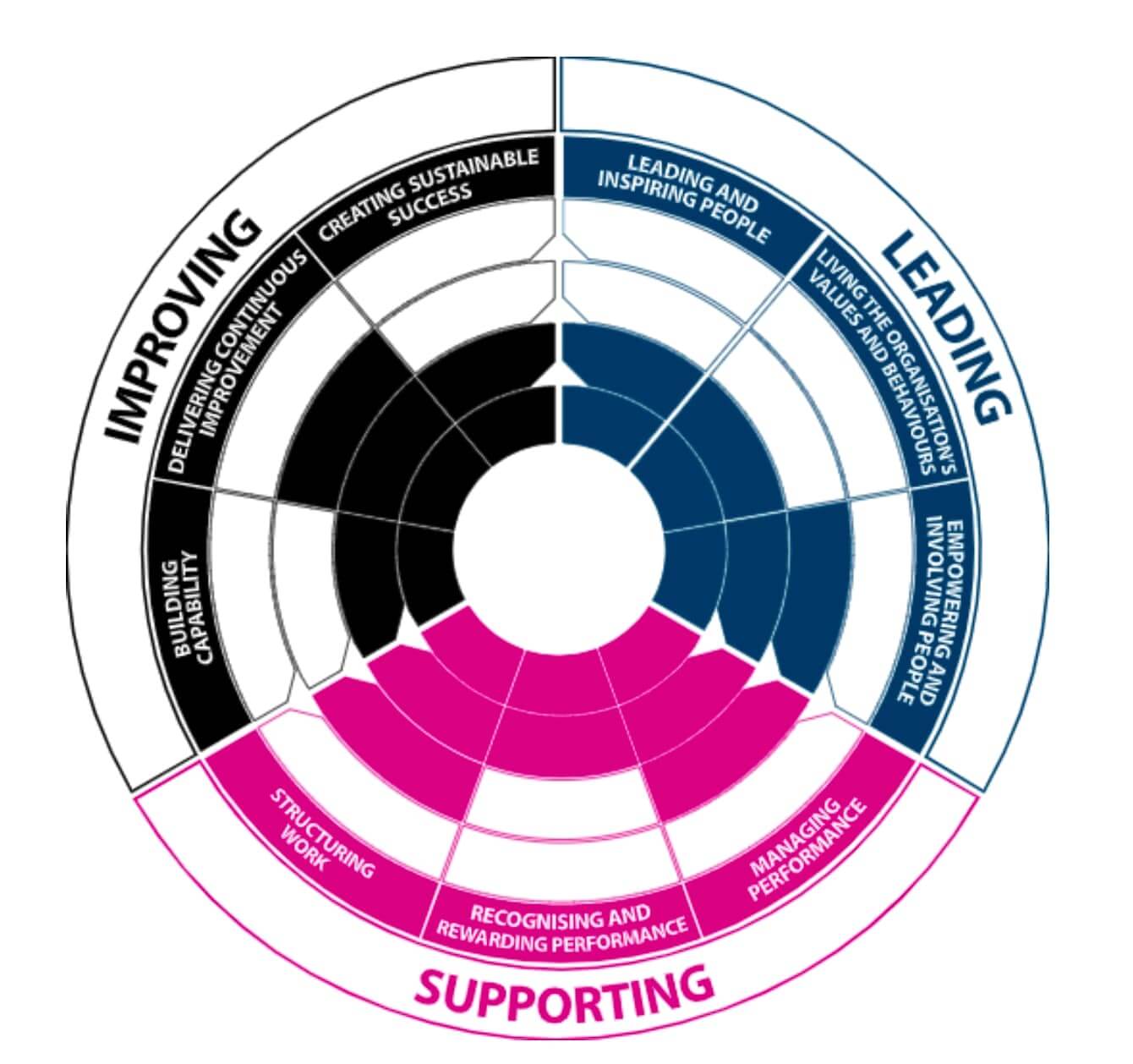 What we do to invest in our people
In fact, we certified at the Standard level just last year, but we're not the types to settle. It was a fantastic first step, though, and we took it as the basis for a continuous effort to become a better employer. Clearly, that effort has paid off. And yes, we're going for Gold at the next renewal.
'This is an amazing milestone for the company. Only a small percentage of Investors in People companies are certified at Silver or above so it's really the crème de la crème and a very high standard.'
— Matthew Stibbe, CEO at Articulate Marketing
Ways of working
Out the box, we are a long-standing remote working agency. Everyone gets to work flexible hours, so the night owls don't have to get up early if they don't want to, and life doesn't have to be put on hold for work to get done. As part of remote working, we've developed robust communication and knowledge sharing methods, using tools like Slack and Teams. That way if anyone needs help they just ask, and we'll elbow each other out of the way to offer it.
Oh, and we pay at least the London Real Living wage, no matter where anyone lives, because money might not buy happiness, but it sure buys dinner.
Learning culture
Recently, we've put a lot of work into developing a learning culture. Our goal is to give people the very best resources and opportunities for development. Alongside on-the-job training and mentorship, our employees benefit from 12 training days per year that they can book off for independent learning. And, they get a monthly 'happiness account' budget to put towards further learning resources.
We're also building out learning paths for all of our work functions, so that everyone has access to the tools they need to do great work. And when we do great work, oh boy do we celebrate. With regular 1-1s and performance reviews, we support each individual to do their best, then award them when they do. Our performance-based recognition system is the highlight of our company meetings (that and people showing off their pets).
If you want to find out more about our culture, check out these related articles:
Data-driven processes
To keep track of all our initiatives, we consistently invite feedback and measure progress with dashboards and surveys and all that lovely stuff. That way, we hold ourselves accountable. Sometimes, that means we find out where we've gone wrong. That's a good thing. That gives us something to reflect on, work on, improve on.
Investing in people is not just a tick-box exercise, it's an ongoing effort.
Join our team
Now seems a good time to mention we're on the look out for talented folk who want to join our eminently investable team. In particular, at the time of writing, we're searching for a Business Development Representative to land us the next big deal, as well as upcoming apprenticeship opportunities. What we really need are people with panache. Can't get enough panache these days.
So, if you like the sound of our culture, and the work we do, what are you waiting for? Hit the 90s montage playlist and apply.