Hooray! We are absolutely brimming with excitement, and not in a corporate 'passion' sort of way, but real, genuine excitement. The latest news to hit the UK marketing industry is this: Articulate Marketing (that's us) is officially a B Corp.
Three cheers!

What is a B Corp?
A B Corp is a business that is a force for good. You heard right. And though this is a multinational certification, there are only 154 certified B Corps in the UK. So, we're part of a pretty exclusive club.
The B Corp certification covers five key impact areas for your business: Governance, Workers, Community, Environment and Customers. Basically, are you a happy company that works for the good of others?
The certification process is really tough. You have to score over 80 points and provide solid evidence of socially and environmentally responsible practices - including energy supplies, waste and water use, worker compensation, diversity and corporate transparency.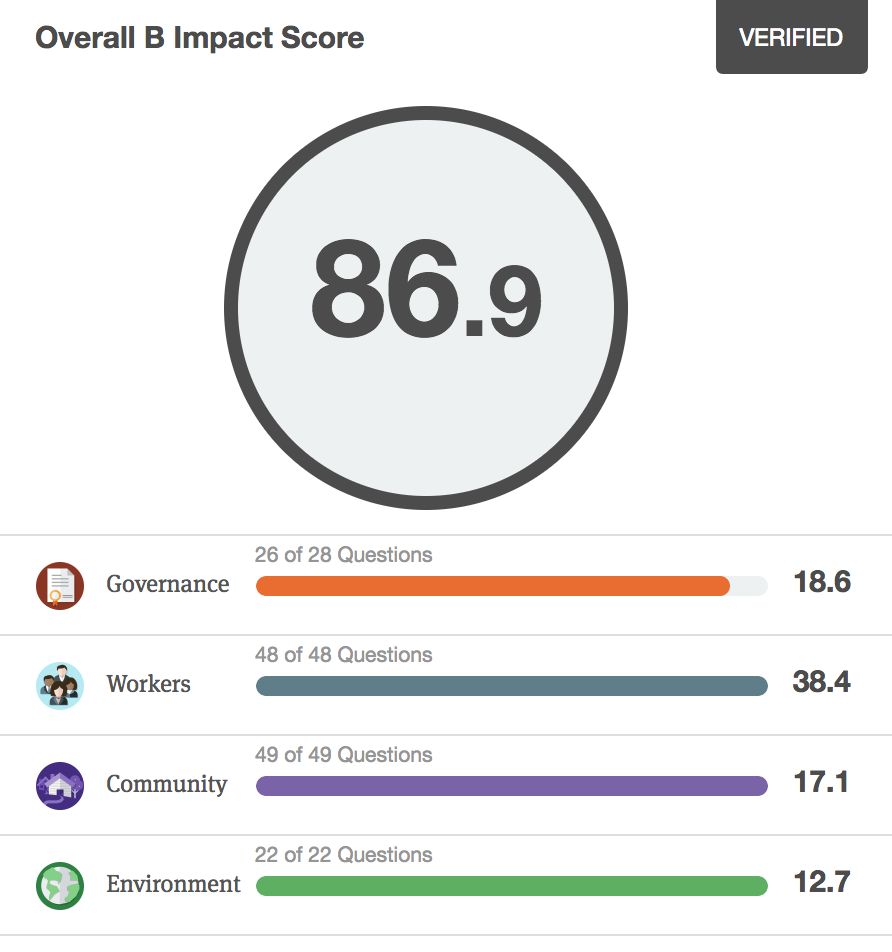 To complete the certification, a company must legally embed their commitment to purpose beyond profit in their company articles. It's about hitting that 'triple bottom line': people, planet, profit.
B Lab UK is a non-profit established in 2015 to serve a growing community of 175 UK-based companies using business as a force for good. B Lab measures and verify companies' environmental and social performance using the B Impact Assessment, and ensure rigorous standards are met by all UK B Corps. Together with B Lab teams from around the world, they link a global network of socially and environmentally responsible businesses and promote positive, action-led change towards a new approach to business.
B Corporations (or B Corps) are a growing group of companies who are reinventing business, by pursuing purpose as well as profit. We've been certified by B Lab as having met rigorous social and environmental standards which represent its commitment to loftier goals than making money.
Articulate Marketing's B Corp journey
Business as a force for good? Marketing as a benefit to society? Yes, and yes.
This is a big step for us, and signals a shift towards greater accountability and transparency in the sector. Out with poor company culture, spammy content and garbage marketing practices of all kinds. In with being good to one another, doing our best and putting people above profit. We are Articulate: inbound marketeers, in pursuit of truth and happiness.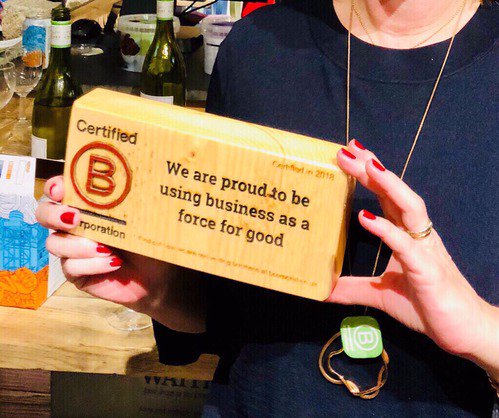 Matthew Stibbe, CEO of Articulate Marketing, says,
'Articulate made a formal commitment to reducing our environmental footprint and making a more positive impact on society at the beginning of 2017. We want Articulate to be force for good and positive change in the world.

Since then we have been working towards certification as a B Corporation. It has helped us plan our route and measure our progress. We became a Certified B Corporation on 17 October 2018.

As we pass this amazing milestone, it is time to take stock of what we have already achieved and how will continue to make progress.'
We have done a lot to get to this point. We're a Real Living wage employer that is committed to wellness and employee happiness. We share useful information with the world through blogs and other content, helping B2B businesses get their marketing sea legs. All of this, while keeping our environmental impact to a minimum.
What being a B Corp means for us
We're now part of a community of over 2600 businesses globally who have certified as B Corps. The B Corp community is reflective of the UK economy with businesses from a cross section of industries and sizes. These include well-known brands like innocent, Patagonia, Pukka Herbs, Ella's Kitchen, Divine, and JoJo Maman Bebe. These are some worthy companions, we think you'll agree.
For us, this is only the beginning. We've got a million and one plans (that last one's a doozy), which include carbon offsetting our travel as we work remotely but do meet up occasionally, and working on an 'Articulate Academy' to help people communicate better, in business and in life.
Liz, our Chief Happiness Officer, says,
'We are totally thrilled to have certified as a B Corp and are delighted to be joining this growing movement of companies with a heart.

When I first heard about B Corp, I realised it was going to be a challenge for us as a marketing company to get our certification, but felt the ethos of the movement was very much aligned with the way we were already working, having transparency and care for our team at the very core of what we do.

Becoming a B Corp is a natural extension of our values and certifying is just the start of us working on, improving and continuing to be a force for good in the business world. It is also wonderful and inspiring getting to know other B Corp companies who are striving to have integrity in business, reduce their negative impact and are always looking for new ways to have a positive impact on the world.'
Good doesn't mean being perfect, but the effort counts for something. So, we'll keep trying to do good. Every day, with every action, with every connection.
What else matters?