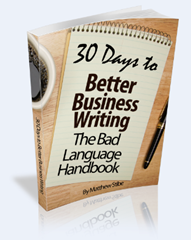 I have written a book – 30 Days to Better Business Writing – and I'm publishing it as a FREE eBook to ensure that it can help as many people as possible.
You can read it online or download a PDF here on this blog.
There's no catch. The book is completely free.
If you find it useful, tell your friends, share the link, leave feedback, hire Articulate to do some work for you.
Benefits of better business writing
Wouldn't it be great if everything you wrote was interesting, credible and effective? Wouldn't that improve your proposals, emails, presentations, web copy, press releases?
You're probably an expert in what you do and I know you already know how to write. But can you write well? Can you write copy that makes the reader want to keep reading? Can you close the deal?
I give you expert insight into what works and what doesn't.
Expert insights
Writing business copy is what I do. I've been writing professionally for a decade. I was a freelance journalist working for Wired, Popular Science, Business 2.0, Director and Real Business. Now I am Writer-in-chief at Articulate Marketing with clients including HP, Microsoft, eBay and the British Government.
Give me an hour a day for thirty days and I will make you a better writer.
Quick results
You need answers fast. I give you tips and tactics that will turn your words into business results.
You'll learn how to…
"Be a reporter"
Interview someone
Ask the right questions
Find the "real" story
Find the best angle to write about
Pick the right structure of your writing
Look at your writing critically and analyse it
Recognise "good" writing
Write like a human being
Write for readability
Eliminate clichés and buzzwords
Get rid of passive words
Be more concise
Deal with writer's block
Work with a professional writer when needed
Find time to write
And much more
You can read it online or download a PDF here on this blog. Please use the ShareThis button to tell your friends and colleagues about my new book via Facebook, Digg etc.