A positive company culture is the most powerful way to differentiate your organisation, motivate your staff and drive your company forward.
A Dilbert-style mashup of meaningless jargon words won't help you at all. And doing nothing won't help either. You'll get a culture – every company has one – but you won't be doing anything to shape it.
Like any smart tech company we believe in refactoring and so, in 2014, I worked with Deryn McIntosh from Ready Now HR and my colleagues on Articulate's own company culture.
Cultural revolution
We started with a Basecamp project to share inspiration, ideas, background reading and to encourage discussion. Here are some of the links and resources we shared and discussed:
Everybody reviewed, commented on and discussed these things over the course of a month. It was the longest discussion thread I have seen on Basecamp. Looking back at it now to write this article, I'm very proud of how much everybody engaged and contributed.
We also had a long and in-depth debate about the role of performance appraisals and how we should do them and shorter, more specific discussions around some of the more formal policy documents.
Culture hacking
Culture is a shared, collaborative thing. You can't impose a culture from the boardroom. The best way to do this is through workshops and Deryn facilitated a great event for Articulate. (One of the things we did was give everyone a company Kindle, like Buffer does. Hey – we're writers, we should be reading!)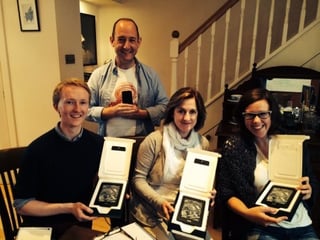 During our day together, we discussed our culture in different stages. We watched videos of different people discussing their company culture:
Then, using giant Post-it notes, we each described what work meant to us under the categories of learning, doing, being and caring. Then we brainstormed what Articulate *should* be like and finally, we did a card-sorting exercise to express, share and prioritise what our culture should be like.
It's hard to describe so here are some pictures. It was fun, thought-provoking and very rewarding.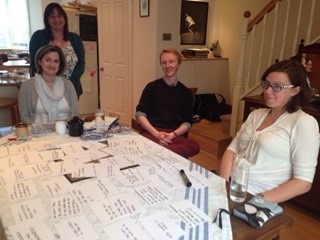 Putting our cards on the table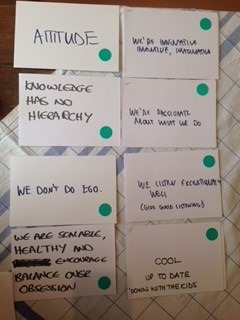 Grouping, sorting, prioritising cards under different headings
After these discussions I wrote up notes and a first draft of our culture. We discussed both at length on Basecamp. This distillation process is important and I think it is a good kind of management contribution to draft a document based on contributions from members of staff. This is an important mechanism for avoiding top-down diktats.
Articulate culture
Employment policies in the UK and more circumscribed and regulated than in the US so there's less scope for, ahem, 'creativity' and our working practices are pretty well described on this blog:
But the core company culture – our fundamental operating system – emerged out of a day together in July. It may make more sense to us than it does to you and it lacks the fizz and ginger of HubSpot or Netflix's fancy presentations. But it's ours and we're proud of it and it sets a high standard for our work together.
We are Articulate

We help companies talk to their customers like human beings

What makes us special

Articulate is not just any old marketing agency.

We're very, very good at what we do
We focus on the technology sector
We specialise in inbound content marketing
We embrace metrics-driven, tech-powered marketing
We have great employees and a unique culture
We have innovative, efficient working practices
We deliver remarkable content that customers and readers love
We work for market leaders, innovators and rising stars

Our culture matters

We do great work
We are a high-performance business
We're a great company to work for
We set high standards for ourselves

As individuals

We don't do ego
We work together individually, like the pillars in a temple
We listen exceptionally well
We're passionate about what we do
We're innovative, inventive and imaginative

As a team

We take our work seriously but ourselves not so much
We're fun, friendly, warm, collegial and supportive
We've got heart (like the Scooby gang or Gryffindor)
We're excellent colleagues – we respect and empower one another

As an organisation

We are phenomenal writers
We don't just 'bang out copy' – we articulate ideas and stories
We induce epiphanies
We value expertise over hierarchy
We are always learning, questioning and developing
We have scalable, agile, efficient processes that help us do great work
We refactor frequently, taking time to reflect and improve the way we work
We are open and communicative, among ourselves and with our customers
We understand and value context ('rules and models are the enemies of genius and art')

For our clients

We are approachable, efficient, responsive and uncomplicated (we're user-friendly)
We are a safe pair of hands (no drama)
We are never just one person; we bring our best team effort
We 'solve for the client' even if it means taking the hard route

Our role models

Basecamp – for their working practices
Pivotal Labs – for their methodology
elBulli – for their repeatable creativity
McKinsey – for their applied expertise
Culture in practice
Of course, having a written culture isn't very helpful if it doesn't actually inform the way you work. In the six months since we adopted it, I've seen first several really powerful examples of its influence:
It rippled through the creation of role descriptions and competencies and informed their creation. For example, culture is actually included as a category of competencies so that interns are expected to 'understand Articulate's culture' while, say, senior writers should 'act as culture role models for others' and 'initiate changes to company culture and processes when required.'
When Clare started work on refactoring our blog studio in November, she started the discussions by reciting some of our principles and used them to hold our blogging to account. 'We don't just 'bang out copy' – we articulate ideas and stories.' Exactly. No polyfilla.
I've found it very helpful, along with the competencies and role descriptions, in making appraisals and staff development discussions more productive. It gives me a way of talking about attitude, behaviour and interactions that is not based on my gut reaction or personal feelings but on what being a good Articulate employee is like.
Sharing and developing the culture
A culture has to be a living, evolving thing. It's not set in stone forever. But first it must be shared with new employees. To do this we have a couple of training projects on Basecamp. For example, this one for interns. Of course, the written formal part is only an element of the training – there's a lot of mentoring and modelling by colleagues too.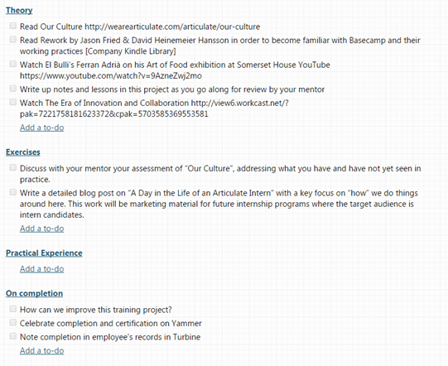 For me, putting the culture in place was a milestone for the business. It's the foundation for our staff policies, the core content on our new intranet and it underpins our competencies, role descriptions and training processes. To quote Matthew Collings talking about art and civilisation, it's our imaginative proposal of who we could be if we were as good as we want to be. 'It's the way we ask questions about ourselves.' What does your culture say about your business?
2019 update: We've recently worked on our culture even more, and we've got lots of secrets to share. Check out this blog on how to create a happy company.
See also: happy company
Related service: Marketing Strategy