In order to ease your visitors through the buyer's journey, you need to provide them with the right stepping stones. And to do this you need to create the right marketing assets for each stage.
What are marketing assets?
Marketing assets are objects and tools that marketers use to promote businesses online. These can include content, like white papers, case studies or videos. These assets showcase your business.
Aligning your marketing assets with the three stages of the buyer's journey (listed below) will help you convert leads into customers. Yes, this list does sound like some form of vegetarian diet, but it is incredibly helpful for creating content:
TOFU – top of the funnel. This content aims to attract a large pool of relevant leads. Marketing assets in this section of the funnel focus primarily on educating or raising awareness.


MOFU – middle of the funnel. Leads who convert on TOFU content progress to the MOFU stage. These offers should still focus on educating your leads, whilst advertising your services at the same time.


BOFU – bottom of the funnel. Assets in this stage should convince your leads that you're the answer to their problems.
In essence, the content or service you provide in each stage should be more valuable and specific than the last. Your TOFU visitors need educating about their problem; your BOFU leads need to believe that you're their knight in shining armour.
So without further ado, here are six marketing assets that you need to create (or at least think about) now.
1. White papers
HubSpot defines white papers as 'advanced problem-solving guides', which is what makes them a perfect TOFU offer. If your visitors haven't received enough information from your blog posts – or wish to research the subject more – white papers are the perfect marketing asset for them.
These lengthy documents offer your leads an in-depth source of knowledge for a certain topic. They can also build your brand trust with potential and existing customers. If they can see that you're willing to help for little value, they'll be more willing to invest in you.
Here's an example of a white paper we've recently written, to give you an idea about what we mean:
2. Videos/webinars
Not everyone has the time or patience to read a lengthy document. Videos and webinars are a great alternative, and a good, quick way to tackle your lead's pain points. They're particularly helpful for tech-y 'how to' videos, too.
Depending on what your videos offer, they can be either TOFU or MOFU marketing assets.For example, a video or webinar that offers you a checklist or a series of tips for a specific topic is likely to be a TOFU offer. On the other hand, a piece of content that walks through what a certain program or service can do for your business is more of a MOFU offer.
3. Case studies
So, some of your leads have jumped from the TOFU stage to the MOFU stage... Now what? At this point in their journey, they are aware of their problem, but they need convincing that you're the answer.
Concise, interesting and factual case studies of existing clients are important resources for your leads. No one wants to make a big investment without looking at the star ratings and reviews first. Reading good praise from other customers can offer your leads reassurance of your business and customer service.
4. Interactive content
Eighty percent of marketers agree that interactive content grabs readers' attention better than plain old copy.
With user expectations (and attention spans) changing, you need to find bolder ways to reach your audience.
As an example, here's a quick quiz we made for our blog readers and social followers. Give it a go!
5. Free evaluation or trial
Not many people can resist taking up something that's free.
Offer your MOFU leads a free consultation, evaluation or trial depending on your business and services. For example, if your business makes software, you can offer your leads a free trial or demo.
The trick to making this work is to make it personal. Whether you're doing a consultation, evaluation, free trial or demo, you need to let your leads know what you can do, specifically, for them.
6. Consultation call
Consultation calls are an important marketing asset, not only for your BOFU leads, but for your business too.
These calls allow you to vet potential customers to see if their business is at the right stage, or budget, for your services. It's like interviewing a candidate for a job opening: the process helps you determine whether they're a good fit for your company, and vice versa. A consultation call will give your lead deeper insight into what your business provides and the costs of your product or service.
Always be helping
No matter what marketing assets you create, remember one thing: always be helping. Focus on genuinely helping, nurturing and delighting your leads and customers. Don't just pump out content for the sake of making a single sale – put some soul into it. You'll find that your marketing data (and sales funnel!) is all the better for it.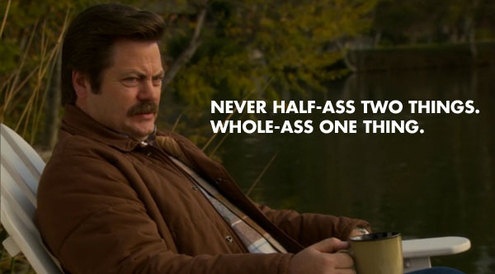 (Hat tip to NBC for the image)
[Editor's note: As of 2020, we've updated this blog post with new content. Enjoy!]