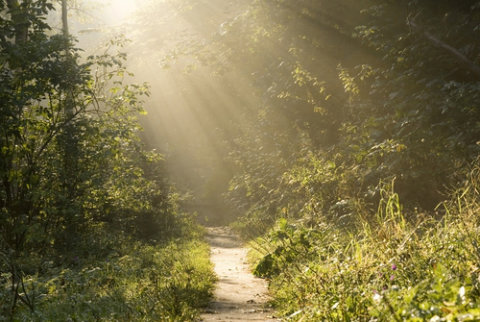 Lace up your sturdiest pair of shoes and leave your phone and iPod at the door – we're going for a walk.
When that seventh cup of coffee just isn't helping you get the words down, walking out the door is exactly what you need.
It may seem perverse, but time away from the glaring blank screen and your ever-swelling to-do list can be some of your most productive.
You can take a step back from the problem, let your feet and mind wander and focus on thinking rather than doing. Like viewing an impressionist painting, what seems chaotic up close makes sense from a distance.
Of course, you won't come back to find that elves have written that case study for you but, thanks to the endorphins and serotonin you get from a good walk, you'll return refreshed and with a new-found confidence.
I like to walk alone and without any sort of electronic distraction, although having something to jot down ideas is rather useful. I also like to walk somewhere relatively quiet, but even if you're popping out of an office in central London there are always quieter streets to meander down.
Best thing about walking? You know you're in good company…
Friedrich Nietzsche
Nietzsche was convinced that 'all truly great thoughts are conceived by walking', which is easy to believe when you see where he was roaming…
Will Self
Notorious for his sesquipedalian prose, Self also enjoys his extended perambulations. Doing research for one of his books, he walked from his London flat to Heathrow and hopped on a plane to LAX before walking on to Hollywood, exploring the 'psychogeography' along the way.
William Wordsworth
The poet famously wrote that 'I wandered lonely as a cloud' but walking was both a means of transport and a source of inspiration for him.
Robert Walser
The little-known Swiss author was an avid ambler and many of his short stories were inspired by the walks he took, whether in the hubbub of Berlin or in the countryside:
Sweet veils of silver and soul-haze swam through all things and lay over all things. The soul of the world had opened, and all grief, all human disappointment, all evil, all pain seemed to vanish, from now on never to appear again.
Keep it green
Your local park might not provide you with such a revelatory experience, but there's no harm in trying; recent research has shown that walking through green, leafy spaces can ease the brain fatigue brought about by the draining demands of work and city living.
So, what are you waiting for? Get out there and get walking.