Like most writers and entrepreneurs, I have a bulging to-do list. It's like a bottomless cup of coffee; it stimulates, comforts and raises blood pressure all at once.
My to-do list runs my life. I've tried many different options from Outlook flags to via my iPhone with TaskTask. At the moment, I'm really learning to love Taco. Really love it. It's one of those brilliant tools for writers.
It does two important things.
All your tasks on one screen
First, it pulls in tasks and to-dos from all the apps I already use and displays them in one place.
It supports a ton of apps. I use it with Basecamp, Zendesk, Office 365 and Salesforce. So, instead of four open windows, I have one for all my tasks.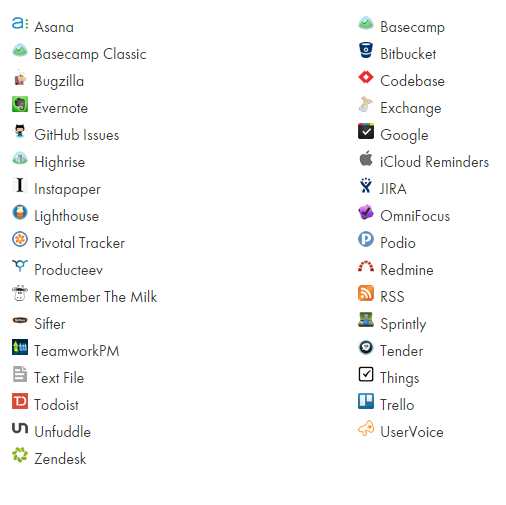 Priority and focus
The second, and in many ways more important, thing that Taco does is make it easy to prioritise your tasks and focus only on the few tasks that matter today.
It has two columns: 'for later' and 'up next'. You can drag items from one column to another and up and down within the columns. Hide the 'for later' column for a short list of the stuff that matters now.
This is the answer to task-anxiety. Instead of drowning in dozens or hundreds of tasks, now you know that you have all of them in sight and that you're focusing on the top priorities (and temporarily hiding the rest).
If you use more than one app to store tasks and you have more tasks than time to do them, then you need Taco.
(Full disclosure, I was a modest early investor in their initial Kickstarter campaign but only enough to pay for my subscription. I have no axe to grind except the one that helps me get through my work faster.)
I remember reading Getting Things Done and thinking 'this is all obvious' because I was already doing most of the things. (I am quite envious of David Allen's ability to erect a few simple, useful ideas into a book, a system and a thriving business.)
Earlier, I read Leo Babauta's post Kill your to-do list. He advocates a one thing a day system. "I wake up in the morning, and decide what One Thing I'm excited about. Then I focus on doing that, pushing everything else aside, clearing distractions, and allowing myself to get caught up in the moment."
It's a nice idea. A bit of a dream, really. It is the complete opposite of my way of working. It's about being rather than doing and it has an attractive Zen in-the-moment flavour to it.
But it's also impractical. My clients wouldn't thank me if I missed my deadlines because I decided to do somebody else's work first. To-do lists help me prioritise, schedule and filter. It's good to concentrate on one thing at a time but it's also essential to pick the right thing.
But it did make me ask if my to-do list was too much at the mercy of other people. Things other people want me to do rather than things I want to do. Things I am excited about. It's got me thinking and I'd really like to get some feedback from other people?
So, dear reader, how do you manage your life? Is it to do or to be? How do you balance your passions with your duties? What tools do you use? Do you have a 'system'? Is it useful?