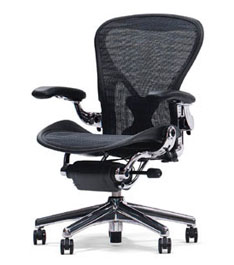 I've just taken delivery of my bright new Aeron chair. I ordered it this morning and it arrived about four hours later, complete with a free ergonomic consultation from a nice chap called Sam.
I used to have an Aeron in my old business but they've really improved them in the last six years.
First, I got one with the optional aluminium chassis. How cool is that?
Second, there's an adjustable lumbar support.
Third, the seat can tilt forward for typing.
Did I mention the shiny aluminium?
I have had a rubbish chair for so long that I forgot what a good chair is like. I spend about eight hours a day sat in front of my PC so it's an important investment in my productivity and health.
Plus it's made from aluminium. Pimp my chair!
My friend Claire has just done a massage course and she's using me as a guinea pig for her technique so I'm getting these two-hour massages. Between that and the chair, my back is going to have a holiday.
Does anyone have any experience of Anthro desks? I'm thinking of ordering a new desk to go with my new chair. I'd love to get some feedback.