Since their launch earlier this year, the live video streaming apps Periscope and Meerkat have inundated marketing news labelled as the latest social media marketing trend.
While articles eagerly compare the two platforms to each other and to other social media video apps, the most important part of the discussion is not the best platform, but how to use live video in a content marketing strategy at all.
Why is live video popular right now?
Live video is not new and plenty of apps are more popular than Periscope and Meerkat, but, just like it's impossible to predict what content will go viral, it's impossible to know which platform or what kind of content will be popular next. Live video's current popularity as a form of content capitalises on:
1. Existing engagement with video content. First and foremost, live video is popular because online video content is popular:
By 2018, video content is projected to account for 79 percent of consumer internet traffic
In emails, the word 'video' boosts opens by 19 percent, click-through rates by 65 percent and reduces unsubscribes by 26 percent
YouTube is the second largest search engine in the world
Video is shared more than any other type of content
The existing popularity of online video content served as the foundation for these apps to gain traction with users and in the marketing world, but there's another reason marketers are excited about these apps.
2. Low-budget video content. While video content leads to high levels of engagement, many marketers omit it from their marketing strategies because of the time and resources required to create a high-quality finished product.
An audience, however, expects a live stream to be raw and unedited. This type of video content - streamed through apps like Periscope and Meerkat - drives down costs while still giving a brand's audience the video content they want.
3. FOMO. Live video thrives amidst the modern 'Fear of missing out' on the latest news or event coming from a buyer's tribes. A live stream is a moment in the noise of the internet and an opportunity to look into parts of the world an audience might not have access to otherwise. The fear of missing that brand moment drives popularity for these live events.
What happens on live video apps?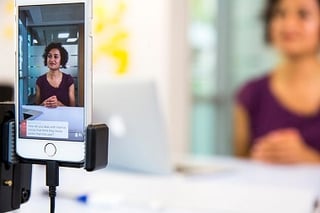 On Periscope, which comparison articles point to as the app with a cleaner design and better features, users can:
Produce or watch live feeds. You'll find crowded rooms, landscapes and the inside of refrigerators alongside brand and celebrity content.
Replay videos for 24 hours. If you miss a live stream, Periscope stores a recording for 24 hours for users to view.
Give or get real-time feedback. The app lets viewers comment or tap the screen which results in hearts on the screen of the feed. It acts like snaps at a poetry slam or spontaneous applause at a TED talk.
Look at stats and conduct surveys. After a live feed, users can see viewership stats and the producer can take surveys on viewers' opinions.
For brands, apps like Periscope and Meerkat present opportunities to put video content into a marketing strategy at lower cost and, at the same time, increase your brand's transparency.
Informed buyers are always on the hunt for authentic brands to buy into which has made transparency a long-time tenet of online and content marketing strategies. Live video brings that tenet to the forefront. The perception is that 'live' equals 'authentic.' The tools to create these live broadcasts successfully include:
Your app of choice. You have to decide which app, Periscope or Meerkat, you prefer based on capability, and, more importantly, where your brand audience is.
A device and tripod. Of course, you need your mobile device, but a tripod is essential to avoid shaky cam.
A unique experience. The key to successfully using a live video app in your marketing strategy is to create the live event your brand audience will tune into.
Using a live video app sounds pretty simple. However, creating a unique experience isn't an easy experience on any platform. So, what can brands broadcast?
How brands can use live video in content marketing
There are a lot of ways brands have already used live video through these apps, but Single Grain lists 25 different ways brands could incorporate live streaming into their content strategy. A few key ideas they (and others) mention include:
Behind the scenes. People love the 'inside look' at how something is made, backstage prep or your employees at work. It's brand transparency and, quite frankly, it's interesting.
Q&A and interviews. Ask me anything (AMA) sessions on websites like Reddit are popular content. You can generate the same type of content live with question and answer sessions or interviews.
Product announcements or demos. Apple's keynote speech draws a lot of attention from their brand community. You can easily create a similar event on the app.
Company announcements. Is something changing with your company or changing for your brand? Create a new kind of hype leading up to a live announcement.
Brand advocate testimonials. The power of online reviews, positive or negative, is strong. You can use live video to show customer reactions and testimonials to your brand and its products.
Events. Many YouTube personalities and artists are taking advantage of live video platforms for concerts. You can promote events of your brand by streaming them live to all corners of the world.
Every live stream becomes part of your brand in the mind of the audience so, just like your blog and other social media content, you should prepare and execute based on your buyer personas. In doing this - by seeking to delight your ideal buyer - your events can become what buyers fear to miss out on.
A place for live video in your marketing strategy
As a marketer, you do not have to (nor should you) adopt every platform that comes along. However, as HubSpot puts it, marketers should care about live streaming platforms like Periscope and Meerkat, quite simply, because consumers do.
You should always keep your long-term strategy in mind to attract, convert, close and delight customers. However, your use of a single social media platform, such as a live video app, might be just right for making the most of moments in your brand's marketing.
If the way the apps work and the way brands are using live video sounds right for your brand, consider delving further into what you could do with live video broadcasts.
When it comes to trends in marketing, you have to trust your knowledge of your brand and its buyers to decide if something like live video in content marketing is right for you.
(Hat tip to Anthony Quintana, GDSteam for the photos)