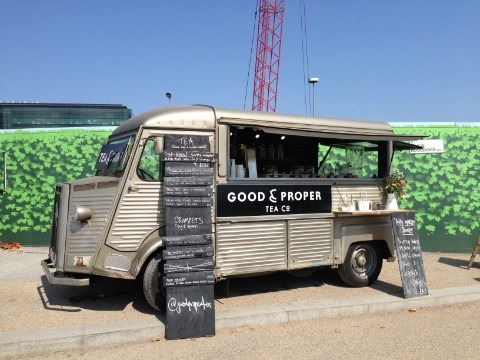 Tea is an essential tool for good writing. People who disagree may not have tried 'good and proper' tea. Or they are coffee addicts like my colleague Clare.
Real leaf tea is as different from builders tea as, say, a cup of instant coffee is different from a cup of sublime Monmouth coffee.
So, this is why I am so excited by the arrival of Good and Proper Tea's tea van outside Kings Cross Station.
A tea oasis
I first encountered the 1974 Citroen H van, also known as Watson, in the late summer of 2013 when I was doing a course in information design at Central St. Martins. The van only sells teas and cakes – no coffee – and only uses fine leaf tea, brewed at the right temperature for the right amount of time.
Although I drink good tea at home, there are relatively few places that serve it commercially. There are ten coffee shops here in Chiswick and not a single tea shop. Why?
During my course, I bought one or two cups a day, plus crumpets, and got talking to owner Emilie Holmes.
Kickstarter
She raised £14,682 in a successful Kickstarter campaign to fund the conversion of Watson into a mobile tea emporium and brewing station. But that's not the beginning of the story.
Emilie wanted to do something with tea – perhaps a tea shop – while studying languages at university but felt that 'I needed to take job first' and so the idea brewed and steeped for three years while she worked at Ogilvy, an ad agency.
She grew more and more determined to start her own business. After several months of 'sitting in meetings and thinking about tea' the agency let her switch to three days a week, leaving her time to track down tasty teas and create a business plan.
She quit Ogilvy altogether in August 2012, completed her fundraising in November and served her first cuppa on 3 December 2012.
A nice cup of tea and a sit down
When I met her to discuss the business at the end of 2013, Emilie enthused about tea but was more nuanced about the business. Her approach is a combination of rational planning and burn-your-bridges entrepreneurialism. She explains: 'I didn't have a backup plan. It had to happen.' She offers some lessons based on her experiences:
Bank finance was a non-starter. The only bank that would lend wanted to charge 19 percent interest and demanded a guarantee.
Embrace new technology. Kickstarter emailed Emilie to say they were launching in the UK and it was perfect timing for her. She had committed to the van conversion but didn't know where the money was going to come from to pay for it. When the email arrived, 'I felt silently spiritual about it.'
Being first is good. Emilie was one of the first campaigns on Kickstarter in the UK and, as a result, she got a lot of PR, including a spot on Radio 4's Today programme.
Don't sweat the small stuff. Looking back, says Emilie, 'some decisions seem ridiculously over thought-through.'
Think hard then relax. One of the things she obsessed about was the branding but she couldn't find the right look. Then, one night, 'I saw the whole thing in a dream. Problems sort themselves out if you let them,' she says.
Just do it. According to Emilie, 'sitting behind a computer, everything seems bigger and scarier. But the truth is that everyone else is making it up too.' She says 'don't be nervous of not knowing.'
It's tea time
Tea's time has come, claims Emilie. She's a passionate advocate. 'It's healthier and lower fat,' than coffee. While we might have a 'cultural obsession' with coffee and smug coffee drinkers say that 'coffee is sex and tea is just a cuddle', the thing is that coffee gives you bad breath but tea brings enlightenment.