Hemingway highlights complex sentences, complex words, adverbs and passive sentences.
We love tools that help writers get better. We've written about lots of them in the past, including:
We even created a few writing tools of our own, including a concentration timer, a readability checker and a set of inspirational marketing cards. And we've given away our proofreading checklist and our our briefing checklist.
But now we just discovered a really cool online app that embodies many of the lessons we try to teach when we do writing training for clients. It's called Hemingway and it visually highlights:
Hard to read sentences
Mischievous adverbs
Opportunities to use simpler words
Passive sentences
If you're not sure your writing is concise, confident or clear, following Hemingway's advice will help a lot.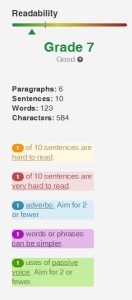 See also: press releases
Related service: Content