From the #humblebrag to the greenwashed masses, ethical branding has taken off in a big way. Critics say it's not enough to slap a rainbow logo on your Twitter and call it allyship. As much as Articulate Marketing is a work in progress — and without wanting to throw too many rocks from within this glass house — we're inclined to agree.
To demonstrate our own commitment to putting Corporate Social Responsibility (CSR) at the heart of our business, we've engaged in a number of initiatives, including becoming a B Corp. We've also spoken to a lot of clients who are interested in doing the same and who want to promote their efforts as an ethical brand.
We're assuming these concerns resonate with you, too. So, check out our answers to the most frequently asked questions on the subject.
What is Corporate Social Responsibility?
We rather like this diagram from UNIDO: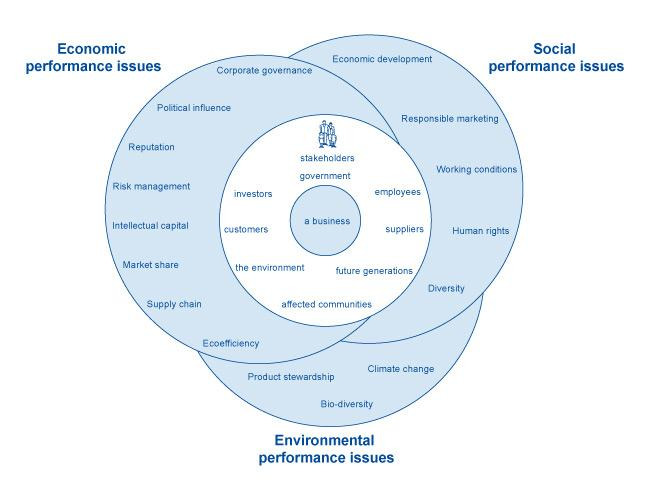 Corporate Social Responsibility, or corporate citizenship, is a self-regulating business model. It's a means for organisations to be accountable for their economic, social and environmental impacts. It's a way to measure and communicate progress across all three areas. And it offers a framework for proactive efforts to do more than the bare minimum. CSR advocates say this offers a way to balance both profit and principles.
That's the party line. But CSR is a 'how long is a piece of string' idea. There is no end goal. Minimise impact. Do net good. Improve, then be better. There's also no single, official regulating body, given the whole concept is to go beyond such requirements. (Although there are organisations, like B Corp, who operate in this gap.)
So, in short, CSR is what you make of it. Freeing, in a sense, yet simultaneously vulnerable to gross manipulation. And then we end up with British American Tobacco winning a UNEP/Sustainability reporting award for its annual social report... Irony? Hardly know her.
Nevertheless, we're reluctant to let a few bad actors ruin a good idea. We believe CSR is a fundamentally positive concept. It puts the spotlight on success metrics that go beyond the bottom line.
What can my business do to be more socially responsible?
No two companies do CSR the same way. It's a mindset more than a series of clear steps. But, everyone has to start somewhere. It's better to focus your attention on one area at a time, rather than trying to take on multiple projects.
Here are some ideas:
Embed CSR in your policies. When we became a B Corp, we were required to put our aim to be a business that's a force for good in our company's legal paperwork. This way, every business decision we make comes back to this defining principle. For example, we choose to work with clients who share our values, and will turn away business on that basis.
Measure progress. Use objectives and key results (OKRs) or some other means to track and report on progress for CSR activities. Get feedback from employees and customers. We recommend reporting this information on a regular basis.
Think outside the box. Look at what companies in other industries are doing. And get the advice of bodies such as the Institute of Corporate Responsibility and Sustainability (ICRS), the Chartered Institute of Personnel and Development (CIPD) or the Institute of Business Ethics (IBE).
Seek third-party certifications. We've mentioned B Corp. But there are others that award progress in similar social and environmental arenas, too. This provides a more concrete structure to your efforts and can help you identify blind spots.
Work with ethical suppliers. When choosing suppliers or agencies, don't buy based on price or (please, no) razzle-dazzle. Do your research and work with value-based businesses.
How do I build an ethical brand (without inviting criticism)?
Step 1: Invite criticism.
OK, so that title was misleading. But seriously, the worst thing you can do is proclaim infallibility here.
NIKE has spent 81.9 million US dollars on community development and has put large-scale supply chain improvements in place to reduce waste and recycle materials. But that hasn't always been the case. The company doesn't shy away from its past. Rather, the CEO has acknowledged the organisation's historical impact and outlined the actions it's planning for further improvement.
The basis of any good ethical brand is honesty. Be honest about your supply chains, your business partners, your energy consumption, your customer and employee feedback. Share as much or as little as you feel is right for your business, of course. Saying that, we like Monzo's approach: radical transparency.
In any case, show what you're doing to make positive changes. Talk about issues, celebrate real milestones (such as achieving accreditations) and take action. The more companies competing to show off their ethical brands, the better!