We've only gone and done it again.
Once more, we're pleased to announce that we've won a coveted HubSpot Impact Award, this time for Product Excellence! Our last win was for website design, but turns out we've got more than one trick up our collective sleeves (that's where we keep our armies, you know).
This award recognises the successful implementation of HubSpot Sales Hub and sales enablement services with our client, Microsoft Specialist Azured.
About the award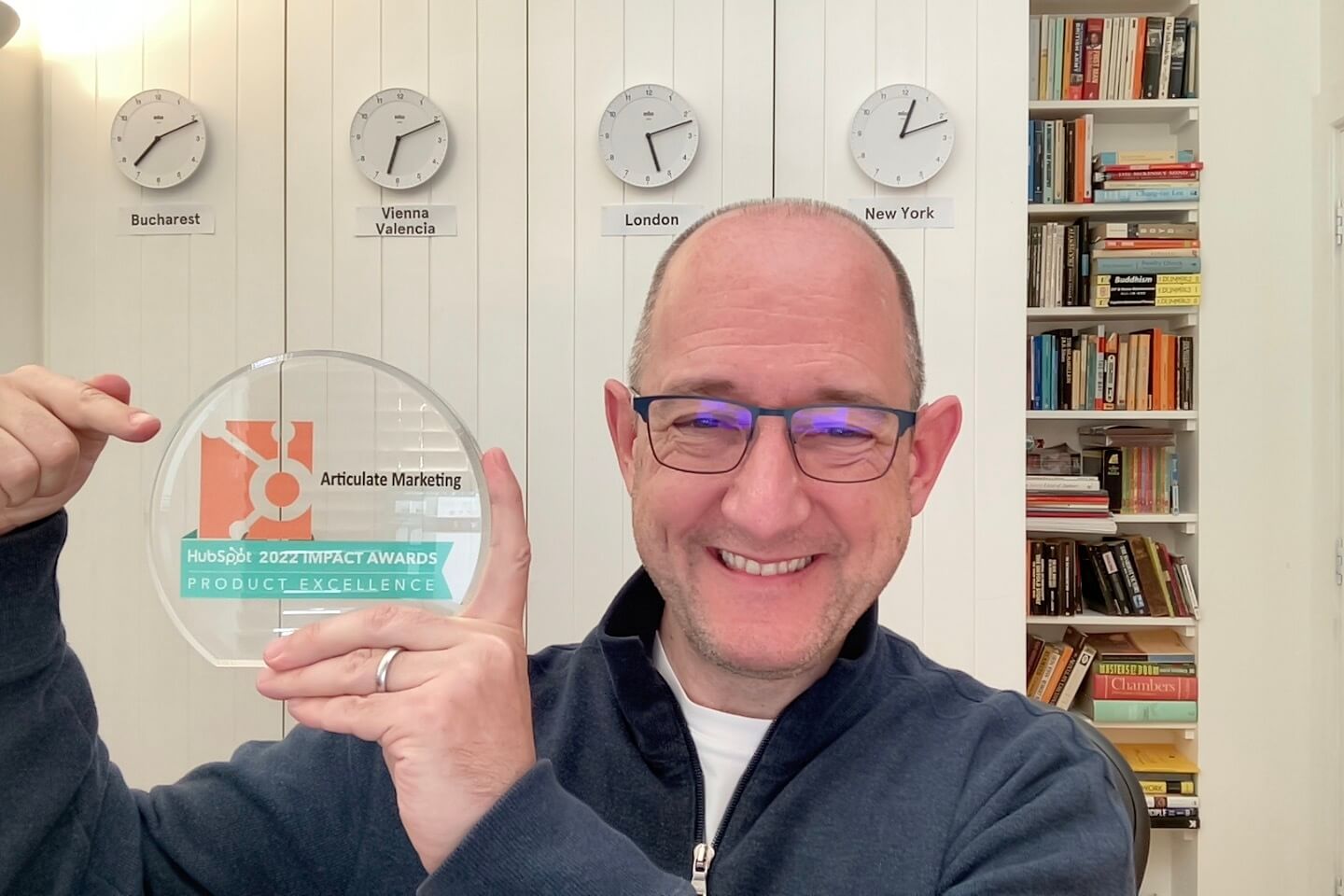 'We're thrilled to recognise Articulate Marketing's unwavering commitment to our shared customers with this Impact Award. On behalf of everyone at HubSpot, I want to congratulate their team and the other Impact Award winners on this amazing achievement.'
— Brian Garvey, VP, Solutions Partner Program, HubSpot
The team at HubSpot awards their Solutions Partners every quarter. As a Diamond Partner, we are one of the top three percent of agencies worldwide. And now, we can add 'multi-award winning' to our list of epithets.
There are four categories for the awards:
Product Excellence - For providing value to clients with a single product, demonstrating expertise in delivering a single hub solution to a customer.
Platform Excellence - For delivering a remarkable multi-product solution to a customer.
Technical Expertise - For exhibiting deep technical knowledge and expertise that enables a customer to improve processes through a tailored, custom, and complex solution.
Platform Migration Excellence - For demonstrating expertise in migrating a customer from a legacy system to HubSpot.
Our win in the 'Product Excellence' category reflects the hard work that our sales team has done to develop effective processes using HubSpot Sales Hub. We're experts at selling with HubSpot, in short.
Azured's launchpad for growth
Here's a quick run-down of this success story.
Azured had become over-reliant on referrals. It was difficult to predict where the next deal would come from and cash flow was unpredictable.
Gemma Haggarty, our Head of Business Development sums up the engagement well:
'They needed automation and best practice guidance. That way, they could quickly implement a mature and aligned sales and marketing approach, and gain valuable insights.'
We brought them onto HubSpot Sales Hub and trained their team on best practices to enable better selling with the toolset, along with practical assets to set them up on the right path. The result? A substantial pipeline, plus:
1200% more leads
150% increase in conversations with prospects
Eight closed won deals
In just one quarter, they've accelerated their sales and built a launchpad for growth. We're thrilled to have contributed to their ongoing success.
You can read the full award-winning case study, here.
Thanks to the team
'Truly fabulous news and a testament to the incredible work you guys do at Articulate! Fantastic you have received this recognition. Congrats team!'
— Elsa Cheshire, Marketing Director, Azured
Our lovely client was hot off the mark to congratulate us for the win, but we'd like to take this moment to snap our Grammy in two, too.
Azured, truly you are the Beyoncé to our Adele.
Only a really engaged, motivated client could have taken our consultative services, sales assets and the HubSpot tooling and run with it like you did. What a team!
How to sell more, better
You can click here to book a meeting with the very people who deliver our sales enablement services.
It's that easy.
Of course, we offer more than just sales enablement. We build HubSpot websites, write insightful thought leadership content and develop differentiating brand strategies that help B2B technology companies stand out from the crowd.
Come for the sales tools, stay for the marketing engine of your dreams. Vroom vroom!