Want to be laconic? Easy.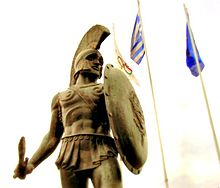 Don't say much and keep to the point.
I'm reading a book about Sparta at the moment (Plutarch's On Sparta

) after I listened to the In Our Time broadcast about it.
I know I'm quite chatty and so I'm always impressed by laconic people. I remember asking a taciturn chap in a cowboy hat if he had lived in Texas his whole life. "Not yet," was the answer. It turns out that the Spartans were, literally, the first laconic people.
My favourite example happened when Philip II of Macedon threatened them. He said, "If I invade your country, I will raze your city, destroy your farms and enslave your women." The overseers of the state replied, simply, "If…"
They're a good role model for writers today.