Your SEO-keyword strategy is solid. It's reliable. It's a hearty slab of cake, waiting in the tin of potential, cooked up in the kitchen of content. But, without icing, can we really say this cake is at its best?
This list is about those little add-ons that get you from meh to MEGA, from okay to outstanding. These tools will give you that zesty edge in a competitive B2B marketplace. If your strategy needs sweetening, we're here to help.
Here's 10 tools to optimise you SEO-keyword strategy:
For finding SEO-friendly keywords (Gather your ingredients)
Any SEO-keyword strategy has got to start with research. Think in terms of quantity over quality: before you start picking what keywords to use and how to use them, you need to find as many as you can. Only then can you narrow down your focus.
1. Google's autocomplete feature
You can use Google autocomplete feature to find keywords. Type in the kind of things you want to rank for and come up with a list of long-tail keywords from what appears. The best part is, you can optimise that process by using a tool.
Keyword Tool and Soolve do this job nicely. Both will give you a list of autocompleted results from a variety of searches. You can check what people are looking for not only on Google, but on YouTube, Wikipedia and even Amazon.
For example, 'cloud computing' could come up with 'cloud computing advantages' or 'cloud computing and big data'.

2.
Answer the Public
Answer the Public gives you a diagram of questions or search terms that people use in relation to what you want to rank for. Even better, there's a 'Pro' version that provides more granular data, such as language and location of searches. Shockingly, 'artisanal avocado smoothies' doesn't rank well outside London…

3. Quora for customer questions
Quora is a great place to discover the questions people are asking. Look through the categories in your feed to find relevant subjects and then dive deeper by clicking through to the 'related topics' section. Or, use the search bar to search short-tail keywords in order to find long-tail variants. For example, a search for 'digital marketing' might come up with 'How can digital marketing help me grow my IT reseller business?'

For organising your keywords into a strategy (Follow the recipe)
Obtain optimal organisation and outlast others by offloading the obsolete, obscure or over-specialised and, opposingly, opting for on-brand, on-point, ordered options.
Oh my.
Or – once you have gathered your keywords using one or all of our suggested keyword tools and features – get rid of the rubbish.
4.
Moz's Keyword Explorer

and lists

Not only can you search keywords by location and see how many people are searching for that keyword each month, but Moz's Keyword Explorer tool also allows you to save those searches into lists.

Once you have your list – which can include all the keywords you gathered from Quora, Answer the Public and other sources – you can narrow down your options and prioritise your keywords.

Ideally, you're looking for:
A difficulty rating of under 40
A search volume above 10
A high click-through rate
5.
Google Ads: Keyword planner

for sharing

Google's keyword planner lets you see trends around keywords (using bar charts!), save your keywords to your account and, best of all, share it with others in your team.

At Articulate, we enhance our content through pair writing, which means another person edits our work. Sharing your plan will improve it. Trust us.

For creating search-engine optimised content (Bake!)
It's now time for you to get baking. (We've really stuck by this cake metaphor, haven't we?)
6.
SEMrush SEO writing plugin

and

Microsoft Web Text Tool

72 percent of marketers say that, going forward, creating relevant content will be the most effective SEO tactic. SEMrush's writing plugin and Microsoft's Web Text Tool help you write content for the web that is search-engine optimised right from the get go.

They encourage you to insert the right number of primary and secondary keywords in places like the H1 and H2 tags, the introductory paragraph and alt-text for images, as well as using other SEO best practices.
7.
Hemingway App

for better business writing

SEO isn't just about keywords. It's also about user experience. Effective content is readable, interesting, and it answers questions. Hemingway App gives you a readability score and provides tips to help you make your content fit for purpose. Your strategy has to hit the right balance of speaking to the search engine and its algorithms, and of speaking to the human putting in that search query.

As search engines become more sophisticated, the gap between these two considerations is closing, rapidly. But, for now, part of your SEO-keyword strategy is about knowing when to stop.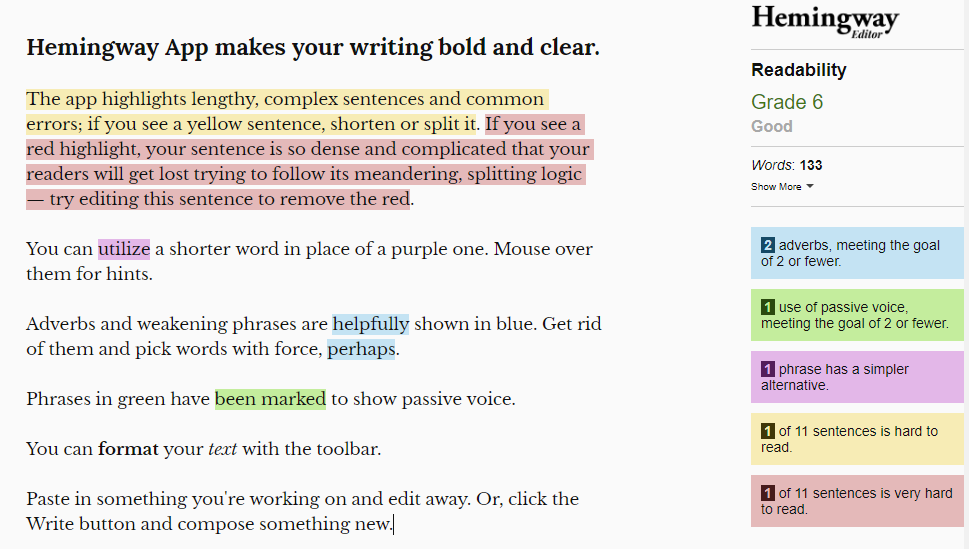 For testing your SEO keyword strategy (Time to tuck in)
No strategy is complete without dedicating some time to reflection. You might need to adjust, or simply look at what's working and take those lessons onto next quarter's content plan.
8.
Buzzsumo

for social media hype

Social media 'buzz' and backlinks are an important part of SEO in terms of building audience and creating authority. Buzzsumo allows you to track backlinks to your piece of content, as well as view data around certain topics and keywords.
9.
SiteBulb for website audits
You've been writing from dusk until dawn. Your website is full of optimised content, carefully focused around well-chosen keywords to attract organic traffic.
SiteBulb is a fantastic tool that lets you crawl your website and see if any other factors might be influencing your rankings. It could be performance, broken URLs, or even duplicate content that is holding you back. You might be tempted to change your keywords, or put more in, or change their placement, but you might not need to. Use SiteBulb to check. The icing might be fine, but the eggs were off.
10.
Ahrefs

for nosing on competitors

It's likely your SEO strategy has been inwardly focused so far. But with the features available on Ahrefs, you can benchmark your progress against competitors. SEO isn't always about doing something new or unique. It's often about doing the same things as everyone else, only better.

For example, you might be a Microsoft cloud provider, but if the top searches for the term 'Microsoft computing provider UK' all come up with long blogs with imbedded videos, you'll want to do just that, but you'll want to be the very best long blog with imbedded videos. There's a reason other websites rank highly.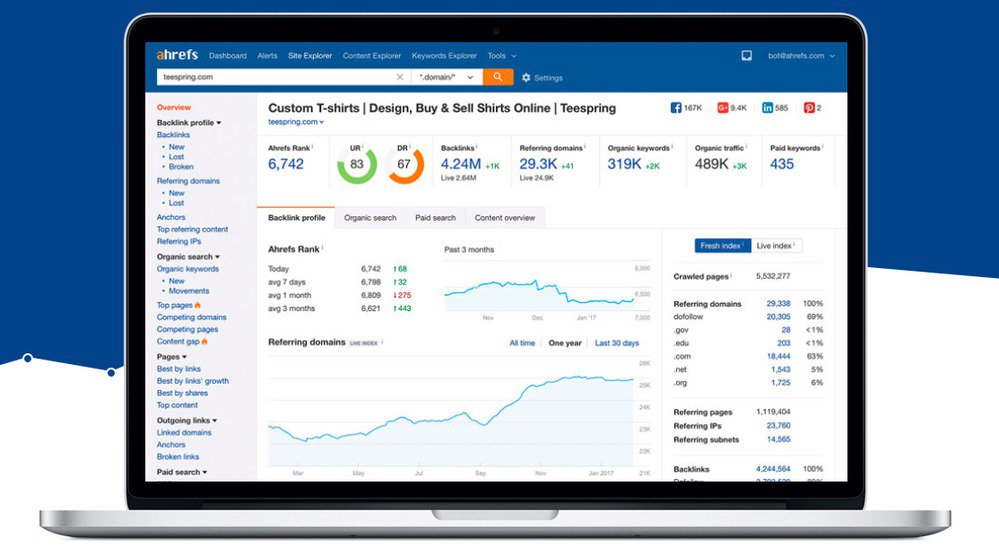 Whatever you want to be known for, from cloud computing to cake, you know you've made data-driven decisions, using the right tools for the job. Take a minute to sit back and enjoy.
Cup of tea, anyone?