'We want to be top of Google's search results for [some search term].' There's a science to improving your SEO and it starts with a good keyword strategy.
Running Articulate, a tech marketing agency, I hear this a lot. The bad news is that there is no magic trick to getting to the 'top of Google' for a given keyword. Anyone who promises otherwise is selling snake oil. And they may be missing the point of a good SEO keyword strategy altogether.
The good news is that, over time, great content that answers people's questions will attract relevant organic search traffic. (Cheap or unoriginal content won't.)
More good news: there's a lot you can control to increase organic site traffic, starting with smart goals, good content and website hygiene – covered briefly in this piece.
But the heart of an SEO strategy is keywords. This article will explain how we build an SEO keyword strategy.
Start with a SMART SEO strategy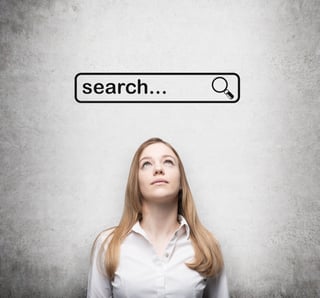 The key thing to remember is that the goal is to attract relevant visitors with content that answers their questions on subjects that matter to you (and them).
The goal of SEO is to get more traffic to your site, not necessarily to rank for this keyword or that.
A SMART goal for SEO might look like this:
Specific: Increase organic traffic to our website
Measurable: from 500 visitors a month to 1000 visitors a month
Actionable: by creating SEO-optimised, keyword-targeted content and fixing SEO problems on our site
Realistic: because we can dedicate the resources to build our SEO strategy and create four high-quality blog posts a month
Time based: over the next three months
Note that this goal is very different from 'we want to be number one for "managed service provider" (or whatever) on Google' which is not specific, measurable, actionable, realistic or time based.
Create awesome content (that's too good to ignore)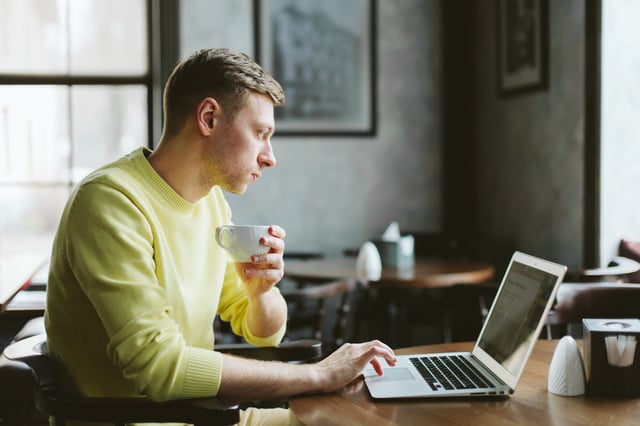 Google's best practices guidelines are clear about the role of content:
Make pages primarily for users (not search engines)
Ask 'Does this help my users? Would I do this if search engines didn't exist?'
Avoid loading pages with irrelevant keywords
Elsewhere it says:
Make sure your site adds value
Publishers must provide unique and relevant content
We have hundreds of articles about how to write great content. Here are few places to start:
On-page SEO and website hygiene
Before we get to the SEO keyword strategy, there is another thing that you can do to improve your organic traffic: make sure your website is search-engine friendly and that you're telling Google about your content in a way that it understands. Here are the main points.
Be mobile-friendly. It's better for your visitors and Google hates a desktop-only site. Check your site with Google's Mobile-Friendly Test. Consider AMP for content pages.
Don't slow me down. Make sure your site is fast. A slow, fat site on a crappy server will annoy your visitors (who most likely will click away after a few seconds rather than wait for a slow site to load). It will also get you penalised by Google. Use their PageSpeed Insights to assess your site and improve it. A quick win is to move it to a faster host, such as WPEngine for WordPress. A slow server means a long 'time to first byte'. Bad.
Use Google Search Console. Upload an XML site map to Google Search Console and check for errors and potential issues.
Use SSL encryption. Google has confirmed that SSL gets a slight SEO boost and, over time, Google Chrome will likely warn users about insecure sites.
Check your meta. Every page should have a unique page title and page description. The Yoast SEO plugin for WordPress is a useful tool to make sure each page and post is fully-optimised. HubSpot has a similar tool.
Spelling and readability. The Hemingway app is a good place to start. The Yoast SEO plugin for WordPress also has a good readability checker and the JetPack plugin has a useful proofreading tool. If these tools can give you a score for how readable your text is, you can bet Google can do that too.
Build a site that is indexable. This really should go without saying but your site should have a navigation structure that a search engine can spider, pages that use error-free HTML and CSS and a sensible use of headings to indicate importance and structure etc. If you use a modern content management system like WordPress or HubSpot, you should be fine.
Use internal links (correctly). The right internal linking structure can give Google (and visitors) a clear sense of what's important in your site. Moz's Rand Fishkin, as ever, has a clear and helpful explainer video.
Avoid stupid mistakes and black hat SEO nonsense. This Kissmetrics list outlines 50 different ways that Google can penalise your site. Many of them – keyword stuffing, rented links and content farms – are the hallmarks of old-school SEO agencies. You may be suffering from something you thought was helping.
If you would like a shoulder to cry on about your current website and perhaps some help in building a fast, mobile-friendly, SEO-ready site to replace it, contact us.
Research your keyword list
Google works by trying to find the best content for the search phrases that users put into it. (It makes money by advertising against those key words and phrases.)
Many keywords – such as 'cloud migration' or 'Microsoft Azure' – are very difficult to rank for. After all, you're competing with Microsoft and every other IT firm that has something to say about them.
But it can be easier to get on the first page of Google for variants of these keywords. Either long-tail keywords that are less contested such as 'cloud migration specialist for financial services' or intent-focused keywords such as 'how to find the best cloud migration firm'.
Increasingly, SEO is about understanding and optimising for the intent behind a user's search and making sure that your content aligns with that.
So, a good SEO keyword strategy needs to deliver several things:
Keywords for copy. A prioritised list of keywords to use when writing and optimising a given piece of content. For example, if you want to target the phrase 'cloud migration for financial services' make sure you use that in the title and meta copy of a piece.
SEO opportunities. A good strategy will give you a list of SEO opportunities and suggestions for content that you can use to attract relevant visitors. By targeting high potential keywords with your content, you have more chance of ranking for them.
Market insight. A better understanding of search intent – how people actually describe the thing they want. They probably don't use the same words you do. After all the man in the mirror is not your customer and the secret of technology marketing is to not talk about technology.
Step One: build your long list
Start by compiling a long list of keyword and key phrase candidates. There are lots of places to look.
In the rest of this example, I'll be using Vincarta, an online wine business, as an example. This will spare the blushes of our techie clients.
It's similar to technology businesses: a complicated vocabulary, audiences with varied levels of knowledge and lots of competition for key phrases.
This section covers the different ways to gather relevant candidate keywords and phrases for your long list. Some of these tools are paid-for but offer free trials so you can do the whole process for free.
When I ran through it for Vincarta, it took about half a day and produced a long list of just over 1,500 entries which I compiled into a monster spreadsheet.
1. What do you want to talk about?
An obvious place to start is your own messaging, products, services, geographical coverage, company name and so on. Typically, with clients, we do this with messaging guidelines that drive the copy on a website and elsewhere.
2. What do your personas want to know about?
The secret to compelling content is accurate audience personas. You do have them, right? Let me introduce you to Adventurous Alan, one of Vincarta's personas. Here is a snapshot of part of his persona from our intranet site.
Based on this persona, I compiled a list of questions he might ask to understand how the persona translated into search intent. Starting with your marketing personas means that you'll be targeting people who are more likely to be potential customers and thinking hard about answering the questions they might type into Google. Here are some of the questions as an example.
How to choose quality wine
How to explore new wines / variatals / wines from different countries
Get advice about choosing wine
Are wine clubs worth it?
Get sommelier advice at home
Alternatives to posh French wine
Avoid feeling foolish, ignorant or embarrassed about wine
What are the 10 things everyone needs to know about wine
The best wine to go with X
3. Answer The Public
We love AnswerThePublic.com and it's grumpy, impatient video avatar. You can use it to find out what questions people are asking right now online about a given word of phrase (in this case 'wine'). It produces great infographics and downloadable lists of questions and searches.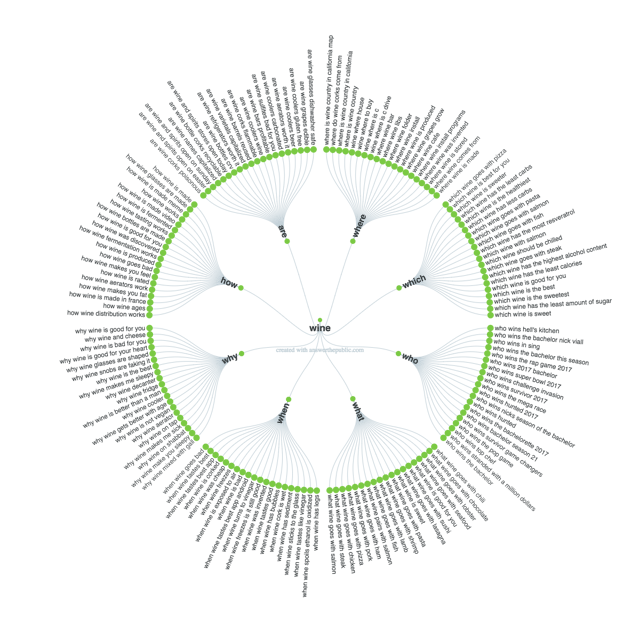 This is very valuable for seeing the kinds of questions that actual customers use rather than the language you use. For example, you might describe yourself as a 'managed service provider' but your potential customers might be searching for 'outsourced IT support.' AnswerThePublic.com lets you see the world through customers' eyes.
4. Use Google Keyword Planner tool
If you have a Google AdWords account you can access Google's free Keyword Planner tool. Given a topic and a link to your website, it will generate a ton of suggestions and, when you export the list to Excel, it will even show you the monthly search volume and competition for each keyword.
5. Use Ubersuggest
Ubersuggest is another, complementary way to find keywords given a starting keyword.
6. Analyse your competitors using Ahrefs
Ahrefs is a great tool for digging into competitors' sites and see what they are doing. (It has other capabilities as well which we use in other aspects of our SEO practice. We recommend it.)
At Articulate, we keep a list of top competitors for our clients and use this to benchmark our progress and identify trends and opportunities in the industry. So, it's easy to plug those sites into this tool and identify what pages are doing well and try to emulate or better them.
Here is a list of organic keywords and the top-ranking pages on WineFolly.com as an illustration.
7. Use Google Search Console to see your existing keywords
Google Search Console is a useful diagnostic and warning tool for any site owner. To some extent it lets you see your site the same way Google's spiders see it: a useful insight.
Google hides most of the search words people use to find your site. So, out of 616 search clicks shown on Google Search Console, it only reveals the keywords for a few dozen. But it is still revealing because it lets you peak behind the curtain at what Google knows about your search traffic. It's certainly going to be a hint about the keywords you can build on.
Services like Ahrefs and Moz can give you a better, deeper insight but they are not working directly from Google's own sources.
8. Review Quora questions
Quora is a popular question and answer site. It's a great place to find common questions about a topic. For example, in the wine category there are 6,100 questions such as 'Is expensive wine worth it?' (Vincarta says 'yes but only up to a point'). You could just as easily search for 'Azure' or 'Backup' or whatever technology topic you wanted to rank for.
Step Two: Prioritise your keyword list
By now, you should have a spreadsheet with hundreds, if not thousands, of keywords and phrases. The next step is to identify the ones that have the highest potential and the most value.
This checklist will help you do this:
1. Scan the list
Review the list and delete any keywords that are obviously irrelevant or unhelpful. This might include items that include the name of competitors or which are off-topic or which aren't something you'd ever want to talk about. Don't spend too long on this step – just weed out the most obvious offenders.
2. De-duplicate
The chances are that you've got the same phrases popping up from different tools and so you will have duplicates. I'm no Excel wizard so I just followed the instructions on How-to Geek!
3. Import into Moz Keyword Explorer
Moz.com is another Swiss Army Knife for SEO. Lots of great tools to help you improve your organic traffic. But the one we're using here is the Keyword Explorer. You upload your keyword spreadsheet (500 keywords at a time, annoyingly) and Moz does some analysis to tell you which keywords in the list have the most difficulty, the most opportunity and therefore which ones to prioritise.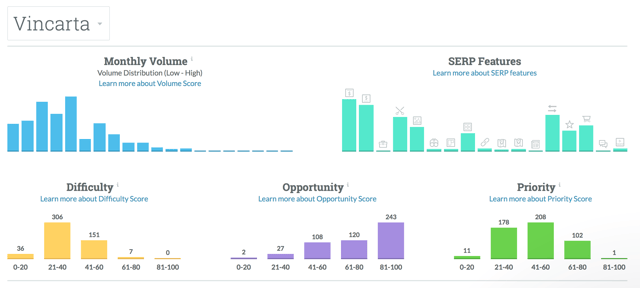 Keyword analysis for Vincarta in Moz.com
4. Assign scores
You can assign a higher preference or weighting to keywords that match topics you want to talk about. For example, Vincarta sells a great Amarone (A 2008 Amarone della Valpolicella from Piccoli, if you're interested) so we wanted to give that phrase a bit of a boost. Similarly, Vincarta don't sell Australian wine so that got a lower score.

SEO Keywords with preference weightings in Moz
5. Combine Moz listings
Export the weighted list back to Excel and combine it with the others in Excel (assuming you have more than 500 keywords and hence multiple listings in Moz). Then use the data tools to sort the list by 'Priority' – this is a score based on the difficulty, traffic, opportunity and your score and it tells you which keywords you should be targeting in descending order of attractiveness. Suddenly, you've turned more than 1,000 keywords into a usable list of a few dozen.
Here is the top of the list for Vincarta.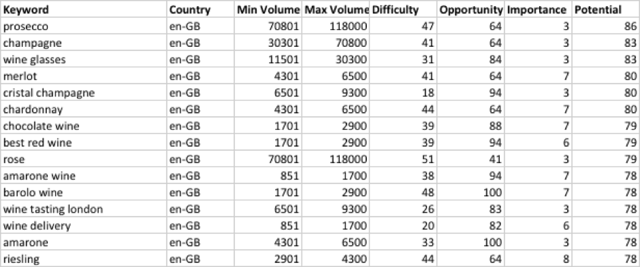 Once you have your prioritised list you can use it to ideate new content and to apply the skyscraper technique and optimise existing content for search engines.
If you'd like help with creating awesome tech-focused content for your website, contact us.