To those on the outside, Pinterest looks a bit chaotic and full of slightly obsessed users who are already completely immersed. As a marketer or business owner, how do you approach Pinterest as an inbound marketing tool? And how does the platform fit into your marketing strategy?
Learn to walk before you run with it
If you jump into using Pinterest as a marketing tool before knowing if your brand fits in, you'll end up buried under a pile of pins. Before creating a Pinterest profile for your business, it's important to know:
Do my customers and ideal buyers even use Pinterest?
If so, what does my audience use Pinterest for?
Does my business fit into a niche that is relevant to the platform?
What are businesses like mine doing on Pinterest? Are they successful?
What is a successful post on Pinterest and could I create it?
Is Pinterest the right place to put my content?
The answer to these questions will be unique to every brand, but there are common considerations every marketer has to account for when they look at the platform, their brand and their content.
Think like a pinner (and like your buyer personas)
At 85 percent of total US Pinterest users, you would think that women dominate Pinterest, but the number of men is rapidly rising. In truth, a variety of ages, socioeconomic statuses and genders use Pinterest:
To curate an identity in pictures
As a source of inspiration
To bookmark the internet
Because it's entertaining
You might find your ideal buyers on Pinterest or many of your engaged Facebook followers might use the platform. But that doesn't mean they want to see your brand's content on Pinterest.
When it comes to relevant content, there are a total of 37 categories on Pinterest on a range of topics:
The most popular categories on Pinterest are Food & Drink, DIY & Crafts, Home Décor and Holidays & Events
Male users favour Food & Drink, Technology, DIY & Crafts, Humour and Gardening


Each category has suggested sub categories to narrow your topic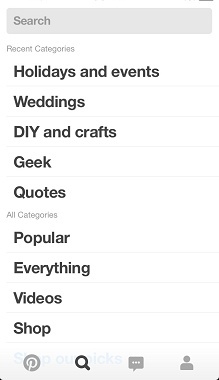 Your time is valuable and you want to put your company's resources where they pack the greatest punch. Do your own research to determine if your customers are on Pinterest and if they are using it for a purpose that your brand and content can cater to before you consider signing up.
Pinterest platform basics
Pinterest may seem chaotic from the outside, but, when you break it down, the functions of the platform are simple. Like other social media sites, getting started on Pinterest means creating a profile (you might consider a business profile). From there, you:
Create boards. Boards are part of your profile and keep the content you save organised in custom categories. You can find content you've saved by going to your profile and clicking on the appropriate board.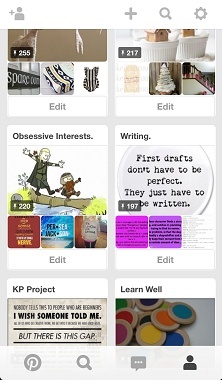 You can also create 'secret boards' which only you can see and take part in 'group boards' with other pinners to share content with a specific network.
Browse. A Pinterest user's main feed will show pins of people and boards they follow, but also 'suggested pins' and sponsored content based on their pinning behaviour. You can also browse or follow any of the 37 categories or use the search function to look for something specific.
Pin. You can create original pins from anywhere on the internet (a different way to bookmark) or re-pin content from within Pinterest. If you hover over a pin in any feed, you can choose to:
Pin it. This lets you save it to one of your boards. The person whose pin it was gets a notification that you also saved that pin.
Like it. This saves the pin to your profile, but not to a board. A notification goes to the last pinner.
Send it. You can send the pin to someone in your network as a private message.
Pinterest is about action. Pinning something says 'I like that too.' Following a board says 'I'm also interested in that topic.' Following a profile says 'I know you' or 'We seem to like the same things.'
Actions speak louder than words on Pinterest. They serve to create communities of common interests, lifestyles and needs without having to say anything.
Pinterest as a marketing tool
A pin is the currency of Pinterest. According to the Kissmetrics blog, on average, a pin:
Is worth about 78 cents in sales
Prompts two site visits and six page views
Gets re-pinned about 10 times
Just like statuses, posts and tweets, the pin itself and the content behind it matters. Marketing on Pinterest is about:
Relevancy. The title and description of your boards as well as the captions on your pins act as keywords which determine if your content is filtered into certain categories, searches or feeds.
As with any social media platform, you want your content to match what the pinner is looking for when they go through their home feed, browse a category or conduct a search, so the words you choose do matter.
Appearance. Actions speak louder than words on Pinterest and so do your images. Curalate did a study and found that pinners like:
Images of things, not the faces of people
Minimalist backgrounds
Colours, especially hues of red, and lighting
Portrait orientation
It's your job to make sure that all images are professional, attractive and accurately represent the content they lead to.
It's also essential to ensure an image is visible or hidden within each piece of content on your website or blog which will translate well to a pin if someone decides to create an original pin from your content.
Content. When pinners click on your pin, it leads to your product, website or blog pages and all content rules apply, but you must also remember:
The top of the funnel. With the way content is distributed on Pinterest, you don't want to scare someone off by asking for an email address you haven't earned.
This is no time for spam. Pinners are looking for information. The content behind the link must deliver the promised information and it must have value (to the reader - not you).
Price your products. Product pins that show the price on the pin itself fare better than those without.
Test your pins. Use A/B testing to determine what elements of your pins succeed. You can gauge this through traffic to your site or re-pins and likes.
[highlight]Be advised[/highlight]: pinners might save or like a pin and then never click through to the content. Keep in mind that Pinterest is about pinning.
Frequency. It's recommended that you pin often with a variety of your content. On Pinterest, you can reuse content. You just have to keep your followers in mind who will see everything you pin and might get sick of the same thing popping up repeatedly in their feed. If you do reuse, use a different image for the content each time.
Does Pinterest suit my marketing strategy?
When looking to use Pinterest as an inbound marketing tool, it's important to keep your online marketing strategy in mind and how the functions of Pinterest might meet that. You seek to:
Attract buyers. While you can follow and be followed on Pinterest, your content can be seen in a number of ways by people in and outside of your network.
Convert or close. A pin on Pinterest can lead directly to your website, product and landing pages or content.
Delight customers. Pinterest is fun. Pinners can absorb a large amount of content through images.
Pinterest has over a hundred million users and countless pieces of content, but Pinterest is also made up of countless smaller niche communities based on the interests of the people who like and use the platform.
You have to look objectively at Pinterest and decide if your business can find its community in the chaos and whether or not your content can nestle into the mix. Like any social media platform, you must conduct your own research and decide if Pinterest is worth pinning to your marketing strategy.
(Hat tip to Roy Blumenthal for the photo)