"Self-publishing is a vast subject, so APE is a long book. Our advice is to blast through APE the first time to see the big picture."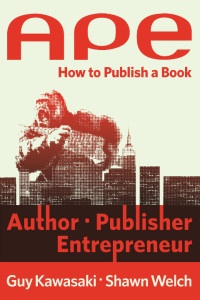 I did exactly that, and they are exactly right. Guy Kawasaki and Shawn Welch have written a comprehensive, clear and incredibly useful book. I was poised to make notes as I read, but every chapter, every sentence has already been crafted to be as crisp and focused as it can be.
Motivation
The progression is logical. The book starts by forcing you to question your motivations for writing a book: it is made very clear that money and fame are not acceptable answers. Kawasaki and Welch believe in the power of books to inform, transform and entertain, which is most likely why they have gone to such lengths to create a practical and complete guide for anyone wanting to self-publish.
Self-publishing for everyone
APE explodes the myth that self-publishing is for the lazy or the second-rate writer. Kawasaki and Welch use the term 'artisanal publishing' for the difficult labour of love that writing, publishing and marketing a book worth reading should be. It is a philosophy that seeps out as they take you step by detailed step through exactly how you go about achieving that very goal.
Kawasaki and Welch are also realistic. No one person can write, edit, copyedit, design and be a technical whizz. They take you through recognizing what you cannot do, and how to find and hire those who can. (They insist that you'll need an external copyeditor, no matter what.)
Technical insights
Some parts are quite technical, but they need to be if you want to learn how to do the job properly. You may have to read the section on 'How to Convert Your File' a good few times, but everything you need is there, including links and reference materials: getting it right is just a matter of persevering.
Fortunately, Kawasaki also injects his trademark humour and perspective throughout, making this not only an incredibly useful and a must-have bible for anyone even considering self-publishing, but an enjoyable and thought-provoking read as well.