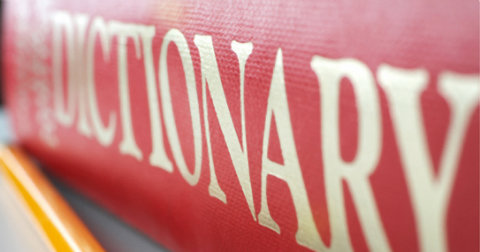 Writers don't just need to know what words mean: they need to experiment, learn, discover, check and sometimes just plain find the right words. Here are ten useful, and occasionally playful, dictionary sites for writers.
One Look. Two sites for the price of one: not only will One Look collate definitions from dictionaries across the web, both general and specialist, but it also has a reverse dictionary feature for when you know what you want to say but you can't remember the right word. Try searching for 'the feeling of joy at someone else's misfortune' to see what I mean.


Visuwords. For those who prefer to see the patterns of language, Visuwords displays meanings, linked words and concepts as a spider diagram that you can manipulate and explore.

Urban Dictionary. Recommended on here once before, I am recommending it again. Even if you just scroll through being horrified and bemused, it lets you see how people play with words and meanings. And let's face it, no one wants to be the one at the table that doesn't know what a synergasm is.
[For a bit of extra fun, have a gander at this Dictionary of Slang focused on the best of British colloquialisms.]


Virtual Salt's Handbook of Rhetorical Devices. Just brilliant. A reference guide that gives working examples of all sorts of linguistic turns, including the extremely pleasing to pronounce, epizeuxis.

Opposite Word. You know when you are really frustrated that you can't remember that perfect word? Well this is like the opposite of that, you know, encouraged, fulfilled, inspirited, stimulated, uplifted. Type in a word and find its antonyms.


Word Spy. Full of new words and uses of language, like a grownup's Urban Dictionary.


Word Count. A visual display, or stream, of 86,800 English words, ordered by popularity.

Grandiloquent Dictionary. For all those unusual and oddly specific words. Fascinating to peruse and perfect for anyone with simphobia.


Rhymes. Not only does this site give you rhymes, but translations, definitions and links to search for phrases and lyrics that contain your original search word too.


Good Reads Popular Quotes. Search for keywords, or parts of sayings to find full quotes from authors, scientists, novels and anywhere else you can think of.
Main image courtesy of TexasT, Flickr