I am a huge fan of Donald Murray's Writing to Deadline. (Read my review.) It is a practical guide to the art of writing. He is a reporter and it is about journalism, but it applies to the kind of professional copywriting we do at Articulate Marketing.
In fact, the lessons in the book are essential for our written marketing activities.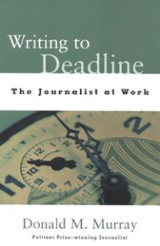 This article contains my summary notes from the last time I read it. It's a long post but easy to scan. I still recommend reading the whole book and this post is a sprat to catch a mackerel.
You can buy Writing to Deadline: The Journalist at Work

from Amazon.
The Craft of a Reporter
Who
What
When
Where
How
Why
The Craft of a Writer
Write with information: specific revealing details, concrete images, quotations, statistics, records, facts. Individualise by specific detail.
Accuracy. Get the names right.
First the lede. If you get the information the reader needs in the sequence they need it, the rest will follow. Write seventy five ledes.
Less is more. Clarity, grace, simplicity, varying sentence, writing as simply as the subject allows. Worry about length after five typewritten lines.
Get out of the way of the story and let it tell itself.
Encourage able editors by thanking them for their feedback, encouraging them to call you at home and treat them and the editing process with respect.
Writing to deadlines
Know the limits. Understand the budget, schedule, context, purpose and audience.
Rehearse.
Focus. Bring all the elements of the story together somehow. A line or fragment that creates a tension.
Select and develop. Pick the key one, two or three points (if they are related) and develop them within the limits of length.
Order. Find the racing line.
Write fast. A flood tide towards meaning. Quickness evades the censor.
Write out loud.
Story
Who
What
When
Where
How
Why
Write with information: revealing details, concrete images, quotations, stats, facts
Accuracy – objectivity comes from not making facts up not by distancing yourself
First the lede – draft 50 ledes
Less is more: use strong verbs, tell by revealing
Process
Explore
Focus
Rehearse
Develop
Clarify
Use your senses
Hearing
Touch
Smell
Taste
Sense of change
Effect and consequences
Conflict
Context
Self
Ask the reader's questions
A good reporter is forever astonished at the obvious.
Brainstorm
Change point of voice
Compost
Role play
Read new magazines outside your interest area
Try another genre
Try free writing
Avoid stereotypes (e.g. CEOs are workaholics)
Find the tension
Line: tension, conflict, irony, energy, discover, play, music, form
Qualities of a good story: information, focus, context, faces, form, voice
"Write what makes you happy."
Rehearse: writing before writing
Give assignments to the subconscious
Talk to yourself
Make notes and outlines
Lead with the lede.
Not: cluttered, flabby, dull, mechanical, closed or predictable
Think about: focus, context, form, evidence, voice, authority, audience, length, pace, order
Possible forms
News, anecdote, quotation, umbrella, descriptive, announcement, tension, problem, historical, narrative, question, POV, reader identification, face, scene, dialogue, process
30 Questions
what one thing?
what would make a reader say 'listen to this…'
What surprised you?
Is there an essential anecdote
An image that reveals the story
Where's the conflict
How will this affect readers
What's going on
Why should anyone read the story
Is there a telling metaphor
Where?
What voice?
Who? Face?
Where's the tension?
A quote?
Which elements of the story connect and how?
What is the shape of the story?
What generalizations can be made about it?
What questions must be answered?
What's the best form?
How can I summarise the story?
A telling specific?
What is the story's history
POV?
What problems must be solved
What's the central event?
What is my opinion?
Should I tell the story?
Why did this story happen?
What is the process?
Vision
Wonder at the commonplace
Circle the subject
Use a zoom lens
Where's the fight
Reveal the characters through the story
Hear them talk
Information
Accuracy of fact and context
Revealing details
As short as possible but not shorter
Voice
What's the voice of the story
Talk with (not at or to) the reader
Listen to what you write (read it out loud)
Invite surprise
Attitudes
Know yourself
Welcome the difference problem or opposition
Connect
Play
Confront your fears
Techniques
Write faster than your censor
Try a way of writing you have used before
Tricks of the trade
Ask the readers questions
Collect abundant details
Use POVs
Listen for the key / opening line
Say one thing
Write without notes
Write many ledes
Write easily
Write with your ear
Show don't tell
Write with information
Answer the reader's questions
Cut anything that doesn't move the story forward
Stop mid-sentence if interrupted so you can easily pick up your thread
Be your own editor: read for meaning, read for structure, read for language
Preparation
Write five readers' questions
List as many sources
Imagine you are the subject
Read clips but don't be swayed
Reporting
Pay attention to what surprises you
How much of yourself to reveal
Listen to what and HOW people say stuff
Observe the subjects world and work
Take notes as well as tape
Try to do three interviews – one to meet, one for info and one to follow up
Ask subjects to describe themselves
Be a professional ignoramus
Research enough so you don't ask foolish questions
Sensible curiosity
Intense attention
Respond deftly and intelligently
Most people dislike and mistrust reporters
Always keep off the record assurances
Prepare to write
One sentence summary
List 3-5 specific pieces of information thread into the story
Visualise and draw the story
Writing
Use dialogue as well as quotations
Find a revealing action
Consider anecdotes
Give the reader a trail
Description
Use active verbs
Use a different connotation
Specific bits of information
Revealing details
Give the reader an image
Describe a process
Use senses
Use analogy
Develop
What works
What needs work? Context, documentation, faces, voices, voice, distance, first person, setting, action, chronology, answer readers' questions
Clarify
Turn traitor on your own copy
Read fast for meaning
Half speed for evidence
Slowly for language
Story proposals
Headline
Lead – focus, tone and shade
Bullet – 3-5 main points
Summary of sources, art etc.
Don't lecture on why the story should be run, it should be obvious.


See also: what is marketing
Related service: Content