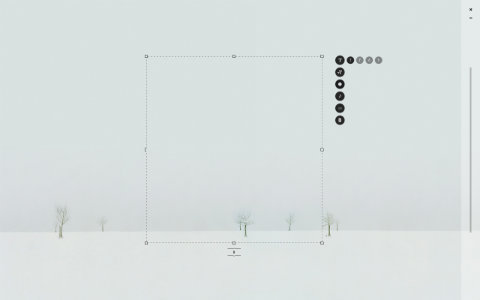 Re-connect with your old friends Concentration and Creativity, and discover the bliss of single-tasking.
OmmWriter elegantly fulfils its noble aim.
Boot it up and you're presented with a beautifully minimalist full screen mode as above, with only a few features on the right hand side, a running word count at the bottom and the text box. Start typing, however, and even this disappears – you're left alone with your words.
Like other programs in this field, OmmWriter is a plain text-only application, so you can't apply any fancy formatting but you can export as PDF or RTF. As a result, it works best for short pieces – maybe when you're trying to bash out a blog piece or freewheeling to get ideas down – because anything requiring more complexity than font selection and size is out of the question.
The extras
There are also calming backdrops, soothing soundscapes, and keystroke sounds, should you choose to use them.
The backdrops – a selection of neutral tones and colour gradients – are suitably Spartan, but I was sceptical of the audio elements, particularly the keystrokes. To my surprise the various ingredients actually combine rather nicely to achieve the distraction-free writing environment that OmmWriter sets out to create.
In a similar way to Coffitivity, the audio tracks essentially provide 'white noise' to block out distractions and help you concentrate. The three I had to choose from comprised two soft piano and synth numbers and a soundscape reminiscent of an empty Amtrak dining car. Although they're all pleasant enough to tip-tap away to, as other reviewers have mentioned, for long writing sessions the repetition of the tracks can get very old very quickly. And, whilst you can switch the music off, you can't alter the volume.
As for the keystroke sounds, I actually found them quite reassuring. Just note, one of the three was a little loud and, again, there's no option to adjust the volume.
The bottom line
Overall, OmmWriter provides a pleasant minimalist oasis for idea generation and drafting but is unsuitable for anything longer or more complex.
OmmWriter is available for Mac, Windows and iPad.
Note: Here I review the free Mac version but there's a paid version for $4.99 in the App Store or you can pay what you like for it on the website. There is a suggested price of $4.11 but, if you felt heartless enough, you could buy it for one cent. The paid version has more backgrounds, audio tracks, and keystroke sounds to choose from.