Email marketing firm dotMailer is a British success story: AIM-listed with offices around the world. It occupies a prime spot in the email marketing automation marketplace, competing against companies like Marketo, SilverPop and ExactTarget.
However its historical roots are in the fire-and-forget batch mailing market. Over time, the platform has evolved upmarket, adding user-friendly features that make it easier to target and tailor emails to a particular audience and measure the results of each campaign.
So the big question is 'how do we reposition the brand' to communicate the journey from 'batch and blast' to 'fully automated email marketing'?
Well, according to my friend and ace designer Phil Draper, it starts with the logo design. (Also, in the interests of full disclosure, dotMailer is an Articulate client.)
Logorrhea
The problem with logo design projects – and I know having gone through an extended (but successful) redesign process on the Turbine logo over the last year – is that they turn into talking shops; too much talk and not enough design.
Every design marriage starts with a sweet honeymoon but it doesn't always last. Why?
Business stakeholders struggle to explain what they want in terms that designers can understand so they go to what they know: brands they like and logos they know. The result? Saminess not differentiation. Fashion rather than innovation.


Designers, on the other hand, run the risk of compliance: they do what the client wants even though it may not be right for the project just to get the thing signed off. Or they let the project run, increasing the cost and delaying completion, as they do endless iterations. Or, worse, they get into a kind of 'take it or leave it' defensive stance behind a wall of design jargon.
(As an aside, my partial solution to this problem is to use mood boards on Pinterest to express my sense of what I want in addition to the traditional written brief. Also, I've been taking a succession of design courses with a view to learning to communicate properly with the design community.)
Story-telling as client management
Phil took a different approach with his colleagues at dotMailer. He created a presentation that took them on a journey from where they were to where they wanted to be and tied the evolution of the logo into that journey.
The brand and its competitors
He started with the evolution of the brand and what it meant to customers. He set out some brand pillars and explained what they meant to customers. For example, one pillar is 'empowering technology' and one user story underpinning this is 'It's so quick and easy that I can spend more time on other marketing tasks.'
State of the art logo design
Then he looked at how logo designs were tending towards ever-greater simplicity with before and after images of different brands.

Seeing with a designer's eye
He deconstructed the old logo to help his colleagues see it through his eyes.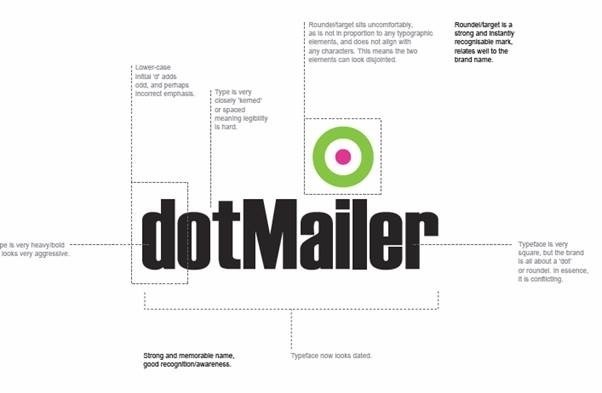 Font-astic
Then he showed how a new logo, with the roundel moved from the top to the left, would look in different fonts.



Further simplification

The next iteration put the roundel into the text and eliminated the capitalisation, making the logo even simpler. But he reckoned the 'font is too heavy and the black is too dominant'. (But remember each stage of this journey is public and visible to his colleagues. It's not a fait accompli.)
In the final version, the 'colour' of the text on the page and the actual colours used in the logo are both lighter. It's modern and clean.

Why the logo design worked
The right communication tools. He created a presentation so that they could see what he was talking about and gave them a PDF version to review after the meeting.


Let me tell you a story. In 25 slides, Phil took his colleagues through the story of how the logo evolved – its journey. In doing that, he addressed the most likely questions, objections and detours. It's a very compelling example of logical persuasion through the control of suspense.


Show your working. Remember when you did maths exams at school? You had to show how you solved the problem not just reveal the answer. Phil did the same, showing how he had gone through different iterations of the design and revealing his design influences.
This approach could work for all kinds of graphic design, copywriting or marketing projects. It means letting go of our ego, sharing our thinking and admitting that we don't get to the perfect outcome instantly. When we do this, we invite our clients and shareholders into the process and earn their trust.