The Economist Style Guide is a concise (141 pages in the edition I use), readable and surprisingly entertaining guide to good business writing. It is arranged alphabetically and covers topics from Abbreviations to the correct usage of 'while'.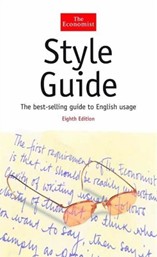 Most of the content is straight-forward guidance such as when to hyphenate words, differences between American and British usage and a list of basic fact checking resources. This reads like Schott's Original Miscellany but with less serendipity but more utility.
Books on prose style face two dangers. Either they become unbearably smug and didactic (Eats shoots and leaves comes to mind) or they try to be witty and show off (I've seen a few in-house style guides that fall into this trap).
The Economist Style Guide, as you would expect from a no-nonsense publication, avoids both pitfalls. It is matter of fact, well-formatted and instructive:
FORTUITOUS means accidental, not fortunate or well-timed.

Anglo-Saxon is not a synonym for English-speaking.
The generally terse guidelines offer little room for literary fireworks but they are clear and precise. This is what you want from a reference book. However, The Economist Style Guide can also be read cover-to-cover as a mix of instruction and diversion. It is full of little gems:
Wolfe's Law of Journalism. You cannot hope / to bribe or twise, / thank God! the / British journalist. / But seeing what / the man will do / unbribed, there's / no occasion to.
The Economist Style Guide should be on the bookshelf of anyone who writes for business people. Reading it is even better.
See also: View Articulate's resources
Related service: Content