For all of you who are still feeling bereft at the loss of Google Reader, there are, as you may already know, two big contenders who hope to fill its shoes: Feedly and Bloglovin'.
Now, I'm more of a Twitter link follower than a dedicated blog follower but I have my list of favourites that I like to dip into when I'm feeling a little short of inspiration. Before Google Reader shut down I transferred my list to both services, and have been intermittently playing with each ever since.
Today I also downloaded the iPhone apps and took them for a proper spin, and so here follows my review of the rivals.
Feedly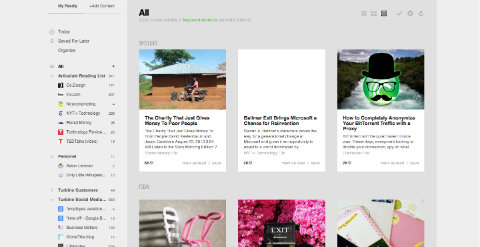 Since it was the first one I heard about, I will review it first.
The basics
It successfully transferred my lists and curations from Google Reader
You can choose how to view your unread posts - I quite like the cards view (as above)
Adding new blogs, and popping them in the right lists is pretty simple, if a little clunky
There's a 'Today' feature that bubbles up the most popular posts of the day if you're in a hurry
The app
All very sleek and neat with swipe functionality to scroll through 'cards' or scroll down long list of shorter titles
You can share posts or bookmark them from the post itself
Links in articles come up in a nice bright green, and you can still share, bookmark and save for later as you can with the original post
The verdict
For me, the key point was does it make me want to come and read blog posts? With a million and one other things to do, keeping up with online content often falls the the bottom of my pile, but it's vital for keeping on top of trends, tips and nifty things. As a blogger (amongst other things) I need a reader that encourages me to do just that.
As a reader, Feedly works. In a browser, it's functional, but not sleek. It feels very utilitarian and the quantity of unread posts feels daunting. I know it needs to work, but it doesn't do much else, and I have no desire to spend any length of time there.
The app is much more beautiful, but for me it's a bit too UI, and not enough 'I actually want to use it'. My 'stack of cards' doesn't add anything to my reading experience, and the 'Today' posts sometimes come up as a single card taking up the whole screen, adding extra swipes to get through my list.
Bloglovin'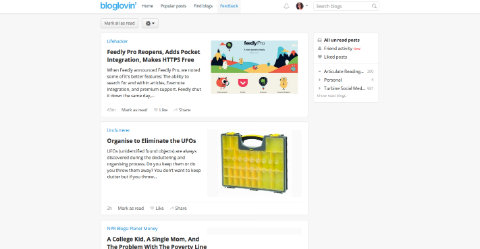 The basics
Again, all lists and categories came through fine from Google Reader (other reviewers were less lucky it would seem)
There are fewer display options than Feedly but you can choose big or small images, and organise by date or by blog
Searching for and following blogs is easier with more detail about search results and a nice 'Follow' and 'Following/Unfollow' button (a lot like Twitter)
The community element of Bloglovin' also makes it easy to search and discover new blogs by category and popularity
The app
Perhaps not as shiny as Feedly but it's built around familiarity - anyone who uses Facebook on their phones will immediately feel familiar with the menu
You can share direct from posts, although that feature is a lot less developed that it is in Feedly
The posts themselves are a little cleaner to read, and no 'read more' tapping that I've encountered so far
Scrolling through your list (yes one long scroll, no deck of cards) it gives you the option to mark as read, like and see how many likes a post has already had without having to click through to the full post - very handy
The verdict
You may have already caught on to the fact that Bloglovin' is coming out ahead for me. (But Matthew prefers Feedly!)
Firstly, an extra feature of Bloglovin' means you can register ownership of your blog, and keep track of how many Bloglovin' followers you have. You get a little avatar, and other people can see who you follow (and vice versa). It's much more in the spirit of serendipity discovery, like watching for interesting tweets, than Feedly, which largely relies on you knowing who or what you want to follow.
The browser version is much nicer than Feedly. Lighter, softer, and simpler to read and use. It feels more curated and appealing than Feedly, which to me looks like that stack of unread newspapers that's been sat in the corner for the last month.
The app is less developed than Feedly's. Yes the sharing could definitely be better and links in grey sometimes make them hard to spot (although they open fine and offer the same sharing options as the original post, like Feedly).
All in all
It comes down to what you want from a content reader. If you just want a list of all the posts, of all the blogs you follow piled up in one place, then Feedly will do you fine. If you are interested in recommending great blogs and posts to other readers, discovering new blogs and pulling together a collection of interesting things, then Bloglovin' is the reader for you.
Obviously, I'm sticking with Bloglovin' - in addition to the reasons above, I think it's nice to use, looks better and most of all, it makes me want to read the content, which is what should be at the heart of a reader after all.
See also: Articulate's tools
Related service: Content