I'm looking at some personal finance programs and I just saw this pop-up screen in You Need a Budget.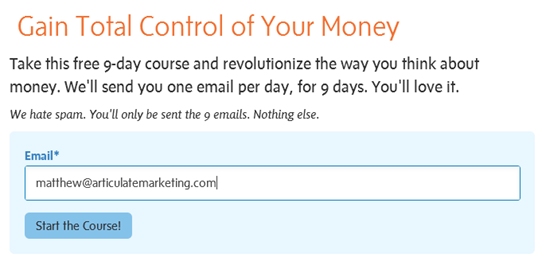 There are several reasons why I think it's a great role model for email content marketing:
The value to the reader is very clear. 'Get control of your money'. Yes! That's what I want to do.
The timing is right. I'm running the software for the second time so I've already done the registration and configuration stuff. It's not hitting me at the same time as a lot of other setup chores.
It aligns with the YNAB's objectives – the emails help you get the most out of their software so you'll convert from a trial to paid version.
A clear, concise offer. 'One email per day, for 9 days'. It's kind of intimate but there's no long term commitment.
You can't beat the price. Anything that's 'free' is good.
They're relaxed, confident and friendly. 'You'll love it'. Yes, I did.
Good anti-objection messaging. I really like this: 'We hate spam. You'll only be sent the 9 emails. Nothing else.'
Strong CTA. The action button is clear about what it wants you to do and software handles missing or incorrect emails very nicely. (There are also 'Close' and 'Remind me later' buttons.)
I look forward to getting the emails and seeing whether they match up to the registration page. I'm not sure I could say that about most of the email that comes into my inbox.