WordPress is a nifty little platform for hosting web content, but where it excels is in the variety of plugins.
We've dabbled with a few different plugins over the years, searching for the ones that provide genuine value. Here's a run down of our five best WordPress plugins for marketers:
1. JetPack
Though sadly not linked to any real jetpacking, the Jetpack plugin for WordPress is a super simple way to view visitor statistics, monitor website traffic and guard against brute force attacks. The dashboard displays the number visits to your site and even a break down of the keywords people use to find you.
Oh, and it's free, which is always nice.
2. Click To Tweet
As it says on the tin, Click To Tweet lets you quickly add a box on your website that lets visitors share your content with a simple click. It's great if you ever have anything particular witty or poignant on your blog that readers are likely to share.
3. SumoMe
At Articulate, we're big fans of SumoMe because it's one of those Swiss army knife plugins. Its arsenal of tools include:
Welcome Mat, a full-screen CTA that pops up when visitors first arrive;
Heat Maps, which track where on your website visitors are clicking;
Smart Bar, a floating bar that appears at the top or bottom of your screen to encourage subscribers; and
Scroll box, similar to the Welcome Mat, this CTA pops up when a visitor scrolls so far down your website.
Most of the tools are free, though you obviously get more if you pay. It's well worth trying.
4. CoSchedule
Struggle to keep track of your content schedule? Not sure what blogs or social posts are going out when? CoSchedule is one of the best WordPress plugins for marketers who want to take control of their editorial calendar.
Though a little temperamental when we first started using it, CoSchedule has gone through a series of updates to make it a valuable addition to any marketer's WordPress site.
5. Yoast SEO
Writing content can be hard enough as it is. When you have to ensure that the content is then optimised for search engines, it becomes even harder. Yoast SEO fixes that.
All you have to do is enter your target keyword and it will analyse your content and provide suggestions for improvement. Occasionally, you do have to take the suggestions with a pinch of salt, but Yoast are always making improvements. Earlier this year they released a new feature that determines the readability of your content, again providing suggestions for a more readable piece.
The hunt continues - an example case from Matthew Stibbe, CEO of Articulate Marketing:
At the time of writing this, there are 47,564 WordPress plugins. Of course, many are just variations on each other, but when it comes to finding the best WordPress plugins for marketers it's really a case of trying them for yourself.
With these plugins in your toolbox, you can begin to optimise your website without losing SEO traffic. Here's how we did it.
Good blog, bad strategy
I started the blog in 2006 and it attracted an audience of 35,000+ visitors a month. But the split-site strategy began to creak in the storm and take on water. Applying HubSpot's attract-convert-close-delight model it was both a huge success and an epic failure.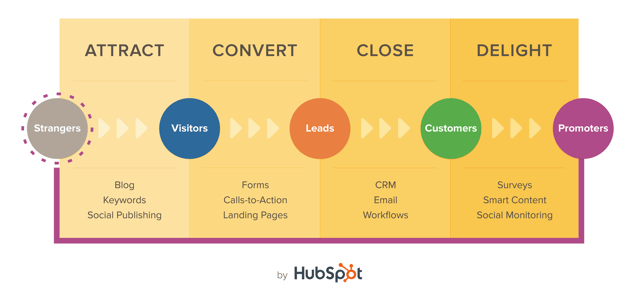 Success: it did attract
We were getting tens of thousands of visitors. Why? Because Bad Language was a classic example of great content marketing and website optimisation. It was search-engine optimised around writing, marketing and technology keywords. It had nearly 1,000 great articles on it that people liked to read and share. It had a lot of incoming links from trustworthy referring sites.
But we were only getting a couple of thousand visitors to Articulate Marketing. Interim steps like adding a content section and lots of cross-links from the blog helped a little but didn't really translate the success of Bad Language into traffic for the business site.
In other words, we totally nailed content marketing but we were driving all the traffic to the wrong site.
Failure: it didn't convert
We were using Articulate-branded calls to action (CTAs) on the blog to try to get people to visit the Articulate site and sign up for various premium content offers. This worked up to a point. We were getting around 100 new contacts a month into our HubSpot database, but given the traffic to our blog, this was a very bad conversion rate. Best practice conversion rates run between 2-5 percent so, in an ideal world, we should have been getting 800+ contacts a month.
I think the CTA approach failed largely because it looked like advertising rather than showing our content, our expertise and our thought leadership as an integral part of what we do at Articulate.
Not only that but our company website did very badly compared to our competition on HubSpot's Marketing Grader. We were scoring around 45. Since we are selling inbound content marketing, we ought to practice what we preach. Any prospect could check our site as easily as we check theirs.
As advocates of inbound lead generation we were not drinking our own champagne. We were barely eating our own dog food.
New strategy: merge the blog and the main site
So Project Golden Gate was born. The primary goal was to move the Articulate blog from its own domain to a directory on Articulate Marketing (it ended up being www.articulatemarketing.com/blog). In turn this created a number of subtasks:
Investigate the best way of merging the two sites.
Ensure that we didn't lose any traffic by forwarding traffic from the old site to the new one properly.
Encourage people to update incoming links.
Manage Google's perception of the site using white-hat SEO techniques.
Merge common elements on the two sites, including search, 404 pages, contact us and so on.
Merge the design on the two sites, as Bad Language had been recently refreshed while Articulate Marketing's design was older.
Make Articulate Marketing responsive
We use WordPress hosted on WPEngine for our website and we are passionate users of HubSpot and Basecamp for project management so these were our main tools for the job.
This article concentrates on the SEO and traffic aspects of the merger rather than the design elements. You can see how we rebranded Turbine, our sister business, here and I'll write about Articulate's redesign here soon.
Backup, backup, backup
We backed up our various sites regularly through the whole process. We used WPEngine's wonderfully simple snapshot tool and downloaded the zip files. I've used VaultPress in the past and I can recommend that too. We used WordPress Importer and SFTP to move data such as images, posts and comments from the blog into the main site. We also made extensive use of WPEngine's staging server capabilities to test the design of the newly merged site, although most of the development was done on locally-installed instances.
Redirection rules
Once the new site went live, we needed to redirect visitors from the old site to the new site.
This article has a good overview of the different approaches: How to properly set up WordPress 301 redirects to maintain SEO & inbound links (we'll forgive the split infinitive) and Google's Webmaster blog also has some good coverage of how to move your content to a new location.
At first I thought we would use a WordPress plugin called Redirection. I've used it on a few different sites for simple redirection, such as when I rename a page and want to keep traffic from the old address. Most of the advice online talks about editing .htaccess files and that's another option. However, WPEngine manages redirection very nicely in its control panel so we ended up using that.
We used two stacked rules to send any blog page (eg badlanguage.net/xxx to the matching page on articulatemarketing.com) and anything that falls through the cracks to the home page.
Tell people you've moved
We used this neat trick from Yoast to pop up a message to say we've updated our URL for anyone who is redirected from the old site to the new one. So for example if you go to http://badlanguage.net/what-does-a-copywriter-do you'll be redirected and you'll see this popup.
Update Google
Once the new site went live, we used Google Search Console (the website formerly known as Google Webmaster Tools) to tell the search giant we had moved the site using the change of address tool. Note that you can only change the address to a domain name, not to a subdirectory so we could not redirect traffic to articulatemarketing.com/blog only to articulatemarketing.com.
Check 404 errors
After setting all this up, it's important to make sure it's working and to hunt down any problems. These often show up as 404 errors (ie page not found errors). If you use Yoast's Google Analytics Plugin, it can tag 404 errors and that makes it easy to see them in Google Analytics. You can also correct 404 errors from Google Search Console.
Incoming links
Wherever possible, we updated links to Bad Language to point to the home on Articulate Marketing. This included sites we owned or which we could edit:
Personal websites, including my own at

Stibbe.net
Sidebar and footer links from sites we could edit, such as my column on

Forbes
Social media links on Twitter, Facebook, Google+, LinkedIn, Xing, Pinterest etc.
Our entry on

DMOZ
We also updated internal links in the site.
In addition, we looked at the main sources of referring traffic in Google Analytics and wrote a friendly email to the site owners of the top 20 or so asking them to update their links. In general, people were extremely friendly and responsive to this request.
The benefit of all this is to give link-clickers a better experience and to increase the number of incoming links to the new site.
We also had a weekly email that goes out to our email subscriber list via HubSpot and we had to update that address too. This is pretty easy to change on the email editing page. (If you use HubSpot with a WordPress blog, this guide explains how to do email subscriptions using the WordPress feed. It's straightforward and works really well.)
Results
I have to tell you that this was one of the most nerve-wracking projects I've worked on at Articulate. We expected to lose 10-20 percent of our traffic and feared that it could be worse. The potential for mistakes was huge and worrying. For example, a badly written redirect could have destroyed our traffic overnight and badly-managed Google interactions could have seen us blacklisted.
However, as traffic dropped on the old blog, it picked up on Articulate. Not only that, but our score in the Marketing Grader nearly doubled to 87 percent (HubSpot's own score is 91 percent so this is a very good result.) In other words, merging two sites was a website optimisation success!
See also: website optimisation
Related service: Websites