I like eating out. But I find restaurants are among the worst when it comes to clear communication. For example, I wrote an article 'Why are restaurant websites so awful?' a while ago. (The glorious exception is Monmouth Coffee.)
Now, I have noticed a trend for restaurants to pack menus with words that no diner could possibly understand. In some cases, this is because they are using traditional foreign words and they provide a glossary. This is the case at Boca Di Lupo. It is part of the adventure and part of the fun and I enjoyed my meal there all the more because of it.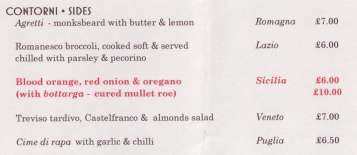 The other version is where chefs use language to deliberately obscure what they are cooking. Sometimes this is a faddy, fashionable thing, like the trend a while ago to serve everything with an 'air' of flavoured foam. If you didn't know about the trend, you didn't know what you were getting.
But earlier this year I ate at a restaurant called Ubuntu in Napa. It has a Michelin star, serves veggie food and has a name that means 'Freedom' in Swahili and will please geeks everywhere.
But the menu was so arcane that it was impossible to get any sense of what I was ordering. Even after the waitress patiently explained everything. It turns out that the chef actually made up a lot of words, Humpty-Dumpty style. One explanation stuck in my mind: "it's a deconstructed borsht." I really shouldn't need a degree in post-modernism and Russian literature to order a meal. (And that was the explanation of the menu item!)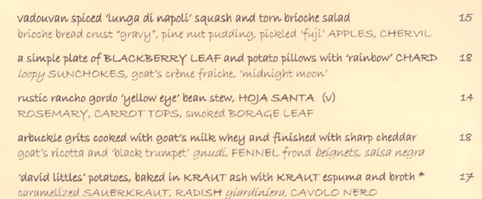 Here is the menu itself. Butis 'Midnight moon' an ingredient or an instruction or just a flight of fancy. Why is 'gravy' in inverted commas? What is 'kraut ash'?
My view is that this is one short step away from being an amazing menu with poetry and delight. The missing step is the information that takes the reader on a journey from excitement to understanding. Instead, this menu is a thinly-disguised exercise in one-upmanship.
How do you communicate with your customers? Do you take them on a journey or do you leave them confused? What happens in restaurants also happens in marketing. Think about it.