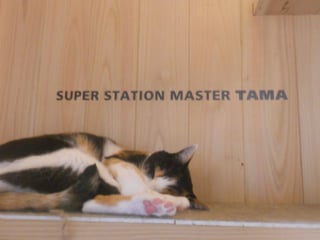 Tama, the late feline stationmaster that saved an ailing railway company in Japan, captured the hearts and minds of thousands.
The story went viral, but it's worth repeating for those who've been hiding under a rock (or a pile of work deadlines).
Tama's tale
The female calico stray became a regular at Kishi station, on the struggling Kishigawa line, and was soon hailed as the unofficial mascot of the station by regular passengers.
With her popularity growing and the line in financial dire straits – all the stations were destaffed in 2006 to cut costs after its near closure – the president of Wakayama Electric Railways (WER), the owner of the line, decided to 'hire' Tama as the master of Kishi station, officially appointing her on 5 January 2007.
In her first year as stationmaster she increased traffic on the line by about 10 percent. And the publicity surrounding her has contributed an estimated 1.1 billion yen (£5.65 million) to the local economy.
During her 16-year-long life, Tama rose through the ranks of WER and was showered with honours, culminating in her posthumous title – 'Honourable Eternal Stationmaster' – and her veneration as a Shinto goddess.
Amusing though it is, there are valuable marketing lessons to draw from the story.
Marketing according to Tama
Craft a good story. WER understood the power of a good story with a strong emotional connection – it was a rags to riches story to rival the best of them. And, crucially, they kept it alive, promoting Tama to higher positions within the company every two years or so to stoke publicity.
Build a strategy. Tama wasn't just an ad-hoc gimmick; she fed into a considered business strategy. WER was formed as a public-private partnership of various local stakeholders when the unprofitable Kishigawa line was dropped by a larger private company, so hiring a cat added to WER's provincial, homegrown charm. In 2009 the company introduced a new 'Tama train' – customised with cartoon depictions of Tama – on the line, and in 2010 they even remodelled the Kishi station building in the shape of a cat. She became the personification of the brand.
Know your audience. Things are changing, slowly, but the Japanese workforce is still male-dominated, so a female cat rising to 'acting president' of a Japanese company in just six years was suitably absurd and attention-grabbing. Also, Tama's appointment as a lucky cat borrowed from the popular Japanese talisman, the 'maneki-neko' or 'beckoning cat'.
Be authentic. When Tama died earlier this year, WER didn't surreptitiously replace her with a duplicate (I'm looking at you Blue Peter). They kept the story arc going, holding an elaborate funeral and promoting Tama's deputy, 'Nitama' ('second Tama'), to the position.
Everyone loves cats. WER knew that age-old truth: the internet loves cats.

(Hat tip to Meredith P. for the photo.)