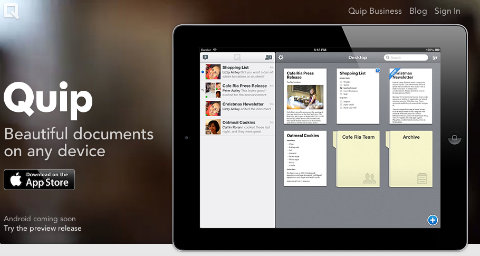 Quip is an online collaboration tool created by some top names. I tried the free version and the iPhone app, and this is my report.
What I liked
The organisation of this app matches my personal organisational style. It allowed me to compartmentalise each part of my life into a folder and make lists in documents.
You can add different people to different folders and leave others private.
I appreciate the clean design. I hate using the notes app on my iPhone because of the Marker Felt font and wide-ruled design. This is a good alternative.
The app translated well to my phone. Documents looked the same and were just as simple to edit.
I can focus on the task because of the limited formatting options.
Changes are live. What I do on my computer is instantly on my phone. If another person makes changes, I receive notifications.
What bothered me
This may not be an issue for everyone, but the app can't count words.
The documents can't save as editable files. They print or become PDFs.
The formatting was messed up in the transfer to Word and I spent a lot of time working to correct it.
The verdict on Quip
The issues in using this app for collaboration lies in the inability to transfer a file between programs and low capacity of the word processor and those are major issues which don't allow me to use this app for professional purposes.
I think this is great for personal organisational use and I plan to keep using it for that purpose. But business-wise, you probably need something a little more sophisticated.